Apple's iMac Pro, first shown off at Worldwide Developer Conference in June, goes on sale today and will deliver on Wednesday, December 27th. Apple promised its pro-level iMac would ship before the end of the year and that's exactly what's happening with only a couple days to spare.
The new iMac model is being touted as a machine for scientists and researchers, photographers, video editors, music producers, 3D designers, and developers.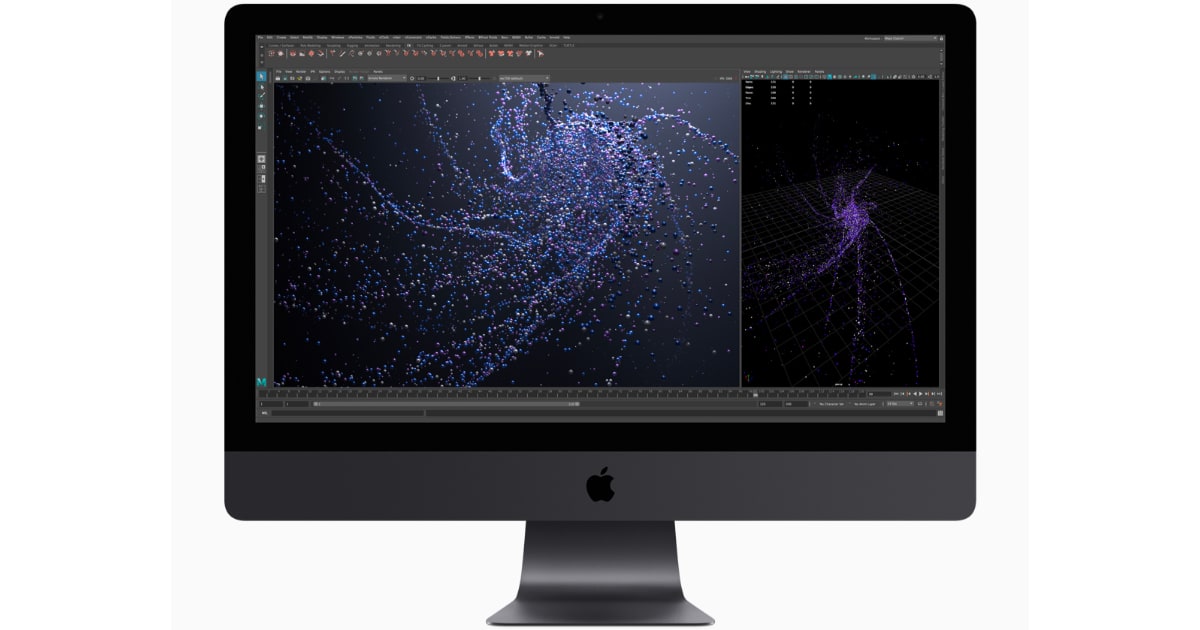 The iMac Pro ships in one to two weeks with 8-core or 10-core Intel Xeon processors, up to 128 GB RAM, AMD Radeon Vega graphics with 8 GB or 16 GB RAM, up to 4TB SSD, four Thunderbolt 3 ports, four USB 3 ports, 10 Gb Ethernet, and a Retina 5K 27-inch display. The 14-core and 18-core processor model is coming early next year.
This is the first iMac model in Space Gray. It includes a matching Bluetooth Magic Keyboard with number pad, and Magic Mouse 2 or Magic Trackpad 2, and a matching Lightning to USB cable. Apple also says it supports up to two external 5K displays and dual RAID storage systems.
The base model includes a 3.2 GHz 8-core Intel Xeon W processor with turbo boost up to 4.2 GHz, Radeon Pro Vega 56 with 8 GB RAM, 32 GB 2666MHz ECC RAM, 1 TB SSD, and Magic Mouse 2 for US$4,999. If you want to load up the machine with 128 GB RAM, 4 TB SSD, Radeon Pro Vega 64 with 16 GB RAM, and Magic Trackpad 2 you'll spend $10,849.
Here's what fully loaded setups with the other processor options will cost you. We configured these systems with 128 GB RAM, 4 TB SSD, Radeon Pro Vega 64 with 16 GB RAM, and Magic Trackpad 2.
3.0 GHz 10-core Intel Xeon W processor with 4.5 GHz turbo boost: $11,649
2.5 GHz 14-core Intel Xeon W processor with 4.3 GHz turbo boost: $14,449
2.3 GHz 18-core Intel Xeon W processor with 4.3 GHz turbo boost: $13,249
The standard configuration 8-core and 10-core setups all deliver on December 27th or December 28th. Custom configurations are delivering in 1-2 weeks. Here's how they price out:
8-core Intel Xeon W processor, Vega 64 graphics, 64 GB RAM, 1 TB SSD: $6,399
10-core Intel Xeon W processor, Vega 64 graphics, 64 GB RAM, 1 TB SSD: $7,199
10-core Intel Xeon W processor, Vega 64 graphics, 64 GB RAM, 2 TB SSD: $7,999
10-core Intel Xeon W processor, Vega 64 graphics, 128 GB RAM, 2 TB SSD: $9,599