NAMM – IK Multimedia announced Leslie for AmpliTube and T-RackS for Mac and PC, and I am so excited about it! The plugin includes six different Leslie rotary speaker models: Leslie Type 147, 122, 122A; Leslie 3300w, Leslie G-37, Leslie Studio 12. It also includes five Leslie amp models, including: Leslie Type 147, Leslie Type 122 – vintage tube model; Leslie Type 122A – new tube model; Leslie 3300w – new hybrid amp, and the Leslie G-37/Studio 12 – new hybrid amp.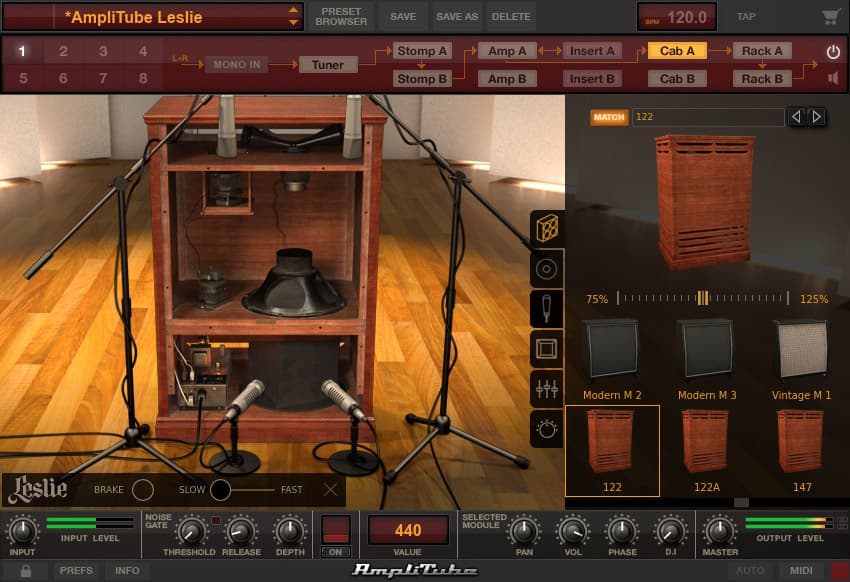 Leslie Speakers
Leslie makes the spinning speaker that was an integral part of the legendary Hammond B3 sound. Playing a guitar through a Leslie can also be amazeballs, and Joe Mitch the leader of my old band (The Atomic Love Bombs) did some really fun stuff with one.
There are a few "rotary" effects and models for Logic, Pro Tools, and other DAWs, but none ever did it for  me. IK Multimedia's new model—which was done with the help of both Hammond and Suzuki—seems like it might be the real deal. Check out IK Multimedia's promo video:
Because it's AmpliTube—a great amp and effects modeling suite—everything can be adjusted and fiddled with, including mics, mic placement, the room, and the amp configurations.
Leslie for AmpliTube and T-RackS
IK Multimedia is releasing this software in March of 2018. The AmpliTube and T-RacksS versions will each be priced at $/€129.99, while a Collection with both will be $/€179.99. You can preorder the individual versions for $/€99.99, while the Collection can be preordered for $/€149.99.