It's being reported by those who have installed the first beta of tvOS 11.3 that it supports Dolby Vision on specific Sony 4K/UHD TVs.
The first report I saw was on January 24th in the Blu-ray forum. A developer installed the first beta of tvOS 11.3 and posted this photo.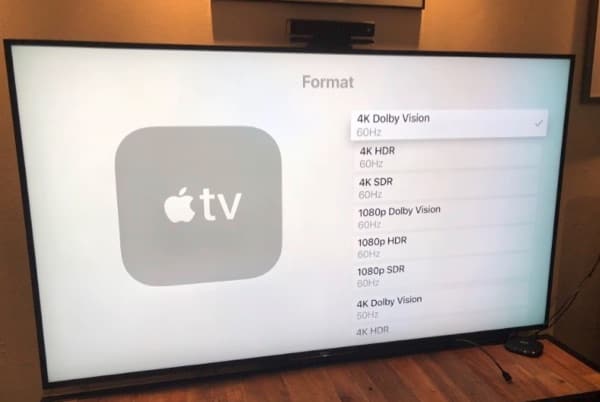 Where it All Began
The fuss about all this started on January 17th when Sony rolled out a software update for its 4K/UHD TVs that can support Dolby Vision (DV). (That's models: Z9D, A1E, X930E and X940E.) However, early reports from various device users revealed that there was still no DV available over HDMI. I covered this on January 19th:
It turned out that DV capable devices would themselves also require an update of their DV profile. Sony released a statement that said, in part:
… devices with Dolby Vision playback (such as streaming media players and UHD Blu-ray players) [including Apple TV 4K – JM] that are connected to the Sony TV by HDMI will also require a software update to support Dolby Vision playback through the device.
Apparently this is exactly what Apple has done in the tvOS 11.3 beta. And so when the Apple TV 4K connects to one of these [updated] Sony TVs, the Apple TV video settings confirm the proper connectivity. [See the photo above.]
Apple's Guidance
For those who want to learn more, Apple has posted an excellent summary. "About 4K, HDR, and Dolby Vision on your Apple TV 4K." This tech note is a virtual checklist to make sure you have everything set up correctly.
I have asked Apple for confirmation, but have not received a response. But the community reports suggest we are on our way to a proper fix.
When the public beta of tvOS 11.3 is released, anyone can experiment.  [You can follow this procedure, but for the 11.3 public beta when available.] For those who don't want to do that, the remaining question is when Apple will release the final version of tvOS 11.3.