Pad & Quill has a limited special edition Apple Watch strap called the 60 Year Leather Lowry Cuff for Apple Watch. Like most Pad & Quill products, it looks great, but I also think it's a neat story. It's made from leather that came from a 60-year old stash found in a warehouse in Europe.

From the company:
We found an amazing stash of leather in a European warehouse dating over half a century ago. Naturally, we bought the whole 60-year+ vintage batch. Using our special PH-balanced leather care oil we then carefully enriched the already gorgeous existing patina, resulting in a luxurious leather finish that carries the imprint of yesteryear while showcasing the modernity of the Apple Watch. We believe in getting the best of both worlds, where old world craftsmanship meets today's marvels of technology. Special Edition Lowry Cuff gives you both.
60 Year Leather Lowry Cuff for Apple Watch
They're designed around the sensors on the back of your Apple Watch, so heart rate monitoring via Apple's Optical Pulse Sensor works. The inside of the strap has a soft suede finish, and it comes with the Apple Watch clips for quick installation.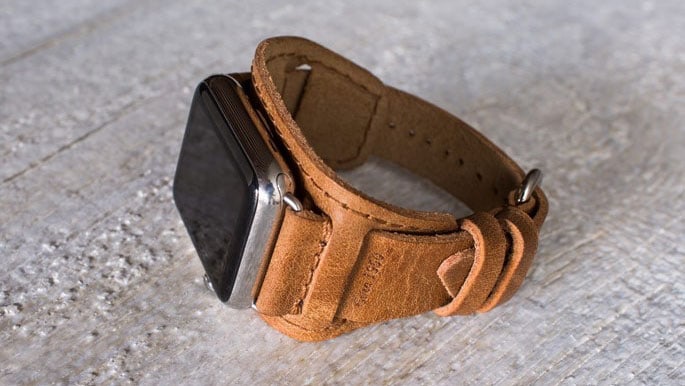 It comes in two styles, Vintage Hazelnut and Vintage Hazelnut with White Stitching. You can also choose from three different colors for the metal fittings, black, silver, and a charcoal gray. They're priced at $229.