LAS VEGAS — Withings (a Nokia company) was showing Steel HR, a watch that combines the look and feel of an analog watch with the features of a smart watch, at CES Unveiled 2017.  Rob Le Bras-Brown, Chief Marketing Officer, took time to tell us more.
One basic feature of the Steel HR (heart rate) is of course the measurement and display of your heart rate, a good general indication of your overall health.  The device not only measures this value, but also senses your movements to determine what activity you're most likely involved in, be it walking, running, swimming, or sleeping.  New activities were recently added, such as playing ping-pong, volleyball and dancing.  You can then download this data to your smartphone to get in-depth reporting on what you've done.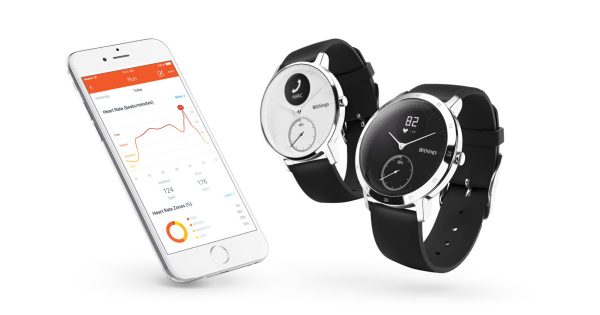 Analog and Smartwatch
The Steel HR display is subtle but effective, with the easy-to-read digital screen displays showing heart rate, number of steps, distance, calories burned, set alarm time, and smartphone alerts.  To round things out, the watch has battery life of up to 25 days, is water resistant to 50 meters, and can automatically detect sleep, as well as wake you with a silent vibrating alarm.
Steel HR 40 mm Black is US$199.95, Steel HR 36 mm Black or White is US$179.95.