KK Sneak Leaks has posted a leak of what's supposed to be Apple's full-screen iPhone, the so-called iPhone X. I don't know if it's real, but it's a leak I can get behind. And for what it's worth, KK gave it a 99% reliability. Let's take a look.
First, the original tweet (I've got larger individual images below):
Here we go #iphone8 #iphonex or #iphoneedition pic.twitter.com/kxDDOKZ6XM

— KK Sneak Leaks (@kksneakleaks) April 17, 2017
Leaked Front of iPhone X
Let's look at the leaked image of the front of iPhone X: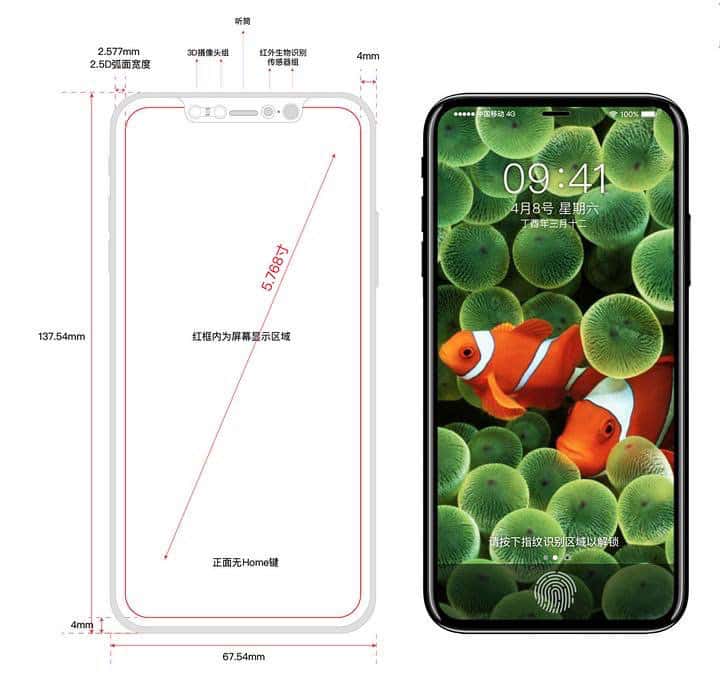 The artwork on the left shows where the camera would be embedded under the glass. That placement makes sense to me, and if Apple can make the optics work, it will be a sexy device.
I also like the estimation of the Touch ID sensor shown on the lock screen. That sort of visual cue is just what you need if you're going to remove the physical button-like sensor Apple used for iPhone 7 and iPhone 7 Plus.
Leaked Home Screen and Back of iPhone X
Next, there's an image of the Home Screen and the back of the iPhone X: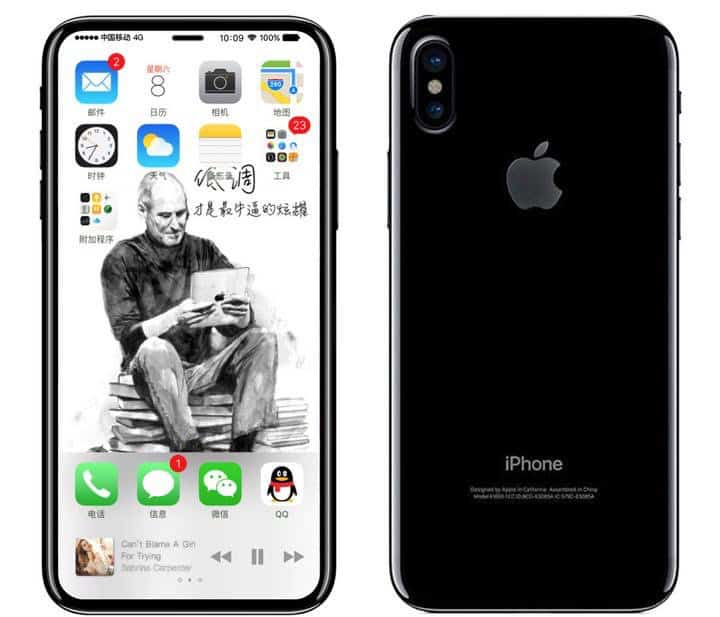 Let's ignore the lovely sketch of the late Steve Jobs on the Home Screen in this image. I mean, it's wonderful—and perfect with that icon distribution—but that's not why I like this image.
We talked about the iPhone X rendered images that surfaced last week on TMO's Daily Observations. It was similar to this one, but it lacked that Apple feel. One of the things I mentioned i that podcast is I wasn't buying a weather display at the bottom of the display.
KK Sneak Leaks' image is causing me to think differently about that, however. It's not just that it's showing Music information, it's the reality that one could change what's being shown there. That would make a lot more sense, to be sure.
Questions about iPhone X Leak
Still, we are left with some questions. The biggest one is the bezel around the device. It's less than the bezel on previous iPhones—and it doesn't have blank space at the top or bottom. But, it's not bezel-less, and that's one of the things we've heard Apple was shooting for, an edge-to-edge display.
Also, while I'm a lot more interested in the information displayed below the home row of buttons, it does still feel weird to have anything there at all. If it's legit, it's one of those things doubters like me will grow into, so time will tell.
Lastly, the vertical camera lenses on the back of the iPhone feel off to me. A horizontal layout like we had on iPhone 7 Plus makes more sense. That's a quibble, though, and if Apple does make that change, it will be for a good reason.
Body of Evidence on iPhone X
I like this leak. The timing is right and the look and feel are right. This is the usual point in Apple's product development cycle where leaks start adding up to form an accurate picture of what's coming. Last week's renderings, for instance, were supposedly based on leaked blueprints. Those renderings presented many of the same ideas in Monday's leaks, but lacked that Apple look and feel.
Together, though, they feel right, enough so that I'm confident this is more or less what Apple will be introducing next fall.