Apple revealed the new Mac Pro at WWDC 2019. The long-awaited upgrade to the device is a bit of beast.

Powerful and Expandable
The Mac Pro is, according to Apple, the most powerful Mac ever. The baseline version comes with an 8-core Xeon processor, 32GB of RAM, a Radeon Pro 580X GPU, and a 256GB SSD.  It can be expanded to have up to 28 cores, and it comes with eight PCIe expansion slots. It is also equipped with a six-channel memory architecture and 12 physical DIMM slots, allowing for up to 1.5TB of memory.
In terms of graphics, the new Mac Pro starts with the Radeon Pro 580X. There is also, for the first time, the option of the Radeon Pro Vega II. This features 14 teraflops of compute performance as well as 32GB of memory and 1TB/s of memory bandwidth. Apple published a full rundown of all the tech specifications.
The Mac Pro has a stainless-steel space frame with aluminum housing around it, and the frame lifts off, giving owners total access to the system. The housing has a lattice pattern to reduce new and maximize airflow – yes the cheese-grater look is back! Apple said the new computer is no louder than an iMac Pro. You can even add wheels if you need to roll it around a studio. A version optimized for rack deployment is also going to be made available.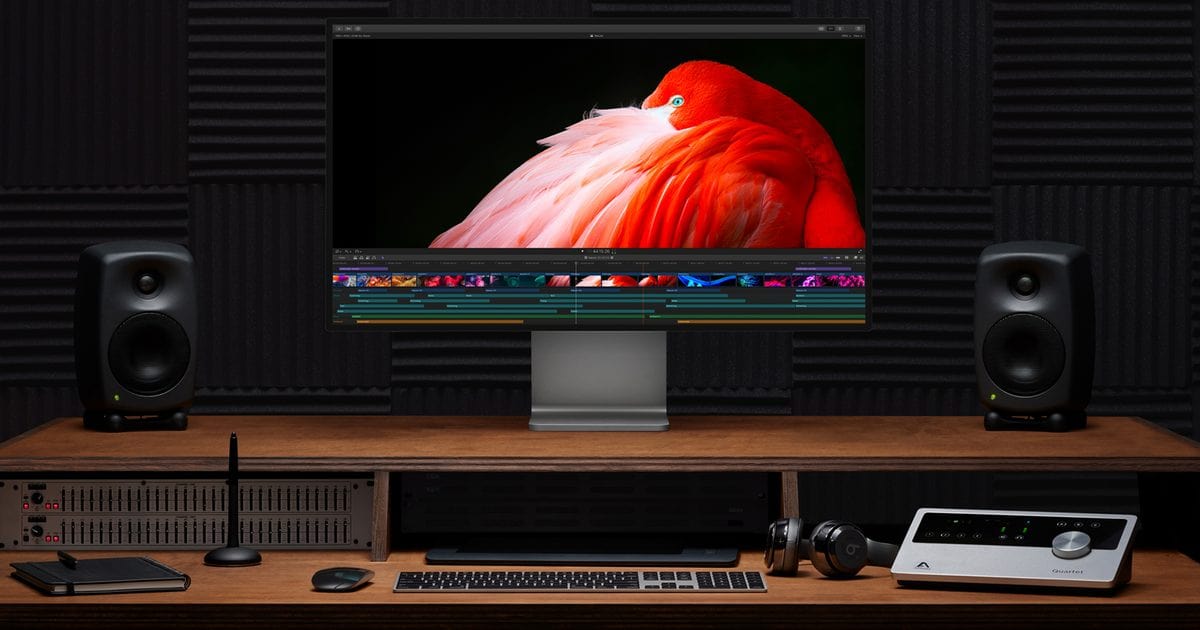 Pro Display for New Mac Pro
Apple also revealed a new pro display to go with the new computer called the Pro Display XDR. It is a 32-inch Retina 6K display and comes with P3 wide and 10-bit color, 1,600 nits of peak brightness, and a 1,000,000:1 contrast ratio. The display can be setup in both landscape and portrait mode.
Logic and Final Cut
The device is designed to be a studio essential for composers, music producers, and filmmakers. Composers can run up to 1000 audio tracks in Logic Pro X. Meanwhile, filmmakers can run three streams of 8k footage or 12 4K streams with the new Afterburner accelerator card. Afterburner has a programmable ASIC which can decode up to 6.3 billion pixels per second.
The new Mac Pro is going to start at $5999. The Pro Display XDR is going to be $4999, or $5999 for the nano-texture version. The most shocking thing is the Pro Stand for the display is $999. Fair to say the hall was a bit shocked at this. A VESA Mount Adapter for the display will be $199. It will all be available in the fall.