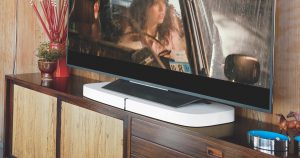 Wireless speaker maker Sonos recently announced their second entry into the home theater space with the Sonos PLAYBASE, a device built to sit under your TV and act as both a TV speaker and whole-room music player. I had the chance to spend a couple of weeks checking it out, and we'll dig into all of that here.
Sonos is one of the few companies whose products parallel what we've come to expect with the Apple experience. Tight integration between hardware and software, a dedication to keeping things simple, and a ruthless pursuit of delivering quality products keep Sonos at the top of their market.
The new Sonos PLAYBASE falls right in line with this ideology, delivering a simple-yet-robust experience for people who want to enhance the sound of their TVs and simultaneously add a whole-room music-listening solution. In one, low-profile box that sits underneath your TV (officially any TV 75lbs or less), the Sonos Playbase gives you all of this and more, complete with easy setup and simple operation.
More Sound Than Would Appear
The footprint of the Playbase is clearly built with a TV in mind, and that makes sense: it was designed to provide an alternative to Sonos's PLAYBAR. The Playbar works best when mounted on the wall; the Sonos Playbase is suited for TVs that are resting atop a table or a stand. On first glance, then, it's easy to assume that the sound would tunnel out of the Playbase in a fairly narrow field. Thankfully, that assumption is quickly proven wrong.
The Playbase includes an array of nine speakers spread across its 2.25"-high grille. Three tweeters and six mid-range drivers are configured both physically and electronically to be able to spread sound far and wide. In addition, the DSP (digital signal processor, the computer inside the Playbase) is able to configure things on-the-fly to create not only a wide left/right stereo spread, but also simulate surround sound throughout the room.
Forget what the Sonos Playbase looks like – which is easy due to its low-profile design that simply blends in with your TV – and you'll just enjoy movies with sound coming at you from all around.
If you truly want sound behind you, you can pair two Sonos PLAY:1 speakers (US$199 each) to create a 5-channel surround experience.
Not Just for TV and Movies
While the Playbase is built to sit under your TV and is the obvious choice for playing your movie and television sound, that's not at all its only purpose in life. The Playbase's ability to reproduce music in my living room truly blew me away.
Years ago I resigned myself to having two separate audio systems in my living room: one for the home theater, and the other for music. The needs of each are quite different, and for music I've had a pair of original Sonos PLAY:5 speakers, configured in stereo. I was simply never happy with the way music sounded through my home theater speakers. When the Sonos Playbase arrived, I expected to like it, but didn't expect to prefer it over the sound of my existing music-listening setup.
I was wrong. The Playbase produced more definition and articulation in my music listening without sacrificing any warmth or low end. Additionally, as mentioned above, its ability to spread the sound out much wider than its physical footprint made it very easy to hear stereo separation, even 15 feet away on the couch.
Whatever magic Sonos has programmed into the processor inside the Playbase is quite stellar. During all my testing I left the original stereo PLAY:5 pair in-place, and while I would activate that occasionally to do some A/B testing, my preference was always to simply listen through the Playbase. I'm still having trouble reconciling that in my head, but the heart wants what the heart wants. Evidently, so do the ears!
Next: Mixing TV and Music, Enhancing TV, and Subwoofer
Page 1: More Sound Than Would Appear, Not Just for TV and Movies
Page 2: Mixing TV and Music, Enhancing TV, and Subwoofer
Page 3: Elusive 5.1 Sound, Price, and Verdict