Scaling and Mode Switching
The Apple TV 4K includes a scaler. This is helpful when driving a 4K/UHD TV with 1080p (or less) content. Why Apple made this decision is a little unclear because any modern 4K/UHD TV will have its own scaler. It's possible Apple wanted to make sure the user would get a consistent experience no matter which TV this very mobile device connects to.
Speaking of a consistent experience, that brings up a notable problem with tvOS 11.1. My Sony tech representative told me:
We tested the latest 4K Apple TV. The player outputted everything including 24p movies at 60p. The player also outputted everything in SDR or HDR regardless of native format. The goal was to eliminate the blank screen that occurs with switching between frame rates and formats (SDR, HDR) See: "Apple has a fix to one of the biggest issues with the Apple TV 4K."

This had an adverse effect on picture quality. The latest Apple TV's tvOS 11.2 update will allow the set-top box to automatically switch its display settings to match the native frame rate and dynamic range of a given video.

For best HDR performance, the user needs to go into the menu and verify following settings:

1. Format to "Match Dynamic Range and Match Frame Rate"
2. Chroma to "4:2:0"

There is a menu option to set the 4K Apple TV's Chroma to 4:2:2 which I do not recommend because it raises the bit rate to nearly 18 Gbps but with the older firmware it also reduced the color depth to 8-bit which causes HDR color banding. I not have tested the 4K Apple TV after the latest update but when 24p was selected manually for 24p HDR content, the color was remained 8-bit at 4:2:2.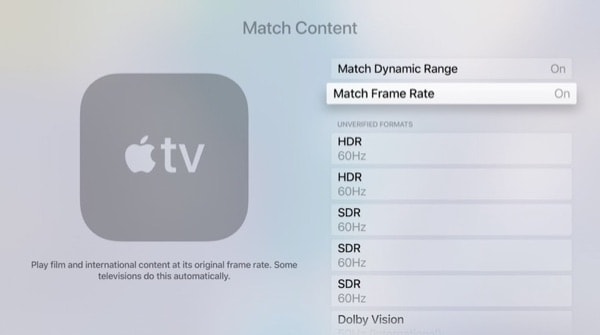 The upshot is to upgrade immediately to tvOS 11.2 when it's released. It's due out any day now. You likely won't be able to see the difference between a chroma of 4:2:2 and 4:2:0 (a property of the human eye) but you will see a better picture with 10-bit color (if your TV supports it).
Speaking of chroma, I tried driving the Apple to 4:2:2 when watching an iTunes movie. I saw a disruptive sparkle pattern, like many hundreds of little twinkling stars all across the display, not just the letterboxed video content. When I backed off to 4:2:0 the sparkles disappeared. I'm fairly sure my top-notch HDMI cables aren't at fault. I noted that the Apple TV 4K had been in operation for over a week, continuously. Perhaps, as Sony suggested, the unit's firmware is a bit stressed. Dare I say over-heated? A guess.
Just to be sure, I now turn off the Apple TV 4K every night with a power strip. I haven't seen the sparkle pattern since that one incident. I noted also that the Apple TV 4K recently auto-reset itself to a chroma of 4:2:0 anyway. So there it will stay, and I am pleased with the video produced.
Great Reviews
Here are two very good, thorough reviews of the Apple TV 4K, just in case you're hungry for even more details.
Final Notes
As you can see, 4K/UHD TV isn't as effortless as it may seem. The deceptively simple 4K moniker brings with it a lot of underlying technology. Understanding it better will help you get the maximum performance out of your final Apple TV 4K system and avoid buyer's remorse or disappointing, nagging incompatibilities.