The Apple TV 4K (5th generation) shipped on September 22, 2017. The 32 GB model is widely available online at Apple, Apple retail stores and Best Buy—to name a few. (Not Amazon, currently.). Physically, it is very similar to the 4th generation model. The difference is that it has ventilation slots on the bottom. In terms of the connectors on the back, they are exactly the same.
When I installed the Apple TV 4K, I simply unplugged the HDMI, power and Ethernet cables from the old unit and put the new unit in its place. (Later, I upgraded the HDMI cable from 2007.)
Notable Features
The 4th generation Apple TV (released in October, 2015) supported High Defintion (HD) at 1080p at 60 Hz. It only supported Standard Dynamic Range (SDR). A model with 32 GB RAM is still for sale at US$149.
The new Apple TV 4K brings this product well up-to-date.
HDMI support moves from 1.4 to 2.0a with HDCP 2.2. HDCP is High Definition Copy Protection, essential for protected content.
The Ethernet port has been upgraded to gigabit speed.
Bluetooth has been upgraded from BT 4.0 to 5.0.
Wi-Fi remains at 802.11ac with MIMO but adds both 2.4 and 5 GHz capability.
The processor moves from an A8 to an A10X.
UHD video (3840 x 2160p) is supported at 60 Hz. There is HDR support for Dolby Vision (Profile 5) and HDR10.
Audio support remains the same at AC-3 (Dolby Digital 5.1) and E-AC-3 (Dolby Digital Plus 7.1 surround sound). There is a report that a future upgrade will support Dolby Atmos.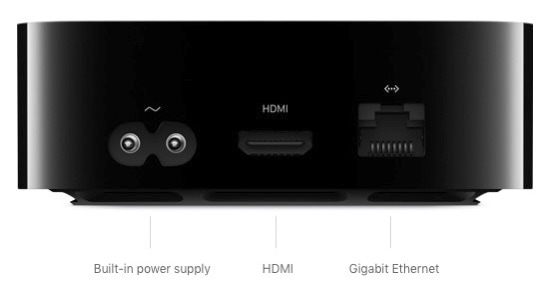 Purchasing Sequence
If you buy an Apple TV 4K before you get a new 4K/UHD TV, it will detect that the best picture the TV can accept is HD and auto-select 1080p (or 720p/1080i if the HDTV is older). You won't have to worry about the Apple TV selecting a video mode your current (HDMI-based) TV can't handle.
Setup
Early in the setup process, if you have an iPhone running iOS 9.1 or later, you'll be invited to place the unlocked iPhone very close to the Apple TV 4K. Less than hand's width. It will then transfer your Apple ID credentials and whatever else is needed. This is a very helpful, stellar feature and speeds things up dramatically.
Single sign-on
The single sign-on feature is not limited to the Apple TV 4K. It's also supported in the Apple TV (4th gen) and iOS. The feature, presented at setup, allows you to authenticate with your TV provider, and that authorization automatically extends to supported apps without having to sign into them separately. It's very much a work in progress, and notably absent is Comcast/Xfinity support. Read about it from Apple.
If you don't do this at setup, you can come back later. It's in tvOS Settings > Accounts > TV Provider.
Primary Streaming Services
The Apple TV supports many subscription-based and free TV apps. Notable, for this short discussion, is Netflix, Hulu, CBS All Access, ESPN and many others. I'll discuss these in a future article.
If you're looking for the Amazon Prime Video app, you won't find it. Back in June, at Apple's Worldwide Developer Conference (WWDC), Tim Cook said that the app would be coming to Apple TV later this year. It still hasn't appeared, and no one knows when it will be released. Meanwhile, the Apple TV/4K has been (again) removed from Amazon's website. That's not a good sign.
Meanwhile, you can always use your iPad/iPhone (which does have that Amazon app), and invoke AirPlay from the iOS device to the Apple TV. I've done that frequently.
Next page: the geek stuff. HDR, frame rates, chroma, reviews.