iMessage scams have unfortunately become quite prevalent these days. Ever since the pandemic, online scams have grown exponentially. Nowadays, you should always be vigilant in case of messages from senders who are not on your Contacts list. If you find unusual text messages in your iMessage, you should block and report them.
In this article, we will learn about iMessage scams and how to recognize spam texts. Then, we will look at ways to safeguard our devices against these scam texts and report them to Apple.
What Are iMessage Scams
iMessage is a built-in messaging function for iPhone. As long as both the devices are connected to the internet and have iMessage installed they can send texts and messages freely. If you see that a certain message has an email address instead of a phone number, then you know it is an iMessage.
But like all good things, this free-to-use feature is being abused by a group of criminals to perform elaborate scams and phishing attacks. These spam texts can come in various forms. They might say that they are from the bank or from a certain insurance group and then provide you with a space to add your LINE account. Once you do that, your personal information will become available to the scammers.
What Is Phishing?
Phishing attacks are another common type of scam where you are sent an URL link from unknown senders on iMessage. If you accidentally click the phishing link, then personal information on your iPhone (credit card details, social security number. etc.) will be visible to the scam artists.
We all have received messages where we have won thousands of dollars and it is ready to be claimed. Just one catch, to claim that amount, you will have to fork out a substantial amount first. Phishing messages have evolved now. Instead, they come in other forms like 'iPhoneID is due to expire today', 'System is in danger', etc.
You can also receive messages like 'Your credit card is set to expire' or 'Your bank account is on hold', etc. In these cases, never divulge personal information and report the number to your local cybercrime authorities. The best way to go about these spam texts is to just ignore or block them.
Quick Tip:
Sometimes, the best way to protect yourself from spam calls and messages, and other phishing attacks is by using an authentic antivirus solution.
For instance, we always suggest the Intego antivirus solution because of its high detection rate, strong anti-phishing, and anti-spyware protection tested and recommended by all active users and experts.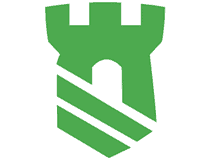 Intego Antivirus
Block all annoying spam messages and keep your Apple device safe and secure all the time.
How To Block and Report Scam Messages on iMessage
More often than not, the spam texts in iMessage are online scams. So, let us show you how to report them so that Apple can take the necessary actions.
First, we will have to turn on the filter for unknown senders.
Time needed: 2 minutes
Turn on the filter for unknown senders.
Open the Settings app.

Scroll down and select the Messages app. 

Tap on the Message Filtering section. 

Turn the toggle for Filter Unknown Senders on. 

Make sure that the SMS Filter is turned on in the SMS Filtering section.
Block Spam Texts on iMessage
Now whenever you encounter a spam text, you will just need to block it. Let us see how to do it.
1. Open the iMessage on your Messages app.
2. Now tap on the profile at the top.
3. Select info and scroll down to Block this Caller and tap on it.
4. Click on Block Contact.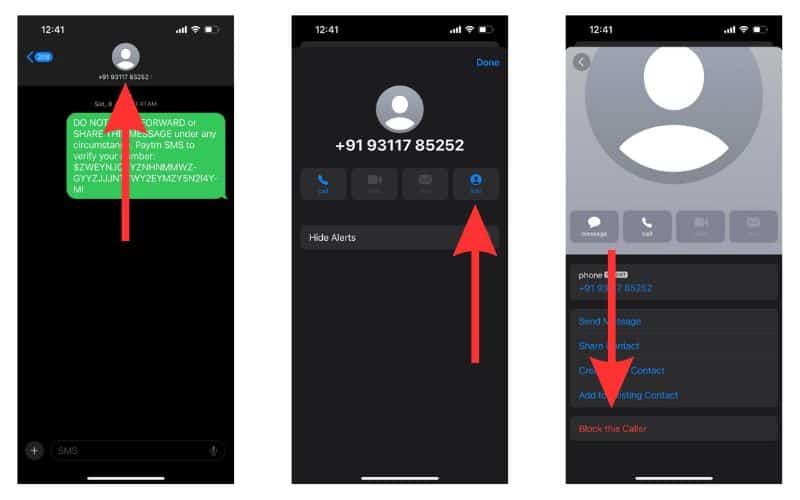 Good job! You have successfully blocked a spam text.
Report iMessage Spam Texts
Now, we will report the message to Apple so that they can take the necessary actions.
1. Take a screenshot of the scam message. In case of scam phone calls, take screenshots of the spam call history.
Sometimes, cybercriminals will call you and then send a phishing link for you to fill out. But always look at the messages and verify their authenticity before putting in your personal information. Usually government agencies or bank officials will not call to ask for your personal information.
2. Open any email app on your iPhone and start a new draft.
3. Send an email to [email protected] and attach the screenshot of the phishing link.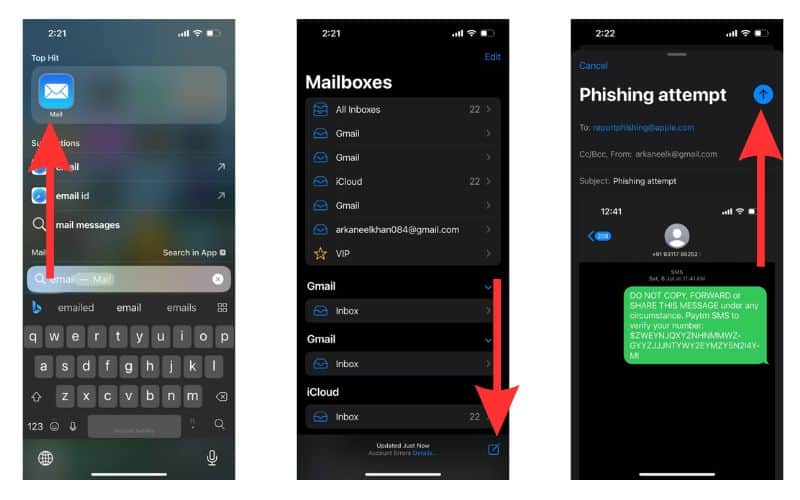 Now Apple will take the necessary action against the online scammers.
Recognize Potential iMessage Scams
So, how do you recognize a potential scam?
Smishing (SMS phishing) attempts with baits of lottery, bonus, loan, etc. If you receive a text regarding winning any competition that you did not enter, please do not click on any link in the text message.
Offer you a credit card with little to no interest (basically a deal too good to be true). This is definitely a scam message so do not divulge your personal information.
Promises to waive off or pay off your student loans. Online scams target students and young adults with this scam message. So, do not believe what you see, instead contact the bank which has your student loan details and seek their help regarding the message.
The "We've detected some suspicious activity" is one of the oldest tricks of scam artists. Scammers send this spam text along with a link/URL to "reset your password". But, if you happen to click on this link and follow the instructions, you will fall prey to a phishing scam.
Scam texts claim there is an issue with your credit card/debit card/bank account/mobile device security. Do not fall for these, as the moment you try to contact them or give them your personal information, you will be opening yourself and your device to cyber crimes of all sorts. This includes identity theft, theft of personal information, fraud, etc.
If there are email mismatches or unnecessary attachments in an iMessage from an unknown number or email address, it is potentially a scam text. Do not open the links or download the attachments. In these cases, block spam messages and report them to Apple.
How To Protect Yourself Against iMessage Scams?
Now that you know the potential message scams, we will learn how to safeguard your device against these scam artists.
Never share your personal information like credit/debit card numbers unless you are absolutely sure about the person on the other side.
Set up Two-Factor Authentication. Go to Settings > Your Profile > Sign-in & Security > Two-Factor Authentication.
Get an antivirus solution for your iPhone. Check out our guide on the best antivirus solutions for iPhones and iPad.
Get an antivirus solution for your iPhone.
Whenever you receive spam calls and texts from a number, block the number. If you keep blocking spam as soon as you encounter them, you will be safe.
Do NOT click on malicious links and URLs in scam texts. If you receive spam calls, disconnect and block the number.
Do not use Apple gift cards for any payments which aren't Apple-related.
Fallen Prey To Deceptive Text Messages? Here's How To Recover Smoothly
There are numerous ways in which scammers dupe people. Fake invoices, police text scams, calendar spam, and package delivery scams are some of the common scams. So, in such a treacherous situation, anybody could fall prey to a scam. The point is, how to recover?
Change your passwords and store them somewhere safe.
Check your account for unauthorized activity to pinpoint the origin of the fraud and act accordingly.
In case of financial fraud, fraudulent advertisements on websites, etc. contact your local authorities and lodge a complaint in the cybercrime department of your nearest Police Department.
In case of fake tech support scams, contact Apple support and alert them immediately about the issue. Follow their instructions to avoid damage to ransomware and other attacks on your device.
Stay Vigilant Against iMessage Scams
Scammers use fear as a weapon. The messages usually say something similar to your account will be locked. The fake text messages will use urgency as a means to exploit you. Another iMessage scam is 'Open to see what you won'. Do not give in to your curiosity and open it. Block it instead.
We cannot rid the world of online scammers. But, we can secure our devices and information to the best of our abilities. Please reach out if you have any further questions regarding online scammers or potential scams. And please share this information with the ones you care about.