If you're having issues with Apple CarPlay not working, I'm going to take a look at some potential solutions. When it comes to issues with CarPlay, normally it can be something that is an easy fix. More often than not, you only need to follow a few steps to get your vehicle connected to the app again. Of course, this is assuming that it's an issue on Apple's end. If you are having issues with CarPlay and the fault is on your vehicle, this guide can only offer a couple solutions.
With availability in over 600 different models of vehicles, Apple CarPlay can be great for those looking for Apple support within their car's infotainment system. Offering a plethora of features, including the ability to start and unlock your car using your iPhone, there's a lot of reasons why this is a popular alternative in infotainment for certain car models.
Why is Apple CarPlay Not Working?
If you're having issues with CarPlay, this can be for a number of reasons. If you're having problems with the app, let's go over some basic reasons why it may not be working properly.
This can include:
A problem with iOS not updating correctly.
Apps are experiencing integrations issues.
CarPlay may not be detecting an iPhone.
Further issues with compatibility.
Whether you're experiencing issues such as a lack of sound, no proper connection or your apps simply aren't working, there's a number of things users can try to get CarPlay operational again. With that in mind, here's some ideas that may get you rolling again. If none of these help, it's possible that it is a larger issue at play.
How to Fix CarPlay Not Working
Restart Your iPhone and Ensure it is Up to Date
One of the easiest things you can do is restart your iPhone to see if that clears up any problems. When it comes to issues with CarPlay, it can often be a minor software glitch causing a user problems. Try restarting your device to see if that helps issues.
Additionally, you should also ensure that your iPhone is up to date. Simply go to Settings > General > Software Update, and check to see if you need to update your iPhone. This can also be a way to clear up any tiny issues you are experiencing with CarPlay.
Ensure CarPlay is Enabled on Your Phone
Another easy thing you can try is ensuring that CarPlay is enabled on your iPhone. It's not that hard to turn it off, and then forget that you turned it off. All you need to do is go to Settings > General > CarPlay and make sure that your Car is connected.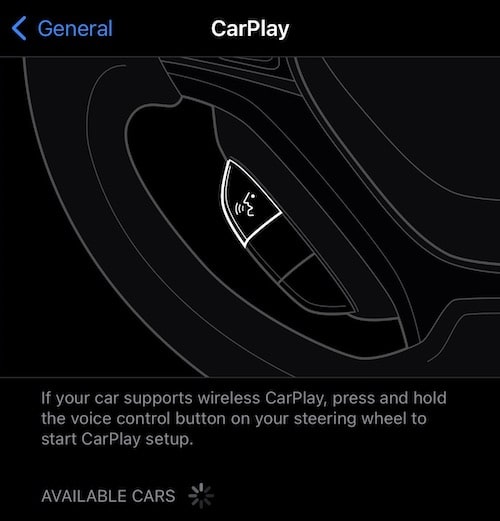 Of course, if you have Screen Time enabled, this may also cause issues with CarPlay connection. Go to Settings > Screen Time > Content & Privacy Restrictions > Allowed Apps to ensure that CarPlay has the right permissions.
Check to See if Siri is Enabled
Another thing you should do that is rather easy is make sure that Siri is enabled. CarPlay needs Siri for a proper connection, and this is also a rather easy thing to forget that you disconnected. Simply go to Settings > Siri & Search, and ensure that all of these options are enabled:
Listen for "Hey Siri".
Press Side Button for Siri.
Allow Siri When Locked.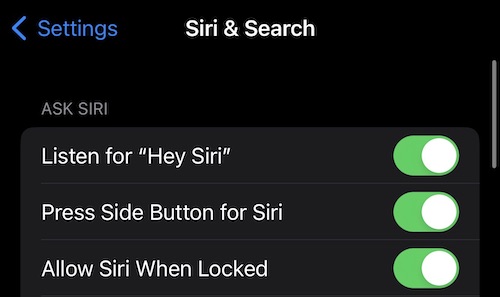 Again, it can be easy to forget that you disabled Siri, for whatever reason. Additionally the Allow Siri When Locked feature isn't always enabled, so this one can also be easy to forget.
Check USB Restricted Mode
Another thing you may want to double-check is USB Restricted Mode. While This feature can be helpful, in that it can help protect users from hackers who may use USB devices to try and gain entry to your device. While this is helpful at deterring hackers, it isn't so helpful when you're trying to make a connection to your vehicle.
All you need to do to check this feature is go to Settings > Touch/Face ID & Passcode (depending on your iPhone model), type in your password, and then scroll down to USB Accessories under the Allow Access When Locked section. Note that it may simply say Accessories rather than USB Accessories, depending on what version of iOS you are using.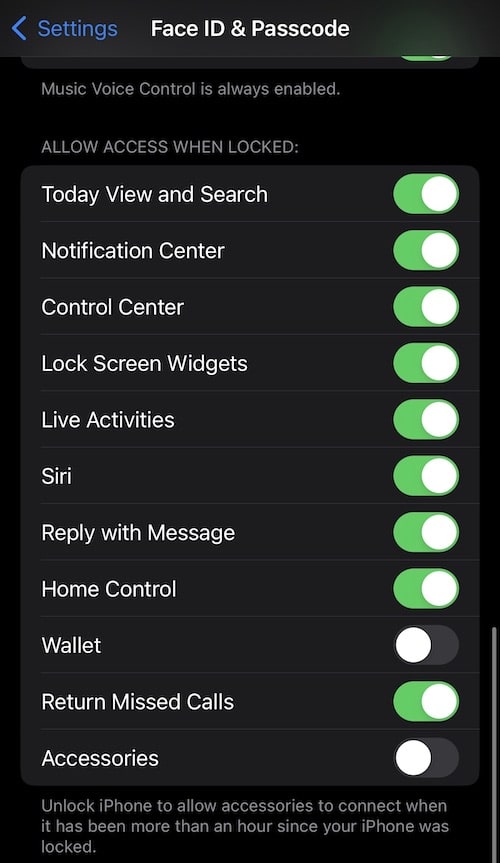 Check Your Bluetooth
If you are using a wireless connection, make sure that Bluetooth is enabled, and that your iPhone has a connection to your car. While all cars are going to be different when it comes to accessing Bluetooth in the vehicle, accessing it from your iPhone is simple as going to Settings > Bluetooth, and seeing it the connection is at least good on that end.
Check Your Locking Preferences
Concerning software, make sure that the CarPlay While Locked setting is enabled. While this setting can be a handy feature, it also means that you will not be able to access CarPlay while your phone is locked. Navigate to Settings > General > CarPlay and choose your vehicle from the list of available connections, then ensure that the Allow CarPlay While Locked toggle is enabled.
Check Your USB Cables if Wired
If you're not using a wireless connection, ensure that all of your USB cables are connected properly. Using an aftermarket cable, or cables that are broken or frayed can be known to cause issues with connectivity. Try switching out the cables if you are experiencing issues.
Additionally, if you're not using a wireless connection, ensure that you got your cable in the right port. While modern vehicles offer a lot of extras, including USB ports, that doesn't mean every port is going to work with CarPlay. Try plugging your device into the different ports to see if this will help bring up the CarPlay or iOS icon on your infotainment system.
Disconnect the iPhone from Your Vehicle
Of course, you can also try disconnecting your iPhone from your vehicle, and then reconnecting them again.
Time needed: 3 minutes
To disconnect your iPhone from your vehicle and reconnect it, follow these steps.
From your iPhone, go to Settings > General > CarPlay.
Select your vehicle.
Tap Forget this Car.
Restart your vehicle and your iPhone, and then try to establish a connection again.
If using a wireless connection, go to Settings > General > CarPlay and select Available Cars.
If you are using a wired connection, then reconnect the USB cable to your vehicle and follow the on-screen prompts.
If none of these options are working for you, you may need to get ahold of Apple Support.
Conclusion: Making the Connection
Again, while the issue is most likely something small, the problem may very well be within your vehicle as well. If you're experiencing issues with CarPlay, try out these steps before getting in contact with someone, as virtually all of these steps take little time to complete. Before you know it, you'll be cruising the road listening to Apple Music in no time.
While it can be annoying not having things work the way you want them to, the easiest solution is often the correct solution. It's likely a minor technical bug causing CarPlay to not properly connect to your iPhone. However, if it is something more serious, you may want to consult the owner's manual of your vehicle to see if it provides any details. Though, one of these solutions is bound to do the trick.