Over the past decade, Twitter has positioned itself as a de facto platform for expressing your thoughts. The discussions range from politics, trending topics, sports, and more. Tweets are often accompanied by photos, videos, GIFs, and other media. Twitter's official app only lets you save images and not videos. Thankfully, there are multiple ways to download Twitter videos on iPhone and iPad.
Download Twitter Videos on iPhone, iPad, and Mac
Sharing Twitter videos via link is not always ideal. Sometimes the other person might not be on Twitter. Or they could be on a social detox and thus avoiding Twitter altogether. In such cases, you can download Twitter videos on your iPhone. Here's how to do it.
Download Using the iOS Shortcut app
Not comfortable downloading third-party apps? No worries, the iOS Shortcut app is here yo the rescue.
Time needed: 1 minute
Follow the steps below to add a Shortcut for downloading Twitter videos. 
Point your Safari browser to dvdl.app. Tap and select Get the Shortcut button

A new prompt asks whether you want to Open in "Shortcuts." Tap Open

Select Add Untrusted Shortcut to proceed further. 

Open Twitter and select the video you want to download. Tap Share > Share via.

Choose TVDL v3.1 from the list of sharing options.

iOS asks for permission to run the Shortcut. Select Always Allow. This is a one-time setup. Next time onwards the Shortcut app will not ask for your permission. 

Before downloading, TVDL lets you select the resolution. You can choose Medium or Low. The file size is displayed next to the download resolution. 
Using the Files app, you can play and share the downloaded video. The iOS Shortcut works well for the most part. However, there were times when it failed to download the video. In such cases, restart downloading by following the same steps as before.
2. Download Videos using SSSTwitter
There are multiple online tools that help download Twitter videos. All you need to do is copy and paste the URL on the downloader tool. The tool in itself is a webpage that can be accessed using Safari or any other browser. Check out the steps below-
1. Select the Share icon below the video tweet.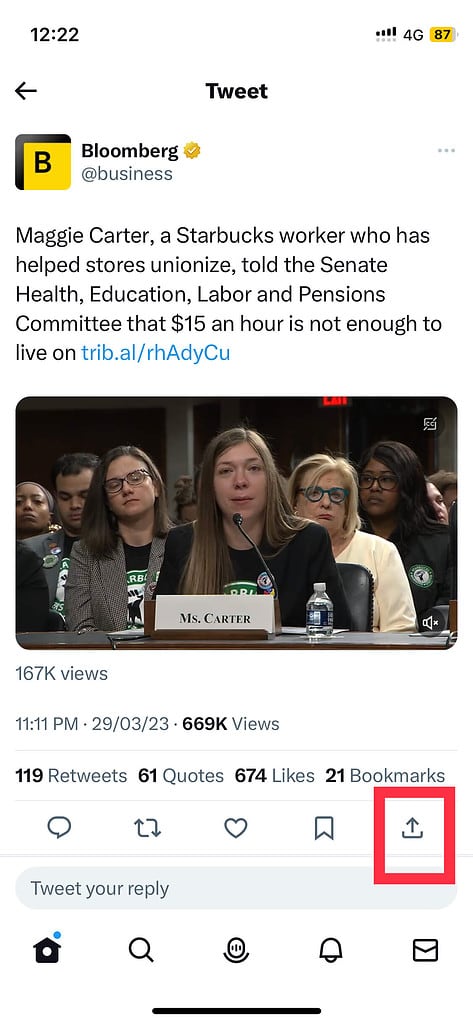 2. From the options, select Copy Link.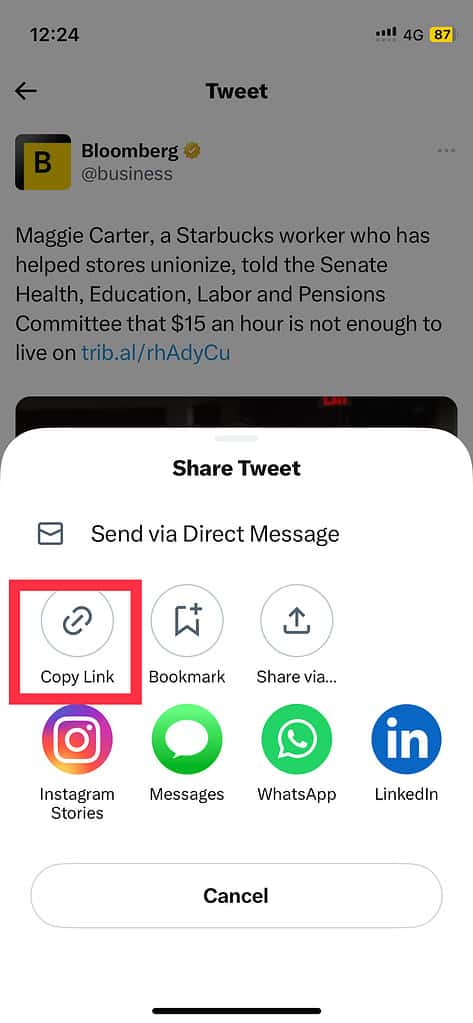 3. Open Safari (or other browsers) and visit SSStwitter.com. Paste the link in the downloader box and select Download.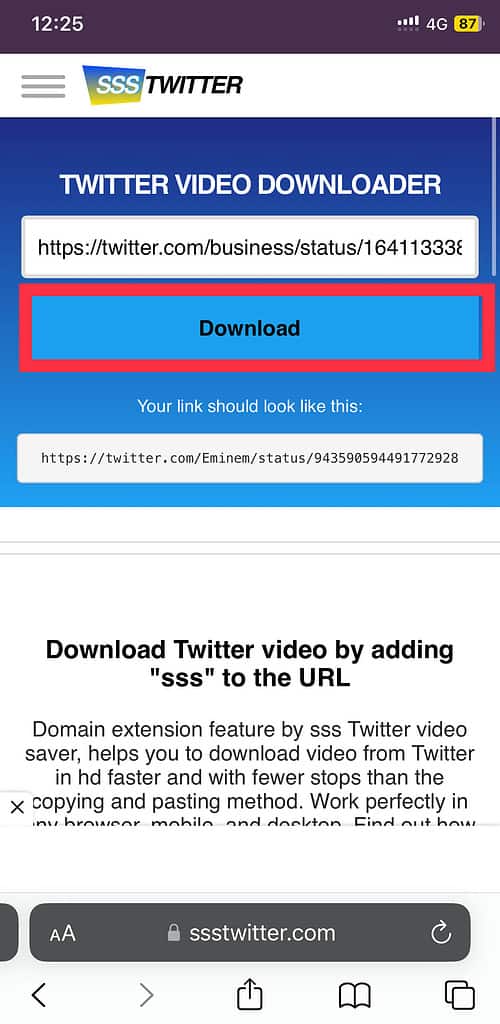 4. The download process will be initiated in a couple of seconds. Sometimes it might take longer due to variables like server and internet speed. The tool lets you select a resolution. Choose between HD, 320×548, or 480×852. There is also an option to convert video into MP3.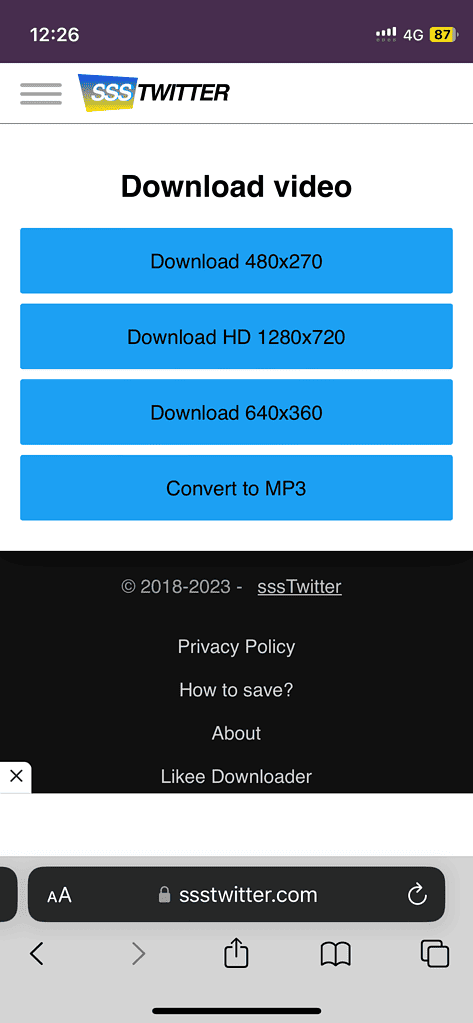 5. Open the Files app on your iPhone to access the downloaded files. Now you can directly share it with family and friends.
A Word of Caution
While compiling the list, I came across a few suspicious tools. It is quite possible that these websites are laden with malware. Scan the website for malware before proceeding. Apart from SSStwitter, feel free to use other video download services. Popular ones include TWSaver, Twitter Video Downloader, and SaveTweetVid.
Use Twitterbot to Save Twitter Videos on iPhone
I always hoped that Twitter would introduce a native feature to download videos. Well, Twitterbot is the next best thing. The bot uses Twitter API and offers a host of useful features. One of them is to download videos. Previously, the bot used to reply with a video link. This has changed due to Twitter's API limiting policy. They have come up with a new workaround.
Here's how to download videos using Savevidbot.
Open a tweet with a video.
Reply or comment to the tweet tagging @SaveVidBot.

Wait for a minute. Open Oyosm on your browser. Enter your Twitter username and select Check.

3. Wait for a minute. Open Oyosm on your browser. Enter your Twitter username and select Check.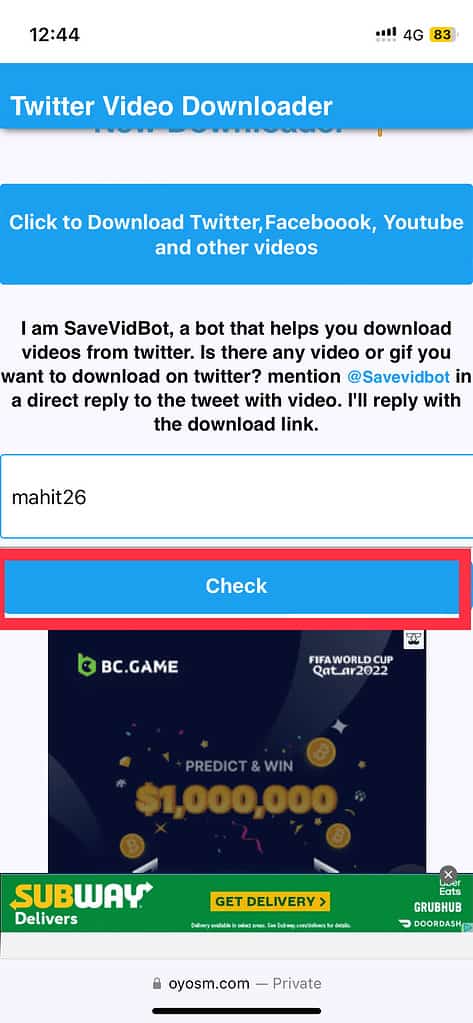 4. Scroll down. You should see the video thumbnail. Tap on the Download button below the thumbnail.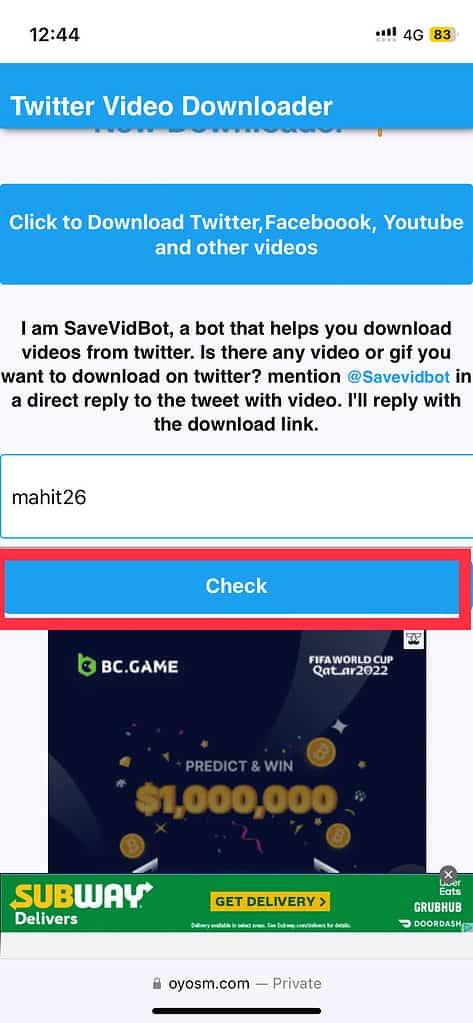 5. The Twitter video is now saved on your iPhone. You can edit the video before sharing it with others.
Unable to find the downloaded video? Open the Files app and access the video in the Recents section. 
Frequently Asked Questions
1. Can you download a video from Twitter on iPhone?
As we have demonstrated above, you can download a video from Twitter. You can use online video grabber, iOS shortcuts, and third-party apps.
2. Is it safe to download videos from Twitter?
Please exercise caution. As mentioned earlier, some sites might infect your iPhone with malware. 
3. How to download GIFs from Twitter.
 You can use the same set of tools for downloading GIFs and videos from Twitter. 
4. Can I share Twitter videos?
After downloading, you can share Twitter videos with anyone. Even those who are not on Twitter. 
5. How to forward Twitter videos on WhatsApp?
First, download Twitter videos on your iPhone using the above methods. Once done, use the iOS video share option to send forward via WhatsApp (or other apps.) 

Instantly Download Twitter Videos on iPhone
Downloading Twitter videos is fairly simple. It doesn't need the internet or Twitter app to playback the video. Please note that downloading videos for personal use is alright. However, remember that unauthorized distribution might land you in big trouble. Which is your favorite tool? Let us know in the comments below.