Messaging apps such as WhatsApp have become a part of our daily conversation. I mean, most of the important transactions that many of us have to deal with happened using those apps. So, it's inevitable that conversations accumulate on our iPhones. But some of those conversations may contain sensitive information that should be seen or read by anybody else but you. That's where the need to hide some of those conversations or contacts becomes necessary. If you're a power user and need to hide WhatsApp Messages or someone in your WhatsApp contact list, this guide is for you.
How to Hide Conversations One by One in WhatsApp Using Archive Chat
The first method that you can do to hide WhatsApp messages on iPhone is to hide them individually using the Archive Chat feature. Follow the steps below to do so.
Time needed: 2 minutes
Here's the procedure for archiving WhatsApp Chats.
Open the WhatsApp application on your iPhone.

Tap on the Chats tab, then select the conversation thread that you want to hide.

Tap and hold the chat for a few seconds until a pop-up appears.

Tap Archive from the contextual menu that appears on the screen.
Once you have archived a chat, you can read it again next time by simply tapping on the Archived folder at the top of your WhatsApp chat threads.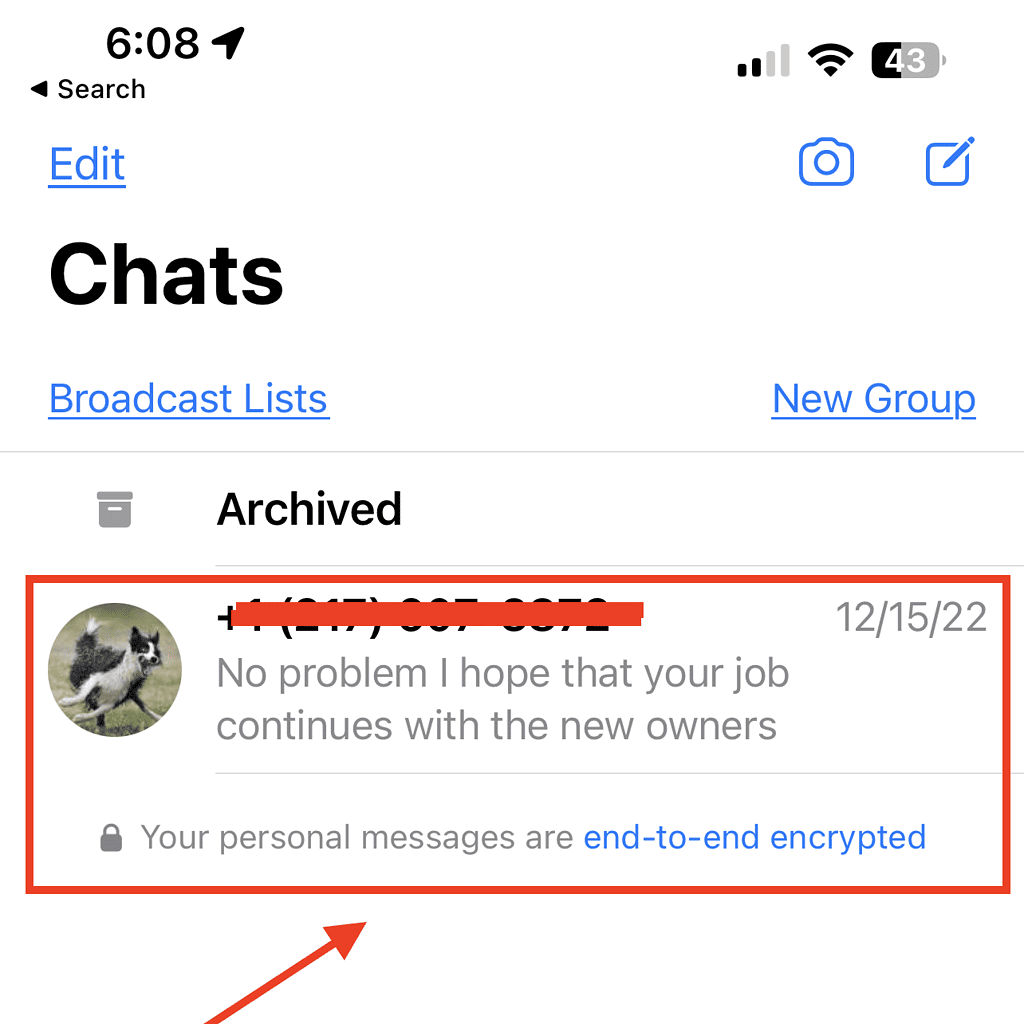 While this may seem an easy method to hide WhatsApp messages, it can become quite tedious especially since you need to hide every message added to a particular chat or conversation thread. So, you might want to consider doing the next step instead.
How to Hide All WhatsApp Conversations
An easier of hiding all WhatsApp messages on iPhone can be done through Chat Settings. See the steps below to accomplish this task.
Open WhatsApp applications on your iPhone.
Tap Settings > Chats.

Tap Archive All Chats.

How to Hide WhatsApp Messages from the Home Screen on iPhone
Another thing that you need to do if you don't want other people to intentionally or unintentionally read your WhatsApp messages is to hide them from the iPhone Lock Screen preview. When you receive a new message, the iPhone notification can display the name of the sender as well as a preview of the message on your iPhone's lock screen.
Note that WhatsApp set this as a default setting hoping that users will appreciate it. But others simply don't want the feature at all. So to hide the WhatsApp Messages preview from your iPhone home screen or the lock screen preview, follow the steps below.
Go to Settings on your iPhone
Tap Notifications > WhatsApp.

Scroll down to the Options section, then tap Show Previews.


Tap Never.

Once enabled, you will only see the name of the sender on your iPhone's lock screen preview or home screen. The actual content will be replaced by the word, "messages."
How to Disable WhatsApp Lock Screen Notifications
If you want, you can disable notifications for WhatsApp on your iPhone. Simply go to Settings > Notifications > WhatsApp. Then uncheck the Lock Screen. This will stop WhatsApp notifications from appearing on your iPhone's Lock Screen. But you will still know if new messages come in by the number that appears on the WhatsApp icon.
How to Hide Someone on WhatsApp iPhone
When it comes to hiding someone on WhatsApp, there are two ways you can do so. You can use the Archive Chat method or Block that someone on your WhatsApp contact list. Don't even bother reading the Google SERP if you search, "how to hide someone on WhatApp iPhone" because it's the same process as archiving a chat or conversation thread. There's no way that you can archive someone.
But, there's no stopping you from blocking someone on WhatsApp instead. If you do this, it will only stop WhatsApp from receiving messages from that someone. You can still see them on your WhatsApp contact list though. So, if you want to hide someone on WhatsApp on your iPhone, you can just simply delete them from your Contacts list.
Final Words
When using various messaging apps on your iPhone, I do understand that there will come a time when you may need to hide some of those messages due to the nature of their content. Unfortunately, though, the above methods only hide the messages but don't mean that other people can no longer read them if they get ahold of your iPhone.
What I'm saying here is that WhatsApp doesn't give you the option to password-protect the Archive folder in your conversation thread. It would be great to have this feature since it will secure your sensitive WhatsApp chat and conversation thread. Hopefully, WhatsApp will come out with that feature in future updates to their app.