Apple TV is an excellent gadget for watching your favorite shows and movies on a large screen. Nonetheless, there may be occasions when you wish to view something without bothering others in the room. That is where AirPods come in. AirPods are wireless headphones that provide high-quality sound without the use of cables or wires. You may connect them quickly to your Apple TV and listen to whatever you want in private.
But how can you get AirPods to work with Apple TV? Follow along as I'll show you to do it, and also address some frequently asked questions about using AirPods with Apple TV.
How Do I Pair My AirPods to My TV?
There are two ways to connect your AirPods to your Apple TV: automatically or manually. The automatic method works if you have already paired your AirPods with your iPhone, iPad, or iPod touch using the same Apple ID. This way, your AirPods will be recognized by your other Apple devices, including your Apple TV.
Time needed: 2 minutes
To connect the AirPods manually, do the following:
First, you need to update your Apple TV by going to Settings > Software Updates > Update Software and installing any available updates.

Open the case of your AirPods with them inside, press and hold the setup button for five seconds.
Your AirPods will be shown under the Available / Other Devices. Select them in order to connect.
Why Won't My AirPods Connect to My Apple TV?
If you are looking for a pair of wireless earbuds that offer seamless integration with your Apple devices, a rich and immersive sound quality, and a range of specialized features that enhance your listening experience, AirPods are a winner. But, they can also encounter some issues along the way. There are several possible reasons why your AirPods won't connect to your Apple TV. Some of them are:
Your AirPods Are Not Connected to Your Apple ID
This means they will not be recognized by your other Apple devices, including your Apple TV. To pair your AirPods with your Apple ID, first connect them to your iPhone, iPad, or iPod touch and ensure that they are up to date.
AirPods Aren't Turned On or In Range
If your AirPods are either in a closed case or are too far away from your Apple TV, they will not be able to connect. To wake them up, open the case or insert them into your ears. To get them closer, move within 10 meters (33 feet) of your Apple TV. If you don't have the case, there still is a way to connect them without it.
AirPods Are Paired with Another Device
This suggests they're already playing audio from a different source, such as your iPhone or Computer. To disconnect them from the other device, either turn off Bluetooth on that device or pick a different audio output.
Apple TV is Outdated
This implies that it may not support certain of your AirPods' functions, including spatial audio or noise cancellation. To update your Apple TV, navigate to Settings > System > Software Updates and select Check for Updates.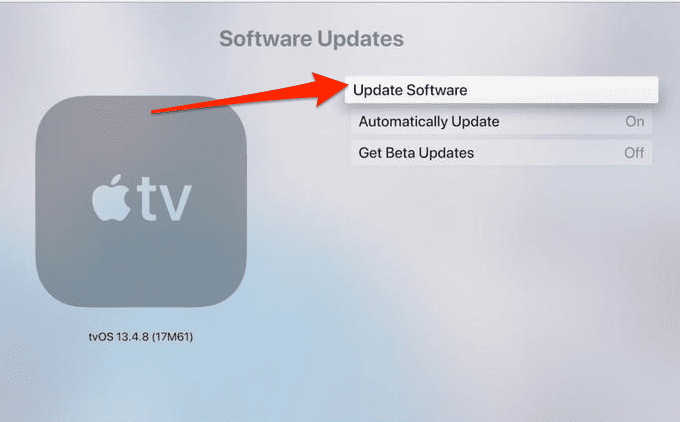 If nothing works, you can try resetting your buds. Resetting them is one of the best ways to fix any connectivity issue.
For further reading, check out how to use Spatial Audio when sharing audio in tvOS 17.
How Do I Put My AirPods in Pairing Mode?
To put your AirPods in pairing mode first open the AirPods case, locate the setup button on the back of the case then press and hold it for approximately five seconds, or until the status light begins to flash white. Keep the case close to the device you want to connect your AirPods to in order for them to pair.
Where Is the Bluetooth Setting on Apple TV?
You can find the Bluetooth setting by going to Settings > Remotes and Devices > Bluetooth. From there, you can connect your Bluetooth accessories and AirPods.
Airpods offer several advantages that make them worthwhile for anybody who enjoys listening to music, viewing movies, making phone calls, or using Siri. Hopefully, one of these solutions will help you connect your AirPods to your Apple TV and enjoy wireless audio without any hassle. For further reading, take a look at our guide on what to do if AirPods keep disconnecting.