In my youth, we had this wonderful invention called an answering machine. It allowed us to screen our calls, listening as someone left a voicemail. If we chose, we could pick up the phone mid-message and take the call. Apple recently added that functionality to the iPhone with Live Voicemail, allowing you to read a transcript of the message as it's left. Here's how it works.
Accessing Live Voicemail on Your iPhone in iOS 17
Once you've updated to iOS 17, your device should enable Live Voicemail by default. Not that I recommend you install the beta now on your daily driver. While the beta is mostly smooth and runs well so far, it's early yet and there are bugs.
That being said, you can make sure the Live Voicemail feature is turned on in Settings.
Open Settings > Phone.

Scroll down until you see Live Voicemail.

If the feature isn't turned on, tap Live Voicemail and toggle it on.
Once that's done, you're all set to screen calls as your callers leave voicemail.
Reading the Live Voicemail Transcript of Missed Calls
I hesitate to call them "missed" calls, since you're really screening your calls to decide whether or not to answer. The transcript works very well, so let's explore.
Time needed: 1 minute
To read a Live Voicemail as the caller leaves it, follow these steps.
After your caller begins leaving a voicemail, you'll be prompted to unlock your device. Then, you can view the transcription.

Unlock your iPhone, and the Live Voicemail displays. You can decide whether to answer or not.

To interrupt the message and answer the call, just swipe the phone icon where it says "Slide to answer."
Other Voicemail Changes in iOS 17
Apple has also made it easier to listen to or read voicemail transcripts. These now appear right in the Recents tab of the Phone app.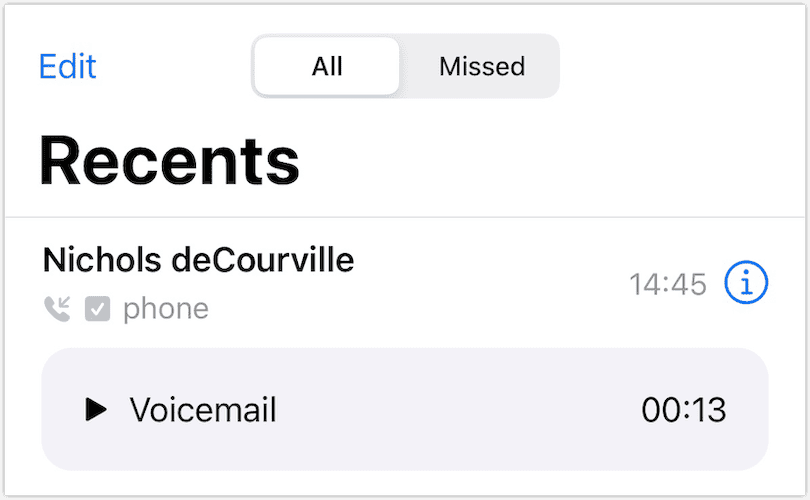 Previously, you had to tap the Voicemail tab, but it's much easier now. Hopefully, Apple keeps it this way through the beta cycle. It definitely makes using the phone part of your iPhone easier. For further reading, check out how to easily set up your voicemail on iPhone.