With the launch of iOS 17, Apple has reiterated its desire to strengthen its security features and system basics. One of the main features that stand out on iOS 17 is that it allows you to share your passwords and passkeys with a group of your trusted contacts within the iCloud Keychain. The Family Password Sharing feature lets you share your passwords through encrypted channels. This reduces the risk of data theft as you are not sharing the passwords explicitly. Pretty cool, huh?
Well, let us learn more about this so that your passwords are safe and secure with the people you trust.
Family Passwords in iOS 17: What Is It?
The Family Sharing feature of Apple has been getting regular enhancements with each iOS update. However, this time it got the most crucial update it has received to date – passkeys and passwords.
It is really easy to use the feature too. All you need to do is to set up a Family Passwords Group on your iPhone. Then decide on the credentials you wish to share with the people in the group. Once you do this, all the members of the group will be able to access and edit the credentials that you shared.
What are the requirements for using Family Password Sharing?
Before we show you how to share your passwords, let us look at the requirements that you and everyone you wish to share your passwords with, need to meet.
1. You and all your group members should have iOS 17 or later versions of the OS.
2. All of the AppleIDs in the group should have their iCloud Keychain enabled.
3. You need to save the numbers of the contacts that you wish to add to the Family Passwords group beforehand.
4. To see your shared passwords, the group member must join the group through the invite link that you will be sending.
How To Share Passkeys and Passwords Safely in iOS 17
Without further ado, let us show you the steps to set up your own Family Passwords Sharing group.
Time needed: 2 minutes
How to share passwords and passkeys in iOS 17
Open Settings on your iPhone and scroll down to Passwords.

Verify that it is you with your FaceID or passcode.

Under the 'Share Passwords and Passkeys' option, you will find the Get Started option. Select it.

Tap Continue on the next screen.

You will find a space to type in your Group Name. Once done, tap on Add People.

Search through your contacts and select the ones you wanna add to the group. Then tap Add.

Once done, tap Create.

Now choose the passkeys and passwords that you wish to share and then tap Move.

Now for the final step, tap Notify via Messages.

You will be redirected to the Messages app. Once there, tap the blue arrow to send the invite over to the selected contacts.
And voila! You are done setting up your very own Family Passwords Sharing group.
How to Access, Edit, and Delete Your Shared Password Group in iOS 17
What if you wish to manage a Family Password Sharing group? You can do it in a few easy steps. Let us walk you through them.
1. Open Settings on your iPhone. Select Passwords. And then choose the name of your Shared Password group.
2. Then tap Manage.
3. If you wish to rename the group, choose Edit. Once done, select Save and then tap Done.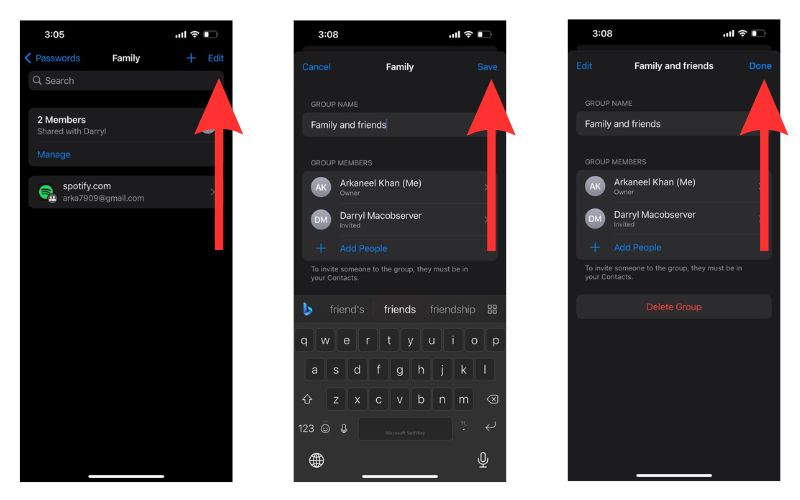 4. If you wish to add new contacts, tap Add People. Select the contacts that you wish to add and then tap Add twice. Once done, tap Notify via Messages and select Done.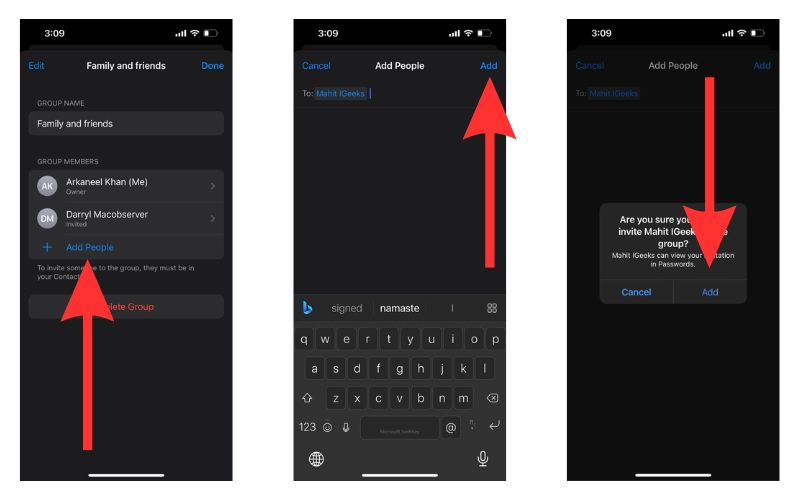 5. You can remove any shared password by tapping Edit. Then select the password and tap Delete. And then tap Delete Shared Password.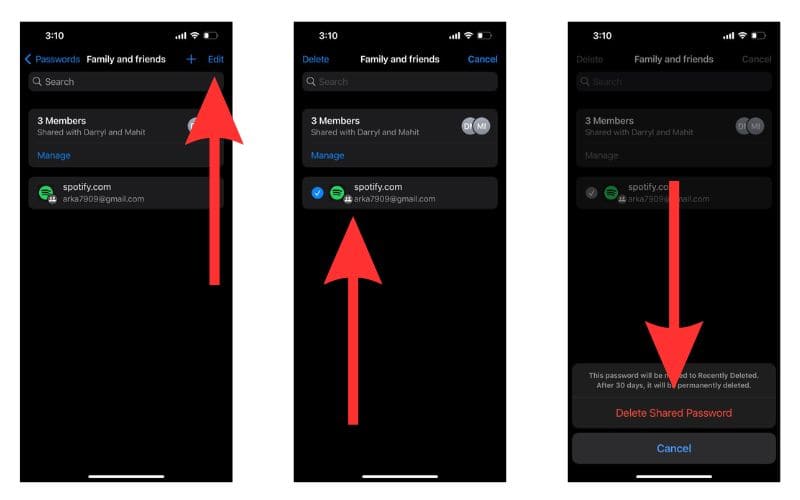 6. If you wish to remove the group, select Delete Group. And then tap Delete.
You should note that any password you delete will also automatically be removed from your iCloud Keychain.
Pssst! Wanna Know How To Recover a Deleted Password?
Suppose you shared a password with the wrong person or in the wrong group and you had to delete the Family Password Sharing group. You would want that password back in your iCloud Keychain, right? Let us show you the steps on how to do that.
1. Go to Settings.
2. Choose Passwords.
3. Now tap on Recently Deleted.
4. You will now be able to choose the password that you wish to restore.
5. Then you will need to tap Recover to my Passwords twice.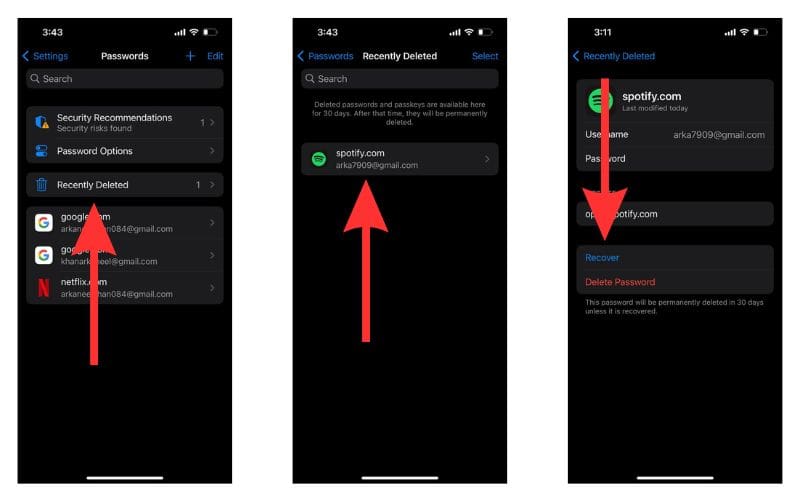 Doing this will restore the password. But it will not be shared anymore. But you will have to do this within 30 days of deleting the password.
Advantages of Family Password Sharing
So now that we know about this new feature, let us look at some of the major advantages that it offers.
Each and every member of the group can add their own passwords and modify the existing ones. Any modifications done by any member of the group will be visible to all members of the group. This maintains transparency and eliminates the scope for confusion and miscommunication.
You can now create separate groups to share specific iCloud Keychain passwords with select friends and family. You will also be able to add new contacts to already-existing groups depending on the passkeys and passwords that you have shared in the specific groups.
Suppose you have shared a password in a group but you wish to not share it anymore. You can simply go ahead and delete the group or remove the particular contact with whom you do not wanna share it anymore. And best of all, everything will be encrypted end-to-end and will be stored on your iCloud Keychain.
The concept of being able to share your passwords in one place with your family makes a lot of things easier. You can use it to share details of streaming services, subscriptions, bill-payment sites, and any other accounts that you use with your family.
Redefining Hassle Free Password Sharing
Previously to share passwords across iPhones, users had to rely on open channels which let them susceptible to data theft. Making good on their promise of strengthening security, Apple brought forth the Family Password feature in iOS 17.
Share your precious passwords with your friends and family across iPhones without having to worry about your data falling into the wrong hands. What do you all think of this feature? Do let us know.