Do you love bokeh but don't have an iPhone with a dual lens camera? We've rounded up five apps that give you Portrait Mode bokeh. You can use these apps on any iPhone model.
Tadaa SLR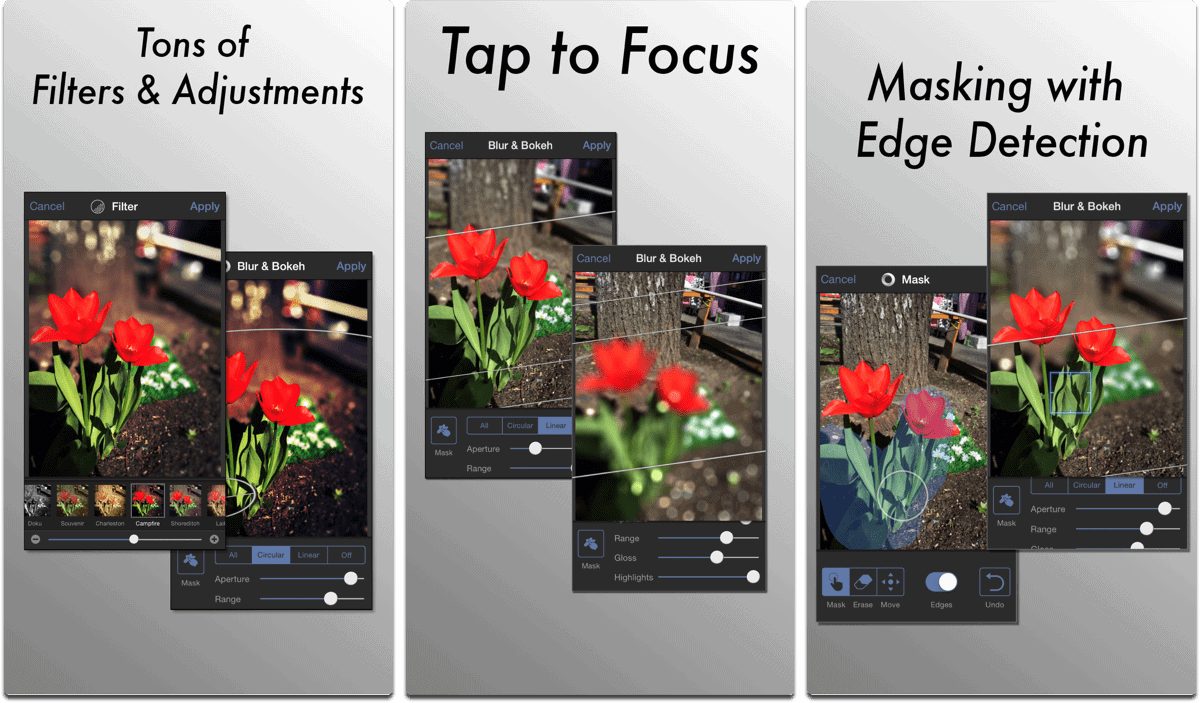 Tadaa SLR is a camera app that not only lets you change the depth of field of a photo, but also change the focal point, even after you've taken the image. The app has edge detection, which means you can "paint" areas of the photo to blur the background. Then, you can use a slider to control the blur intensity. You can tap anywhere in the photo to change the focus. Tadaa SLR is US$3.99 on the App Store.
Bokeh Lens
Bokeh Lens is similar to Tadaa. It's an app that lets you brush blur onto your image. You can adjust the bokeh intensity, and select the area of focus with masking. Unlike Tadaa, this app doesn't have edge detection. You'll have to zoom into your photo to carefully brush over your subject. It displays a magnification loupe, so you can see fine details. Bokeh Lens is US$0.99 on the App Store.
Facetune 2
Facetune 2 is an editing app designed for retouching portraits. It offers tools like eye enhancement, skin smoothing, filters, and teeth whitening. It also has a defocus tool. The tool has an "auto" feature that attempts to automatically detect edges, and blur them. It's not perfect though, so you can selectively blur your photos, and control the intensity. Facetune 2 is Free on the App Store. Certain editing tools require an in-app subscription though.
Defocus
Defocus lets you brush blur onto your images to create a tilt-shift effect. You can control the brush size, as well as the intensity of the blur. As well as editing photos you already shot, you can take photos with Defocus. You can also export images straight to social media like Tumblr. Defocus is US$4.99 on the App Store.
Camera+
Camera+ is a camera app we've previously written about. It's a multi-purpose camera app that gives you manual controls, shooting modes, a special clarity tool, and effects like filters. You can lock the focal point and control depth. This gives you a more realistic Portrait Mode bokeh effect. Camera+ is US$2.99 on the App Store.