One of the lead architects on the US$5 billion Apple Park project recently credited Apple Chief Design Officer Jony Ive and his design team as cocreators of the Steve Jobs Theater. Stefan Behling, a Foster + Partners partner and one of the lead architects on Apple Park, told Wallpaper, a design magazine, that the Steve Jobs Theater was the product of a deep collaboration between Foster + Partners and Sir Jony's team.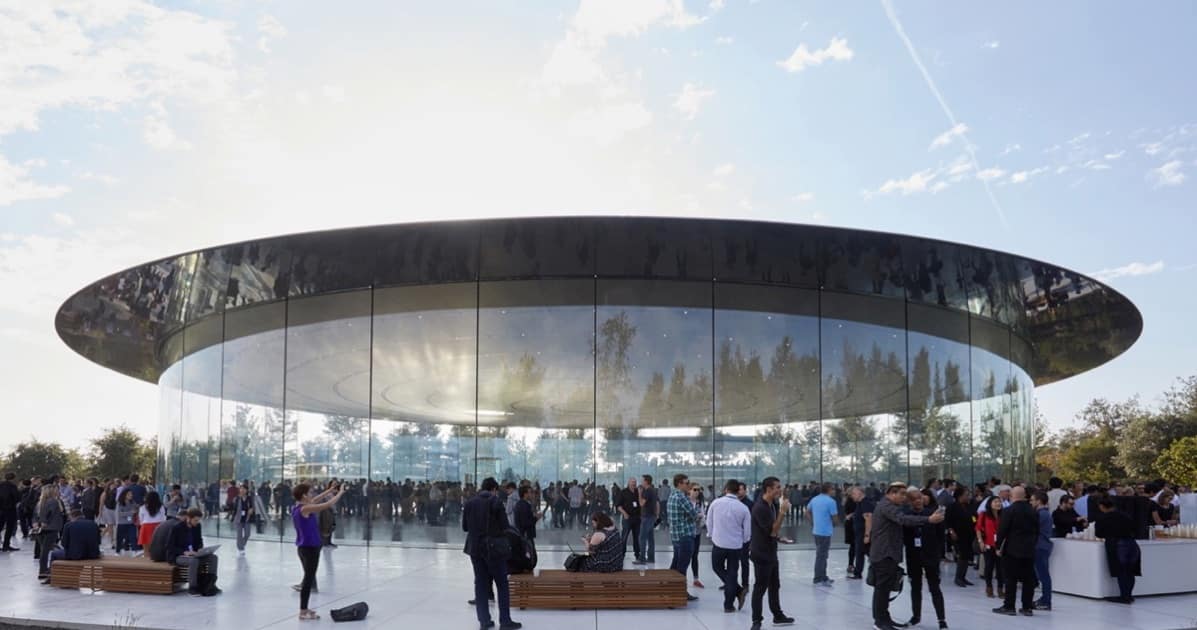 "Everything in this theatre, every detail, everything you see around you, is a totally integrated collaboration with Jony Ive [Apple's chief design officer] and his design studio," Mr. Behling said. "Over the last nine years, we have become almost one. We talk together all the time, sit and sketch. This is not a Foster + Partners building."
We've long understood how much work Sir Jony put into Apple Park, Apple's living monument to late cofounder Steve Jobs. Apple's first CDO has waxed eloquent on the materials, finish, design, furniture, stairs, walls, behind the walls, the floors, underneath the floors, and even the door knobs in Apple Park. The comment from Mr. Behling, coming as it is from the architectural firm itself, is very strong statement.
About 2016
Indeed, it makes me think about the slower pace of industrial design we've seen at Apple in recent years. To wit, the iPhone 6/6s/7 were all but the same device, design-wise. The iPhone 8 is different mainly in the use of materials (glass instead of metal). The iPhone X is the first really new iPhone design we've had in four years. MacBook, iMac, MacBook Pro, Mac mini, and Mac Pro have changed somewhere between not at all and very little, too. And don't get me started on the MacBook Air.
Since those first stories about how hard Sir Jony was working on what would later be named Apple Park, I've suspected the building was a big part of why Apple had slowed down its pace of new product releases. This Wallpaper interview—which is a wonderful read with great photographs—only reinforces that idea.
From Wallpaper's piece:
The [iPhone X launch] keynote is taking place in the new Steve Jobs Theater, itself a small marvel of engineering, ingenuity and attention to detail. 'If the overall project is a small town, then this is the town hall, and jewel,' says Stefan Behling, a Foster + Partners partner and one of the lead architects on Apple Park. Above ground, the theatre is essentially a 165ft-diameter glass rotunda with no visible support. 'In the beginning there was just this idea: "Let's have a hovering roof", just this sliver of roof floating in the landscape,' says Behling. 'And it has been the most difficult building of my career.'
A design team working hand-in-hand with the architects on the world's most advanced theater—building mockups, testing untold numbers of materials, and inventing new construction methods—just doesn't have a lot of spare time for things like new iPhones. Key to this is the reality that Jony Ive's design team didn't explode in size during this process. There are only so many hours in a week.
I Come Not to Bury Caesar
My point here isn't to castigate Sir Jony or Apple for this choice, but rather to understand how 2016 was just so plain awful for new Apple products. As an Apple fan, I can accept 2016 if that was the price to pay for Apple Park.
I believe Apple Park will be seen as one of the world's greatest architectural, engineering, and design achievements. It's also one of two important tributes to the late Steve Jobs (the other being Apple surviving his untimely death). I believe Apple's current leadership sees Apple Park as their way of honoring Mr. Jobs, and this is especially true for Jony Ive.
And, let's not forget that 2017 has seen a return to new Apple products. It's most likely not a coincidence. Design of Apple Park was largely finishing up in 2016, and construction itself was finishing throughout this year. Evidence suggests the design team is once again able to focus on what customers most care about, new products.
There's a lot more in the full Wallpaper story, including comments noted by 9to5Mac about software allowing iPhone X to do things in 12 months it can't do today. There's also a note about the December edition of the magazine coming with a Jony Ive-designed limited-edition cover (below). It's a very good read I recommend.