Owing to the growing popularity of Apple devices, many organizations started deploying them to their employees as part of their mobile device management. Previously, organizational device deployment was limited to Windows PC; now employees can have the privilege of using Apple devices in fulfilling their work duties. Thanks to mobile device management, or MDM solutions, for Macs, iPhones, and iPads, issuing these devices to employees has never been easier.
Through the Apple Business Manager, employers are able to devise a corporate strategy for the deployment of Apple devices to employees. IT managers and administrators on the other hand can efficiently manage and monitor Apple devices that were issued to employees. But this would not have been possible without the use of MDM solutions. After careful consideration I've rounded up five best MDM solutions for Macs, iPhones, and iPads.
What is MDM and How Does It Work?
Mobile Device Management (MDM) is an essential component of enterprise solutions for deploying and managing the deployment of mobile devices to employees. The main purpose of MDM is to enable enterprise solutions efficiently and securely deploy mobile devices. It also helps employees to effectively perform their tasks through the use of mobile devices deployed to them. With the MDM solution, employees can access apps, content, and information on their devices wherever they are. Employers, on the other hand can monitor whether employees use the devices for non-work purposes. Through MDM solutions, they can also block employees' access to unauthorized content and apps.
What is Apple Business Manager?
When it comes to deploying Apple mobile devices such as iPhones, iPads, and Macs as part of the MDM, companies can easily do so through the help of Apple Business Manager. Just to be clear, companies may opt to use MDM solutions together with Apple Business Manager. However, they can also opt to use MDM alone i.e without ABM. But there may be missing out many features that ABM has to offer. The same is true with using ABM alone without MDM. However, when used without an MDM solution, ABM will only serve as a serial number database. Hence, it's best if companies use both.
How to Choose the Best Apple MDM Solution for Your Organization
When it comes to choosing MDM solutions, the choice often depends on what the organization needs. Apple recommends certain things to be considered when choosing MDM solutions. These include hosting options and pricing, among other things.
Some of the things that Apple suggested to be considered when choosing the appropriate MDM solutions are as follows:
Vendor support access and policies.
Hosting locally in the cloud.
Device support.
Support for Apple web-based portals.
User account information.
MDM commands.
Query and reporting services.
Education-centric functionality.
Business-centric functionality.
All if not most of those tips will help organizations decide which MDM solutions to deploy. They would shape up as deciding factors for selecting the best MDM solution.
5 Best MDM Solutions for Macs, iPhones, and iPads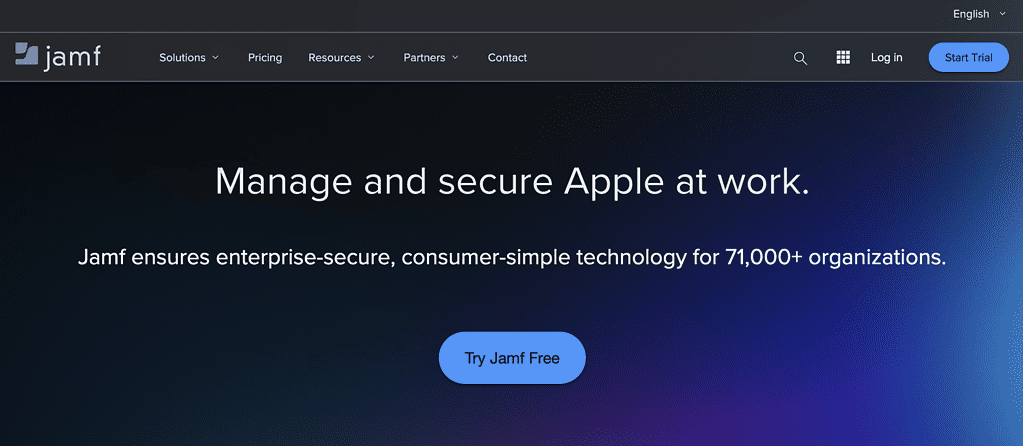 Originally created as a remote desktop management (RDM) system for Macs deployed in organizations, Jamf evolved into one of the best Apple MDM solutions available in the market today. Jamf's started supporting Apple's MDM architecture on day one, and up to now, it has enabled enterprises to effectively secure, manage, and empower their users through Apple mobile devices, whether its ten iPads to thousands of iPhones, iPads, and Macs scattered across organization's employees.
When Jamf is deployed by IT personnel and configured to work properly with enterprise-wide IT systems, the rest of the workflow runs smoothly. With Apple Business Manager deployed in the organization, Jamf automatically configures new devices enrolled into the ABM and gives them provisions for authorized apps. App deployment on individual employees' new devices is based on enterprise policies.
Jamf simplifies bring-your-own-device (BYOD) arrangements whereby employees can access enterprise apps and content using their own devices, no matter where they are located. Employers would be glad to know that Jamf helps enforce organizational security on employees device.
Other features of Jamf Apple MDM solution include automated inventory collection, seamless Apple OS updates for all company-issued devices (iPhones, iPads, or Macs), efficient app management, and remote security configuration.
Availability: Business Plan — $13.65/mo, 25 user minimum, Custom Enterprise Plan also available.
Pros
Great self-service mechanisms to make apps available quickly to users.
Seamless remote app deployment.
Lost device tracking is very effective.
Easy to use and set up.
Cons
Patch management is not as smooth as expected.
Single-page representations of all 3rd party integrations.
➡️ Get Jamf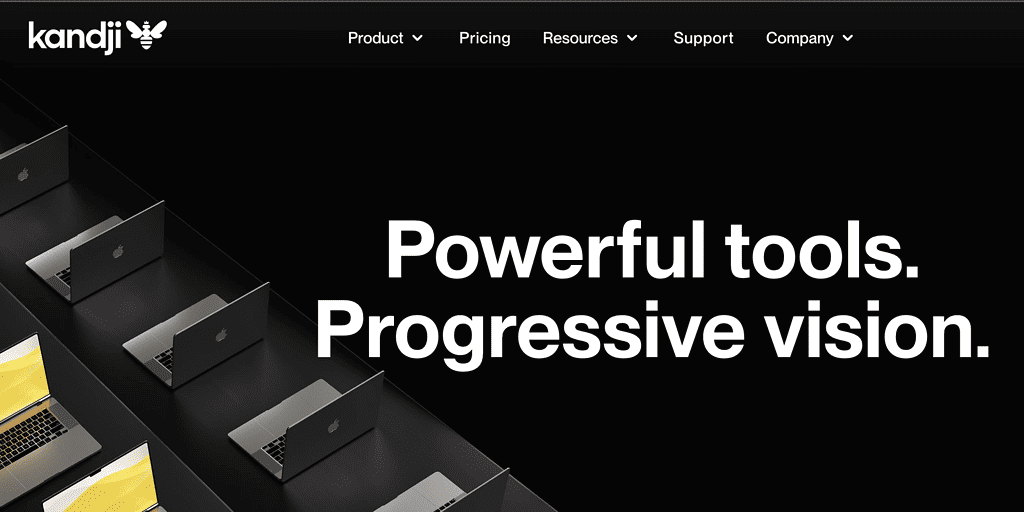 Aside from Jamf, another popular MDM solution used by many enterprises is Kandji. As an enterprise solution for deploying mobile devices, Kandji does not only support iPhone, iPad, and Mac but even Apple TV. Kandji claims that their solutions are very easy to set up. In fact, they say that enterprises can roll out their MDM in a matter of minutes. Perhaps, this is possible especially since Kandji features pre-defined templates or blueprints that companies can use and deploy quickly. This means IT administrators won't have to spend more time learning about the platform.
One of Kandji's strongest features is the same-day liftoff. This allows newly purchased Apple devices enterprise-ready for deployment on the same day that it was purchased. All the necessary security configurations will be in place quickly.
Other features of Kandji include auto app deployment and updates, password-less deployment, managed OS tools, migration agents when shifting from old MDM to new MDM solutions, and seamless integration with popular enterprise software.
Availability: Pricing depends on the number of users as well as what devices are going to be used.
Pros
Intuitive and simplistic user interface.
Easy-to-use auto-apps feature.
Excellent Support Team.
Cons
Reporting features need improvement.
Needs to keep up with Apple's software updates.
Inability to apply apps and settings separately to a single device.
➡️ Get Kandji

Next on our list of MDM solutions for your Macs, iPhones, and iPad is SureMDM. It is a cross-platform MDM solution that offers two types of deployment. You can either choose Cloud-Hosted or SaaS deployment whereby, 42Gears the developer of SureMDM will host all of the company's data on their servers. Their server providers include major players such as AWS, Azure, and Google. SureMDM is also being offered via On-Premise Deployment, whereby 42Gears will lease their solution to your company.
As mentioned, SureMDM is a cross-platform MDM solution. It works well with Android Zero-Touch Enrollment, Windows Autopilot, and of course Apple Business Manager. As an Apple MDM solution, SureMDM pushes apps and updates to enrolled mobile devices via Apple Business Manager. It also allows IT administrators to lock down multiple or single devices.
When it comes to device management, SureMDM can automatically restrict device activity based on time of day and location. It also monitors data consumption which helps determine which devices are to be restricted in case it has been hogging company data resources.
Finally, SureMDM also has a provision for phasing out devices. IT administrators can easily wipe out lost or stolen devices. And when it comes to employee-owned devices, SureMDM also has a way of removing the secure enterprise container from the device.
Availability: $7.99/mo per device for Enterprise Plan.
Pros
Relatively inexpensive.
Outstanding customer support.
Intuitive central web console makes it easier to manage fleets of devices.
Cons
Customization features have more room for improvement,
The dashboard can still be improved.
➡️ Get SureMDM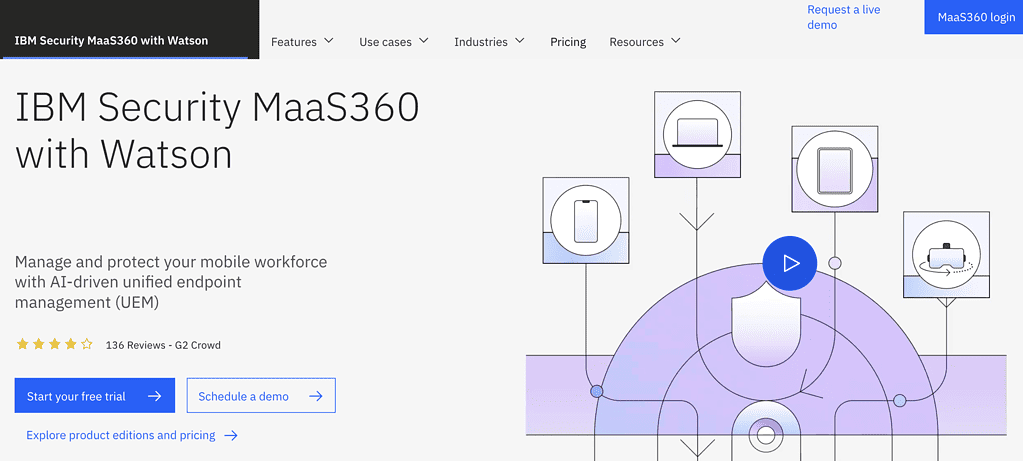 IBM Security MaaS360 is not only a good mobile device management solution but also an AI-driven unified endpoint management solution which is an evolved version of MDM. As such, IBM Security MaaS360 lets organizations protect devices, apps, content, and data. This allows easier scaling of the remote workforce as well as bring-your-own-device (BOYD) initiatives of companies.
Among the features of IBM Security MaaS360 worth noting is endpoint security which allows organizations to implement zero trust security across users, devices, apps, and the enterprise network. It also enables user productivity through a secure, encrypted container.
Availability: $9.00/mo per device (Enterprise Plan).
Pros
Its inventory system makes it easy to manage devices.
User-friendly interface.
Customization features are flexible enough to suit the organization's needs.
Cons
Absence of email notifications.
Online documentation needs improvement.

Similar to SureMDM, VMWare Workspace One is also a cross-platform MDM solution. In addition, it's also a unified endpoint management solution that consolidates ap management silos while reducing deployment costs for organizations.
When it comes to mobile device management, VMWare Workspace One offers secure access to apps and resources. It also features mobile reporting and automation, making it easier for IT administrators and organizational managers to monitor deployed devices. Aside from MDM, Workspace One also offers a desktop tier that offers the same features as MDM plus advanced desktop management capabilities.
Availability: $5.25 per device / $9.45 per user monthly for the Unified Essentials plan that includes MDM and Enterprise Desktop Management.
Pros
Great MDM customization features
Seamless and integrated user experience.
Easy to use and clean interface.
Good technical support.
Cons
Training components for IT administrators need improvement.
Minor performance issues when installing AirWatch on a phone not powerful enough.
Pricing needs to be more flexible.
Some users complained about the difficulty of setting up remote device linking during video conferences.
Final Words: Choosing the Right MDM Solution and the Apple Business Essentials
If you're an IT administrator or part of the organization's management team tasked to decide which MDM solutions to use for your company, this guide would have given you some ideas. Plus, Apple's advice on things to consider when choosing the right MDM is also worth considering. If your company plans to deploy a fleet of Apple devices to its employees, it would be best to enroll in ADM and then use it together with your chosen MDM solution.
Apple has not recommended a particular MDM solution, not even its Apple Business Essentials. But it's good to know that most if not all of the MDM solutions available (including the ones listed above) work seamlessly with your Macs, iPhones, and iPad work with the Apple Business Manager.
Finally, as mentioned, Apple has its own MDM solution called Apple Business Essentials (ABE). It is a subscription-based MDM service that lets you seamlessly bring devices together. Targeted at small businesses, ABE features 24/7 support and cloud storage. ABE has a free trial, after which you can choose from several subscription plans starting at $2.99/per mo/per device.