There is a seemingly endless list of antivirus software companies out there. All of them claim to give the best all-around protection. However, it is crucial to understand that many of these antivirus solutions lack the trustworthiness needed to secure your Mac or PC. Only a select few antivirus products have the necessary security and strength to be deemed the best options for both Windows and Mac.
The truth is lots of antivirus tools out there are not as effective as claimed by the marketers for these companies. They do not consistently block threats, and they don't come with enough extra features, or those extra features are badly designed. It is easy to get confused as regards the best choice of antivirus in this sea of options.
I have carefully tested and selected the best antivirus products on the market. This is to help you narrow down the endless list to only dependable options and make choosing easier for you. These antivirus solutions are ranked based on functionality, scanning speed, security, and price. Read on to discover the top picks for the best antivirus products for both Windows and Mac computers.
Intego has built a strong reputation in the realm of top-notch software products specifically tailored for macOS and Windows.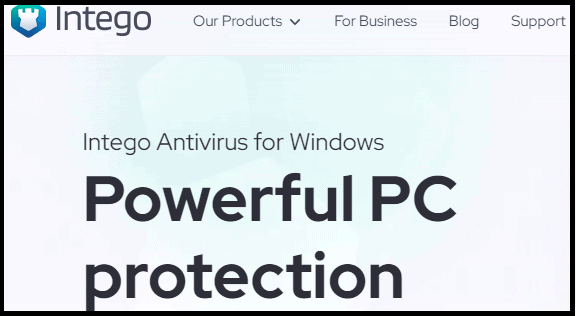 As a result, it unquestionably claims the leading position on my list of Mac and Windows antivirus software.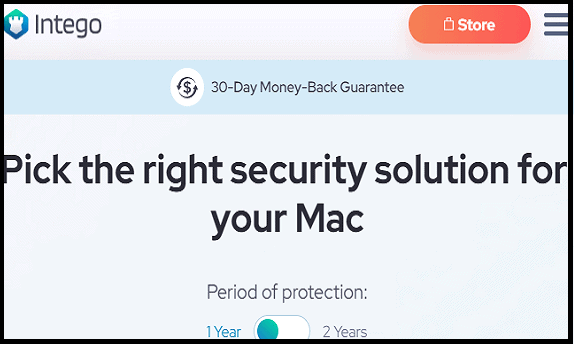 Backed by decades of experience since 1997, the team of experts at Intego has created an antivirus solution that stands out for its effectiveness.
The antivirus demonstrates this expertise in every aspect, starting with its remarkably swift scanning time and user-friendly interface. Intego's premier malware defense service, Internet Security X9, goes the extra mile by incorporating a firewall that acts as a barrier, effectively thwarting hackers' attempts to infiltrate your Computer.
Intego is often referred to as the best macOS and Windows antivirus software for obvious reasons. While other brands of antivirus products are usually more focused on protecting Windows PC, Intego seems to be more balanced, offering top-notch protection for both Windows and Mac.
Intego goes beyond basic antivirus protection by offering a range of valuable features. Its scheduled scans, real-time malware scanning, and regular updates to the blacklist ensures that your antivirus remains up-to-date and vigilant against emerging threats.
Additionally, its content filter effectively blocks unwanted and potentially harmful content from appearing on your Mac. This aspect makes Intego an outstanding choice for parents who are concerned about their children's online safety, as it not only prevents malware but also restricts access to adult content on their devices.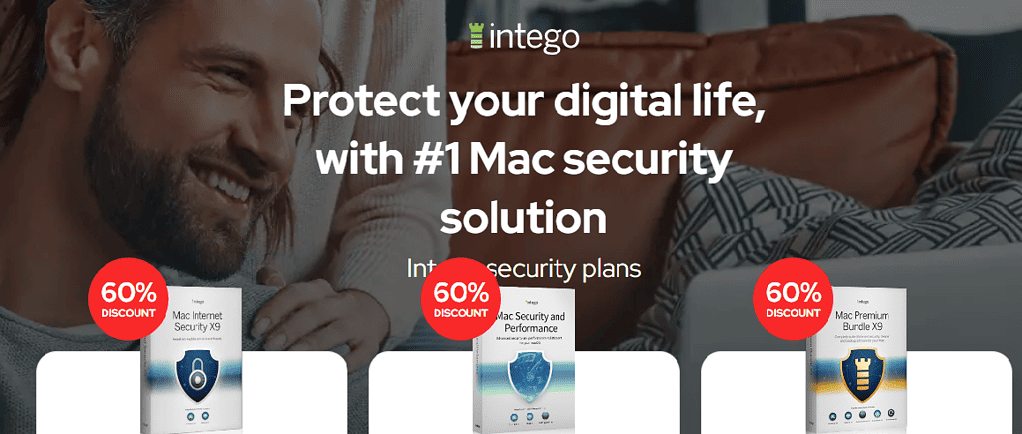 The Intego antivirus offers powerful protection and puts its subscriber's privacy first. With Intego, you can protect your Windows PC and Mac from cyber threats and enjoy smarter and faster security. Below are some features of the Intego Antivirus premium bundle:
VirusBarrier – Malware Scanner
Intego sets the standard for comprehensive malware protection on Mac, with its exceptional VirusBarrier. This powerful software goes above and beyond to detect various types of threats, including adware, Trojans, ransomware, and other malicious forms of malware.
One of the standout features of Intego's VirusBarrier is its ability to extend protection beyond your Mac. It allows you to scan your connected devices such as iPhones, iPads, and other external devices, ensuring they remain malware-free. The software offers essential features like real-time protection, an antivirus scanner, and the convenience of scheduling scans.
The malware scanner provided by Intego offers both a quick scan and a full scan option. The quick scan efficiently examines your Mac in less time by focusing on the most vulnerable files and directories. On the other hand, the full scan conducts a thorough examination of all files and directories on your system.
Once the scan is complete, the scanner presents a detailed report containing the total number of scanned files and a list of detected threats. Intego provides you with several options to handle the identified files using the following features:
Trust: Select this option if you trust the detected threat and wish to take no further action.
Quarantine: Isolate the file to prevent it from infecting other files on your Mac.
Repair: Completely remove the threat from your device, ensuring complete eradication.
In addition to its robust malware scanning capabilities, Intego's VirusBarrier offers additional protection measures. It includes an intelligent phishing website alert system, providing an extra layer of security when encountering potentially malicious websites.
Furthermore, it scans your email for any potential malware, further enhancing your overall protection. With Intego's VirusBarrier, you can enjoy peace of mind knowing your Mac and connected devices are safeguarded against a wide range of threats.
NetBarrier – Network Firewall
Intego's NetBarrier takes network security to the next level by providing a robust firewall that protects your computer against network-based attacks. This essential tool effectively blocks suspicious incoming and outgoing connection requests, ensuring the safety of your system.
Gain complete control over network access with NetBarrier, allowing you to decide which applications receive permission and block those that pose potential risks. I strongly advise that you limit network access for applications that handle sensitive information, such as messaging or work-related apps.
Intego's network barrier encompasses a range of valuable features that enhance your overall security. This becomes especially significant when connecting to public networks, where the risk of security threats is heightened. By leveraging Net Barrier's capabilities, you can confidently navigate public networks while knowing that your system is well-protected.
Washing Machine – Optimizing Your Mac
Intego understands the frustrations that can arise when your Mac starts to slow down and become unresponsive over time. Manual optimization can be a tedious and time-consuming process, which is why Intego's Washing Machine feature is here to provide a solution that streamlines the process and enhances your user experience. The Washing Machine feature offers three convenient options to optimize your Mac:
Reclaim: This powerful option scans all files and folders on your device, generating a detailed report. You have the flexibility to review the scanned files and select the ones you want to delete. By removing the selected files, the Washing Machine frees up valuable space on your system, resulting in improved performance and optimized efficiency.
Duplicates: With this option, the Washing Machine thoroughly scans your Computer, identifying duplicate files that are taking up unnecessary storage space. You can easily choose to delete these duplicate files, thereby reclaiming valuable storage space and ensuring a more organized and streamlined system. Additionally, the Washing Machine provides a convenient preview feature, allowing you to examine files directly within the application.
Organize: The Organize feature takes tidiness to a new level by scanning and arranging your files into neatly organized folders. This option simplifies the process of reorganizing your documents, leading to a clutter-free home screen and easier navigation.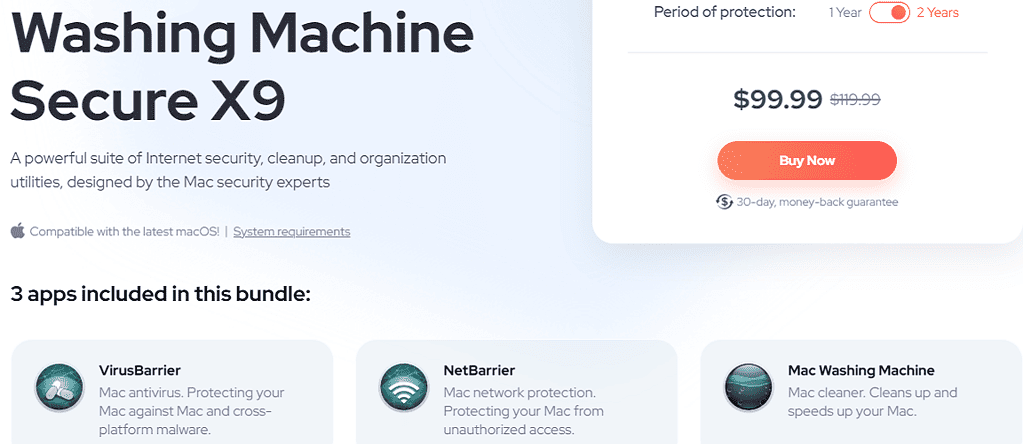 Intego's Washing Machine feature simplifies the optimization process. It allows you to efficiently clean up and enhance the performance of your Mac. With its intuitive options and comprehensive functionality, Washing Machine is a valuable tool for maintaining an optimized and smooth-running Mac experience.
Personal Backup – Backup & Secure Your Essential Data.
Intego introduces Personal Backup, which is a versatile and advanced alternative to Apple's Time Machine feature. It was designed to provide efficient device backups with added benefits. With Personal Backup, you gain the flexibility to selectively back up specific files and folders to either an external device or a cloud server. This powerful tool offers three distinct options to suit your backup needs:
Synchronize: This option proves invaluable when working across multiple devices. By selecting Synchronize, your actions are replicated and updated across all connected devices, saving you time and effort. This feature ensures that your files remain consistent and up-to-date across different platforms.
Bootable Backup: Personal Backup takes data protection to the next level with the Bootable Backup feature. It creates a local backup of every file, both on your Mac and the external device. This comprehensive backup approach ensures that your data is securely stored and easily accessible. It also allows for a swift recovery process in case of any unforeseen incidents.
Restore: When the need arises, the Restore option comes to the rescue. It enables you to seamlessly retrieve selected backups and restore them onto your Mac. Whether you need to recover specific files or restore your entire system, this option comes through. Ensuring a hassle-free recovery process and putting your data back in its rightful place.
Intego's Personal Backup goes beyond the conventional backup capabilities. It offers features like synchronization, bootable backups, and easy restoration. With Personal Backup, you can confidently safeguard your important files. It also helps maintain data consistency across devices, and recover seamlessly whenever necessary.
Intego's Identity Theft Protection
Intego offers an added layer of protection against identity theft. By integrating Intego with your credit score, you gain the advantage of receiving timely updates whenever a significant change occurs. This invaluable feature acts as an early warning system, promptly notifying you of potential instances of identity theft. With Intego's identity theft protection, you can remain informed and vigilant, safeguarding your personal information from unauthorized use.
Intego's ContentBarrier – Comprehensive Online Protection for Your Family
Intego's ContentBarrier is a powerful tool designed to provide comprehensive online protection for families. With the ever-expanding digital landscape, ensuring a safe and secure online environment for children is of utmost importance. ContentBarrier acts as a shield, allowing parents to regulate and monitor their children's online activities effectively.
ContentBarrier empowers parents with the tools needed to protect their children from potential online dangers. It ensures a worry-free online experience. With Intego's ContentBarrier, you can safeguard your family's digital well-being with ease and peace of mind.
Intego Privacy Protection: Safeguarding Your Digital Privacy
In today's interconnected world, protecting your digital privacy is essential. Intego Privacy Protection is a comprehensive solution that shields your personal information from prying eyes. With features like secure browsing, data encryption, and anti-phishing tools, Intego ensures that your online activities remain private and secure.
Privacy Protection also includes advanced features such as webcam and microphone protection, preventing unauthorized access to these devices. Additionally, it offers secure file deletion to permanently remove sensitive data, leaving no trace behind.
Experience a confident journey through the digital landscape with Intego Privacy Protection, ensuring the safeguarding of your personal information and privacy. Seize control of your digital privacy and embrace a tranquil state of mind through Intego's powerful Privacy Protection solution.
Intego's Packages and Pricing for Mac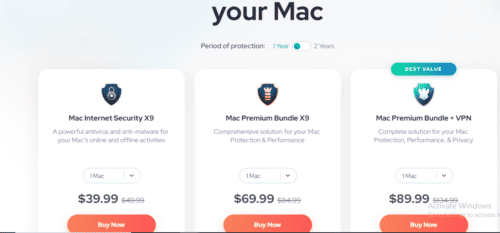 When it comes to pricing, Intego provides a variety of plans to choose from, although options for customization are somewhat limited. Intego's basic plan – Mac Internet Security X9, is available at an annual price of $39.99. Subscribers to the basic package will enjoy Antivirus against malware, auto scan, firewall network protection, anti-phishing protection, and NetBarrier x9, which will protect your computer against unknown apps and devices.
To enjoy features such as Mac washing machine X9 – which helps remove unnecessary and duplicate files, ContentBarrier X9 – which blocks inappropriate content and monitors your kid's Internet time and Personal Backup 10.9 – which gives quick access to your favorite files you will need to opt for the premium bundle at $89.99 per year.
It's important to note that Intego's default coverage is for a single device, so when making a purchase, you'll need to specify the number of devices you wish to protect. While there may be some constraints on plan flexibility, Intego offers affordable options to ensure your preferred level of protection for your devices.
Intego's Packages and Pricing for Windows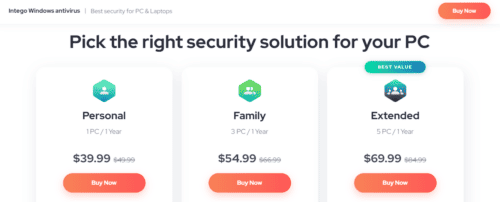 Intego Windows antivirus offers three plans based on the number of PCs covered. these plans are listed below:
Personal: As the name implies, Personal covers only a single computer. The price is $39.99 a year.
Family: the Family plan covers three PCs and the price is $54.99 per year.
Extended: this is the highest plan for Intego Windows antivirus and it covers five PCs. The price is $69.99 a year.
Pros
Specializes in Mac security while also providing protection for Windows systems.
Comprehensive protection against malware and viruses.
Regular updates to stay ahead of emerging threats.
Cons
Limited platform support (primarily focused on Mac systems)
Higher pricing compared to some alternatives
In addition to the Intego antivirus, let's explore four other leading antivirus solutions for both Mac and Windows operating systems: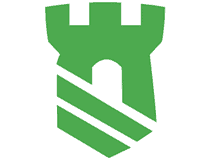 Intego Antivirus
Get the ultimate Windows and Mac antivirus protection with Intego Antivirus.
Norton Antivirus, a trusted name in the industry, offers robust protection for both Windows and Mac owners. With its comprehensive feature set and advanced threat detection capabilities, Norton Antivirus provides peace of mind, ensuring your devices remain secure.
Norton Antivirus is a reliable choice for Windows and Mac owners seeking robust protection against cybersecurity threats. With its advanced features, real-time threat detection, and comprehensive security measures, Norton Antivirus safeguards your devices and personal data, allowing you to browse the internet with confidence.
Norton Antivirus offers comprehensive protection against various types of malware, including adware, spyware, viruses, and ransomware, keeping your Mac system secure. Norton also offers Mac owners Identity protection. Hence, your online identity is safeguarded through email scanning for malicious attachments and suspicious links. It helps prevent phishing attacks and defends against identity theft, ensuring your personal information remains protected.
You also get to enjoy other features such as automatic updates, cloud backup, multi-device protection, web protection, vulnerability assessment, a built-in password manager that securely stores your login credentials, a robust firewall that monitors incoming and outgoing network traffic, and secure VPN.
Pricing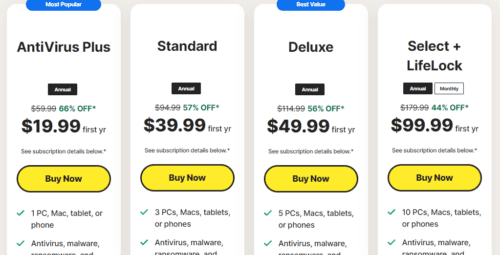 Norton's basic plan is available at an annual price of $19.99. Subscribers to the basic package will enjoy secure and high-speed VPN, malware and ransomware protection, 2GB cloud backup, dark web monitoring, and a password manager. Note that all these features is only for a single device.
To enjoy these features on up to ten devices including a 250GB worth of cloud backup storage, you will need to opt for the premium bundle at $99.99 per year.
Pros
Offers dark web monitoring to alert you if your personal information is compromised.
Has a minimal impact on system performance during scanning.
Cons
Higher pricing compared to some other antivirus solutions.
Can impact system performance, particularly during scans.
The online storage feature is not compatible with Mac systems.
Norton
Detect and erase all virus traces while having minimal impact on your system's performance.
Kaspersky Antivirus offers robust protection against malware, ransomware, spyware, and other malicious threats for PC owners. Its advanced scanning engine swiftly detects and eliminates infections. It ensures the security of files, personal information, and online activities. The real-time protection feature continually monitors the system, preventing malware from compromising the PC.
Mac owners can also benefit from Kaspersky Antivirus's comprehensive protection. Kaspersky's Mac version provides specialized features tailored to the Mac environment, effectively detecting and removing Mac-specific threats. It shields Macs from viruses, adware, phishing attempts, and other cyber risks, safeguarding sensitive data.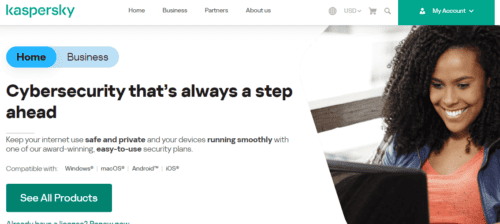 Furthermore, Kaspersky Antivirus offers additional features like web protection, which blocks malicious websites and prevents phishing attacks, enhancing the browsing experience for both PC and Mac owners. With Kaspersky Antivirus, subscribers can trust that their systems are defended against a wide range of cyber threats, ensuring a secure computing environment.
Pricing
Kaspersky prices are approximate and can vary based on factors such as location, subscription duration, and any ongoing promotions or discounts. I'll recommend that you visit Kaspersky's official website for the most accurate and up-to-date pricing information.
Pros
Comprehensive protection against malware and viruses
Advanced features like real-time scanning and automatic updates
Offers multi-platform support for Windows, Mac, and mobile devices
Cons
Some subscribers have reported performance impact on system resources
Limited additional features compared to more feature-rich security suites
Mixed reviews on customer support and user experience
Kaspersky
Protect your Windows and Mac systems against malware and viruses with Kaspersky.
When it comes to protecting your Mac and PC, Avast stands out as a widely trusted antivirus software. Subscribers can rely on Avast to provide reliable and robust protection for their systems.
Avast stands out with its dedication to preserving optimal computer performance. It achieves this by minimizing its impact on your device's resources, guaranteeing that features such as the Smart Scan exert negligible effects on RAM and CPU usage.
Avast's dedication to maximum protection is evident in its malware detection capabilities. In various malware tests conducted, Avast consistently detected all malware on both Mac and Windows systems, demonstrating its effectiveness in keeping your devices secure.
In addition to its strong malware defense, Avast offers a range of additional features. These include malware blocking, which prevents malicious software from infecting your Mac, antiphishing protection to safeguard you against online scams, and a network analyzer that provides valuable insights into the devices connected to your network.
Pricing
Avast Free Antivirus, which is Avast's basic plan provides essential antivirus protection for free. It includes features like real-time scanning, malware removal, and Wi-Fi security.
Avast Premium Security, which is Avast's premium plan offers advanced protection for multiple devices, including PCs, Macs, smartphones, and tablets. It includes features such as antivirus protection, firewall, ransomware shield, webcam protection, and secure browsing. The pricing for Avast Premium Security is $39.99 for an individual and $49.99 per year for up to ten devices.
Pros
Comprehensive protection against malware and viruses
Offers multi-platform support for Windows, Mac, and mobile devices
Provides a range of additional features such as a password manager, VPN, and system optimization tools
Cons
Some additional features may require a separate subscription or purchase
The free version includes ads and prompts to upgrade to the paid version
Limited customer support options for free subscribers
Avast Antivirus
Try Avast AV and enjoy a virus-free activity by blocking all digital threats.
McAfee, a globally recognized antivirus solution, earns the trust of individuals and enterprises worldwide. It places a high priority on comprehensive security by providing real-time threat protection and scheduling antivirus scans to safeguard your system against evolving threats.
A standout feature of McAfee is its personalized scanning profiles, which empower you to customize scanning settings for each family member. This ensures that the unique security requirements of every individual are met.
However, McAfee Antivirus is just one part of a robust suite of privacy protections. This suite includes a range of features designed to enhance your online browsing security. From credit monitoring and online data cleanup to identity theft protection, McAfee offers a comprehensive solution to safeguard your digital life.
In the event of suspected fraudulent activity, McAfee's "kill switch" feature provides peace of mind by allowing you to quickly disable your online accounts. Additionally, McAfee's security freeze feature gives you the power to block access to your bank accounts and credit cards, providing an extra layer of protection against unauthorized access.
Pricing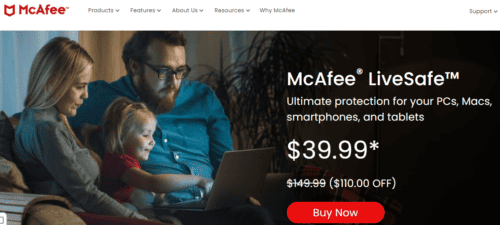 McAfee's basic plan is available at an annual price of $39.99.
Pros
Offers multi-platform support for Windows, Mac, Android, and iOS devices
Includes additional features like firewall protection, password manager, and secure browsing
User-friendly interface with straightforward configuration options
Cons
Mixed reviews on customer support and user experience
Some subscribers have reported occasional false positives
Installation and initial setup can be time-consuming and complex
McAfee
Try one of the latest antivirus protection and keep viruses away from your devices.
Frequently Asked Questions
Is it necessary to have separate antivirus software for Windows and Mac?
Yes, experts generally recommend having separate antivirus software for Windows and Mac systems. This recommendation stems from the fact that Windows and Mac operating systems possess distinct vulnerabilities and become targets of different types of malware.
What features should I look for when choosing the best antivirus for Windows and Mac?
When choosing the best antivirus for Windows and Mac, there are several key features to consider. They are: real-time threat detection, robust malware removal tool, secure browsing, firewall protection, regular updates for the antivirus software, compatibility with your specific operating system, parental controls, password managers, and VPN services.
Can I use the same antivirus subscription on multiple devices, including both Windows and Mac?
Yes, many antivirus providers offer multi-device subscriptions that allow you to use the same antivirus software on multiple devices, including both Windows and Mac. These subscriptions typically cover a certain number of devices, such as three or five, and can include a combination of different operating systems.
Conclusion
When it comes to choosing the best antivirus for Windows and Mac, several options stand out for their reliable protection and comprehensive features. Each antivirus mentioned in this guide offers a range of plans tailored to meet different owners' needs.
These antivirus solutions provide real-time threat detection, malware removal, secure browsing, and additional features like firewall protection, identity theft prevention, and VPN services. The choice ultimately depends on individual requirements, budget, and desired features.
Regardless of the choice made, investing in a reputable antivirus is essential to ensure the safety of personal data, privacy, and a secure online experience on both Windows and Mac systems. Are you more of a Mac lover than Windows? Why not check out Arnold Zafra's round-up of the best antivirus tools for Macbook Pro in 2023?