If you find your job repetitive, you aren't alone. Several people across the globe do jobs that require them to click the same buttons time and again at certain intervals. Some examples are people working in Data Entry, software developers testing programs, etc. To ease your burden of clicking, we've compiled a list of the best auto clickers for Mac in 2023.
A plethora of Auto Clicker apps for Macs available on the internet. But trying all of them can be a hassle. So, we've put together a list of reliable apps that have a friendly user experience and are also reliable. So read along and pick the best auto clicker for Mac that suits your needs. 
What is an Auto Clicker for Mac?
An auto clicker is a software that lets you program mouse clicks on your Mac. It is usually used for tasks that are repetitive in nature as it saves a lot of time for the user. You can program it to perform single clicks after a set interval of time or perform a sequence of clicks repeatedly. The latter is mostly used by gamers. 
Since you can set these auto clickers to click after a certain interval even people working in data entry find it quite useful. However, do keep in mind that while auto-clickers are very helpful, many apps and tools have banned auto-clickers altogether. Also, several games ban players from using auto clickers, and prohibit the use of auto clickers at professional gaming events.
Top 7 Auto Clickers for Mac in 2023
1. MurGaa Auto Clicker for Mac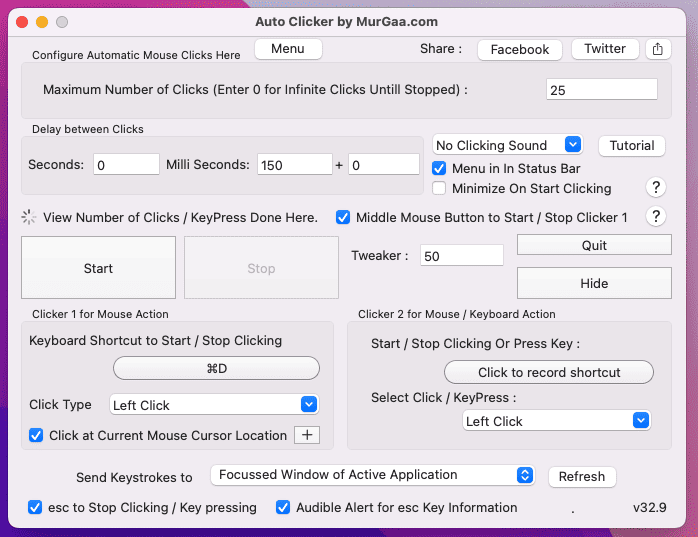 If you're looking for a highly customizable auto clicker, the murGaa Auto Clicker for Mac is the perfect choice. You can automate left and right clicks and it also has extra options such as double-clicking, scrolling up and down, etc. Additionally, Auto Clicker lets you to set the number of clicks and the interval between each click, which is quite useful for gamers or data entry work. 
Moreover, it doesn't even have a limit for the maximum number of clicks as you can just set it to infinite clicks. Once activated, you will need to press the stop button on the screen or a keyboard shortcut to disable the murGaa Auto Clicker app. However, you can set a limit to prevent detection in games that don't allow the use of such apps. 
You can use the murGaa Auto Clicker app for Macs based on Inter 64-bit and M1 and above so most users are covered. Once the free trial is over, you can pay $6.54 for a six-month subscription. 
2. DwellClick for macOS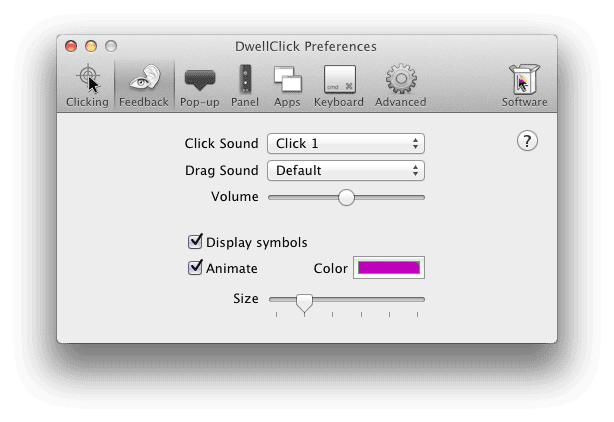 I'm sure that if you've been using computers for a few years, you must have wished at least once that you had the power of telekinesis. Well, what if you can? Obviously, not in the literal sense but the DwellClick app allows you to click on-screen items without using the mouse or the trackpad. 
Once you've programmed DwellClick, all you have to do is hover the cursor over the item. It is very useful for specially-abled people or even for people suffering from carpal tunnel syndrome, etc. You can customize various clicks and even drag and drop windows without clicking on the mouse even once.
Unfortunately, DwellClick is a retired app, meaning the developer is not updating or fixing its bugs. On the bright side, it works flawlessly and you can download and use it for free. 
3. Fast Clicker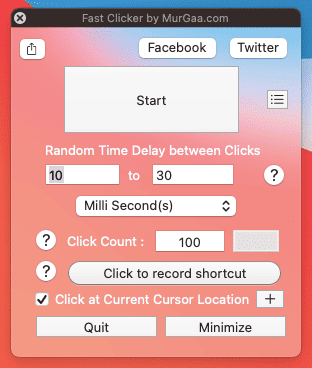 Fast Clicker is another auto-clicker app developed by murGaa. While it has a limited feature set in comparison to some other apps, it still does the job well. The best feature of Fast Clicker is that you can set a random time delay that prevents apps from detecting the use of an auto clicker.
You also get the option to set the range of interval between clicks and can also set the clicks to infinite just like murGaa Auto Clicker. Another feature trickled down to Fast Clicker is that once you've set the clicks to infinite or want to stop them, you must press the Stop button or the keyboard shortcut. Once your free trial to Fast Clicker expires, it will cost you $6.54 for a 6-month subscription. 
4. Mac Auto Clicker
Mac Auto Clicker is arguably the best free auto clicker software for beginners. It has several features like setting the click speed ranging from very slow to very fast. Additionally, you can also set custom intervals between clicks, automatically stopping clicks after a number of clicks or a set interval of time. It is easy to use and reliable, however, there's a catch. 
The Mac Auto Clicker program only supports macOS X 10.10 (Yosemite) and earlier. Considering most users are on the newer macOS version like Monterey or Ventura, the company suggests you follow an unofficial fix. So this adds a few steps and also consumes additional time. If you like the feature set, you can go ahead and download Mac Auto Clicker and follow the instructions provided in the fix video.
5. Autoclick (MAHDI BCHATNIA)
Autoclick is an auto clicker app for Mac developed by Mahdi Bchatnia. Like most other auto clickers, it allows you to simulate left, right, and middle clicks. You can also set a delay for starting and stopping auto clicks on your Mac. It also has a customizable delay for starting and stopping automatic clicking on your Mac.
Moreover, the Autoclick app has two modes, a Simple mode, and an Advanced mode. You can switch between these by simply clicking the button at the top right corner of the screen. Even though it is an app, you can assign it a keyboard shortcut for faster access. If you're looking for a simple yet functional app, Autoclick is the perfect choice.
6. Mac Auto Mouse Click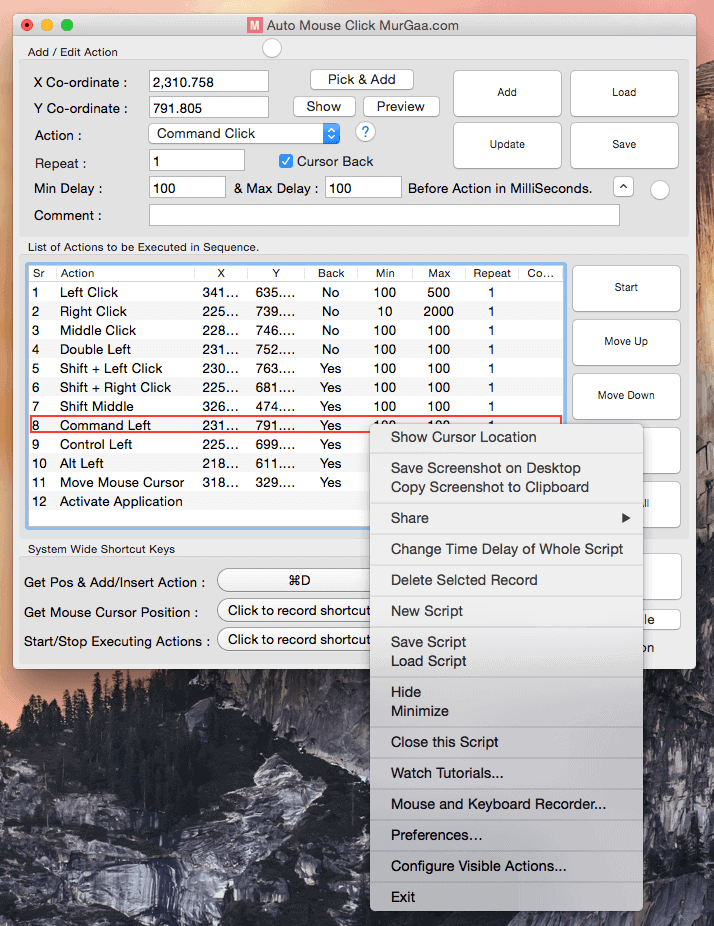 Mac Auto Mouse Click is yet another auto clicker software developed by murGaa. It allows you to script mouse clicks and that is the main differentiating factor. You can create scripts with multiple automatic clicks at multiple points on the screen. It lets you set coordinates for clicks, types of clicks, delay between clicks, and more.
Many might get intimidated, thinking they know nothing about scripts (neither do I). But, you do not require programming knowledge to use the Mac Auto Mouse Click app. It is very simple, straightforward, and user-friendly. Mac Auto Mouse Click costs $9.87 for a 6-month subscription after the free trial. Your Mac needs to run on macOS X or above to use the app. 
7. 1Clicker Auto Clicker
1Clicker is a very simple and user-friendly auto clicker software for Mac. The app's user interface is clean and minimal, improving the overall user experience. Within a few clicks, you can set up automatic clicking. It allows you to set the number of clicks, the time duration between these clicks, and even the click speed based on your requirements. 
1Clicker app is handy for gaming as it can detect color changes on the screen and automatically click based on these changes. Moreover, you can create multiple profiles and activate any based on the task at hand. It saves time as you won't have to reprogram the app for different use cases. You can avail of the 14-day free trial to test the app after which you need to pay a $9.99 per month subscription fee. 
Rest Your Hands With the Best Auto Clickers for Mac
We hope this list helps you get the information about the best auto clickers for Mac. So, go ahead and pick any of the above-listed auto-clicker apps for Mac based on your needs. If you know about any other auto clicker app for Mac or have any other doubts, do let us know in the comments below.