Despite many people sharing their photos with friends and families through electronic means, there are some who still print and compile their photos. Once they've gathered enough photos, these people have them produced into photo books. Believe it or not, there are still apps or services that provide photo book printing services. I've rounded up the top five apps to print photo books from Apple photos, should you be inclined to immortalize your iPhone photos into a printed book.
Apple Used to Provide Photo Book Service, But Not Anymore
Apple started offering photo printing in 2002 directly through what was previously known as the iPhoto platform. Through this service, you could order pictures, calendars, photo books, and other printed products that featured photos you'd taken using your iPhone. But when Apple replaced iPhoto with the Photos app, it did not include the photo printing service as one of its features.
However, folks were still able to order picture books through their Mac. This went on for 15 more years until the Cupertino-based tech giant decided to cease offering the service in 2018. This forced those who still wanted to create mementos and keepsakes of photos they took using their beloved iPhones to use third-party apps and services to print photo books from their Apple photos.
That being said, find below the top five apps that you can consider using to have your Apple Photos immortalized into photo books.
5 Free Apps to Print Photo Books from Apple Photos
The following apps are all free to download and use to create your photo books. The cost of the printed product, however, will vary based on the particular service used, size of the photos, number of pages and selected finishing options.
Mimeo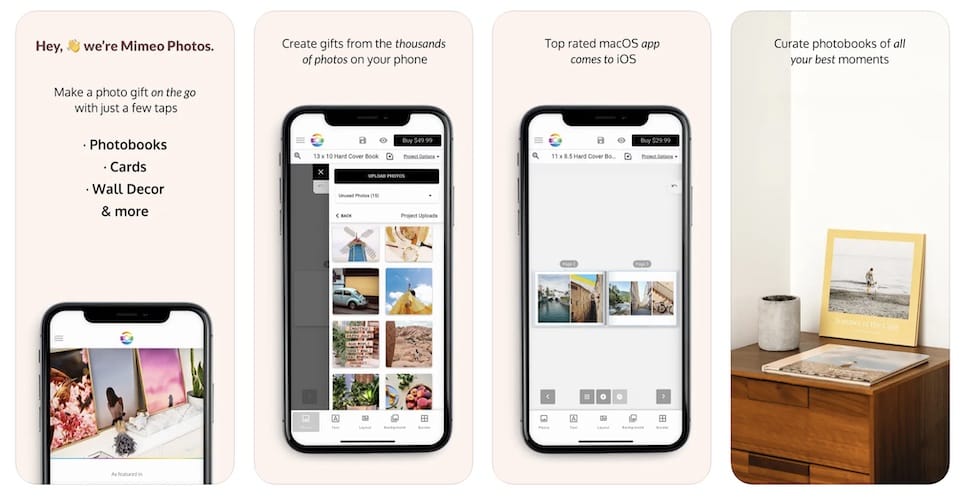 The Mimeo app provides you with a good selection of templates that you can use for your photo book. There are also a wide variety of backgrounds and other customization features that you can use to create your photo book. Initially, the Mimeo app was available only for Mac, but a version for iOS was also released a bit later.
With the Mimeo app, you'll be able to choose more than 50 themes, including those from Apple's iPhoto app. The app also lets you use preset layouts, solid or patterned backgrounds, and borders to make your photos stand out. And once you're done, you can compile these photos into photo books. The Mimeo photo book service offers you five size options in either hard or soft covers. Prices of the photo books vary depending on the size.
Availability: Free.
Pros
Features iPhoto's templates.
Allows you to create photo books within the Photos app.
Cons
Provides limited text formatting options.
Shutterfly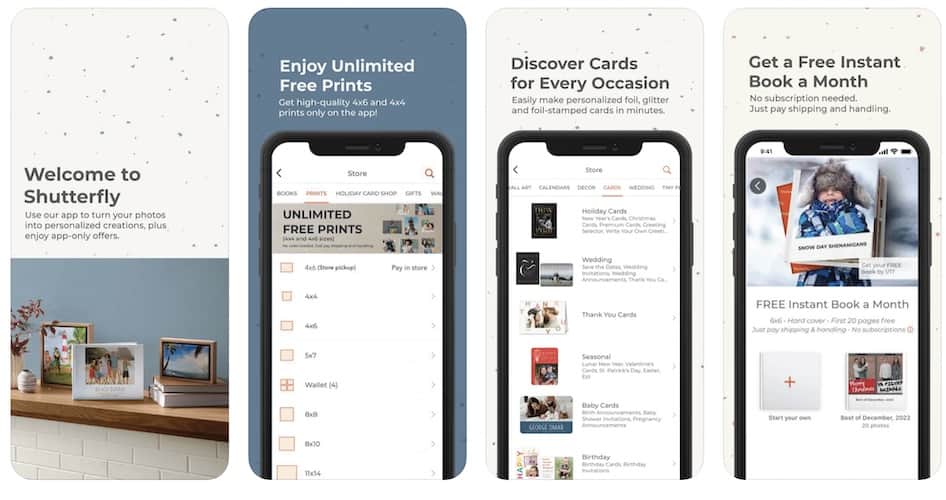 When it comes to layout your photo books, the Shutterfly app provides you with more than 265 templates. The app's editing workspace is also a pleasure to use, offering you a good selection of backgrounds, customization features, and more than 100 text fonts.
When designing your photo books, you'll be glad to know that Shutterfly's workflow for doing so is pretty straightforward. All the customization options are on the right sidebar and when you select one option, you can immediately see the effect on the photo book preview on the left side of your iPhone's screen.
Availability: Free.
Pros
User-friendly interface.
Offers a lot of options for designing your photo books.
Cons
No cons on the app but the cost of photo books tends to be on the pricey side.
Chatbooks Family Photo Albums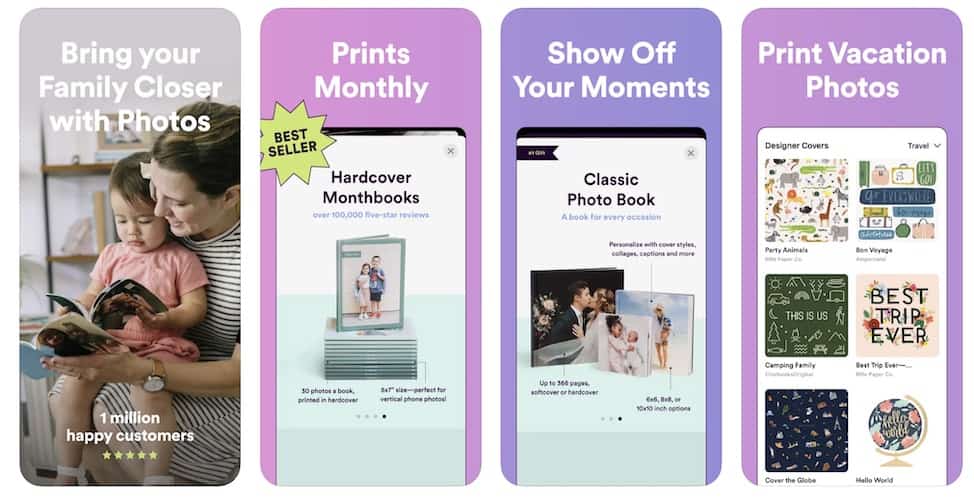 Another photo book app that has withstood the test of time since 2014 is Chatbooks. This is probably due to the fact that the service offers two options for saving customers' memories into photo books. One is through monthly subscriptions whereby the app takes care of producing the photo book. The other option is letting customers create their photo books manually.
The Chatbooks app can also send notifications when a customer's photo books are due to be ordered. Similar to Shutterfly and Mimeo, Chatbooks can have direct access to your device's camera roll if you allow it. Other features of Chatbooks include the inclusion or exclusion of date, location, and a personal caption of each photo you include in the book. It can also automatically crop unwanted parts of your photos.
Availability: Free.
Pros
The online editor has a simple interface.
Contribution option feature.
Availability of subscription service.
Cons
Limited customization features
Lack of page order editing.
Mixbook Photo Books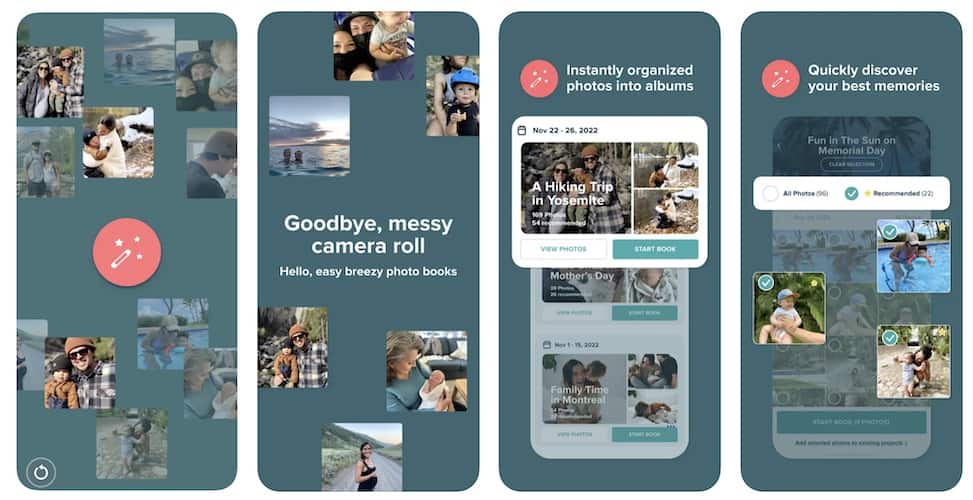 Mixbook is another popular photo book printing service that comes with a pretty good app for iPhone or iPad. And yes, it also has an online platform where you can design your photo books as well. The Mixbook app allows you to design your photo books by offering various customization features such as templates, backgrounds, book covers, fonts, and more.
The app is very easy to use and you can pretty much come up with a photo book that looks like it was done by professionals. Once your photo book is ready to print, you can just hit the order button and it is sent to Mixbook for processing.
Availability: Free.
Pros
Easy to use interface.
Availability of customization options such as backgrounds, templates, stickers, and more.
Also lets you use your own stickers in the photo book.
Cons
No cons to the app, but the pricing of printed photo books is a bit expensive.
Once Upon Photo Book Creator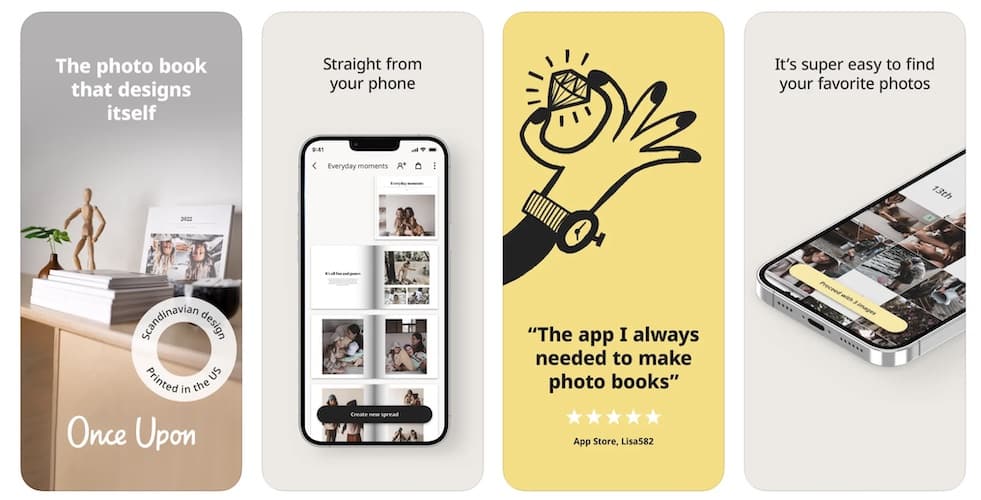 Once Upon Photo Book Creator has received some pretty good reviews from those who've used the app to create their photo books. Similar to the other apps mentioned above, Once Upon also features a simple interface when designing a photo book.
The app lets you invite friends and family to collaborate on the design and layout of your photo book including the selection of photos to include. It also lets you drag and drop photos for the best possible arrangements.
Availability: Free.
Pros
The shuffle function lets you highlight your favorite layout.
Easy image selection feature.
Lets you add a caption for each photo.
Cons
The interface can be pretty confusing to use when creating your photo book.
Final Words: Which App to Use to Create Your Photo Book
There you have it, The top five apps you can use to have your photos from your iPhone, iPad, or even Mac printed and immortalized into a photo book. Please note that this list is for apps to print photos from your device's camera roll. Although we've mentioned a bit about the pricing of printing photo books, the round-up does not include the printing service itself.
The question now is, which app are you going to use to have your Apple photos printed into photo books? That depends on how far you want to go when it comes to producing your photo books. In the meantime, I suggest you try designing your photo book first using any of these apps. Then when you are satisfied with the customization options, then it's time for you to decide which photo book printing service to use.