One of the most common issues that Instagram folks encounter is when feeds are not refreshing. Some folks even encounter their Instagram feed not refreshing, even though Stories are. There are various reasons why this issue happens. In the same way, there are various steps that you can take to solve the issue. Read along to learn how to resolve the Instagram not refreshing feeds issue.
Reasons Why Instagram is not Refreshing on iPhone
As mentioned, there are various reasons why Instagram would suddenly stop showing new posts when you're browsing your feeds. It could be a network issue or you're using an outdated version of the app. Either of these could cause the Instagram app to encounter bugs and glitches that prevent it from showing the latest posts. If you're asking how you get Instagram to show the latest posts again, follow the troubleshooting steps outlined below.
How to Fix Instagram Not Refreshing Feeds Issue
1. Check Your Internet Connection
Since the most common reason why Instagram would stop refreshing feeds is a network problem, the most logical thing to do first is check your device's internet connection. Restart your network router or toggle your iPhone's cellular or Wi-Fi connection off and back on to give the network a refresh. If the Instagram not updating issue fails to solve the issue, try the next step below.
2. Check If Instagram is Down
Another reason why Instagram feeds would not refresh is because the Instagram service could be down. Unfortunately, unlike Apple, Instagram doesn't have a system status page where you can check server conditions. But you can check sites like Downdetector to find out whether Instagram is down or not. Or, you can check your Twitter feeds instead. If Instagram is down, there will be a popular hashtag for it. If the server is indeed down, all you can do is wait until it's up again.
3. Restart Your iPhone or iPad
Like with many app-related issues that you encounter on your iPhone or iPad, Instagram not refreshing its feed can also be solved by simply restarting your device. So go ahead and restart your device then check if your Instagram feeds are refreshing again.
4. Log Out and Log Back Into Your Instagram Account
If after restarting your iPhone or iPad, your Instagram app still won't refresh the feed, you can try logging out of your account. Then after a few seconds, try logging in again and check whether the issue has been fixed.
5. Check Time and Date Settings on Your iPhone or iPad
Incorrect date and time settings on your device could also cause apps such as Instagram to malfunction. So, make sure that your device is using the correct data and time settings. To do this on your iPhone or iPad, simply go to Settings > General > Date & Time Settings. Then enable the Set Automatically option.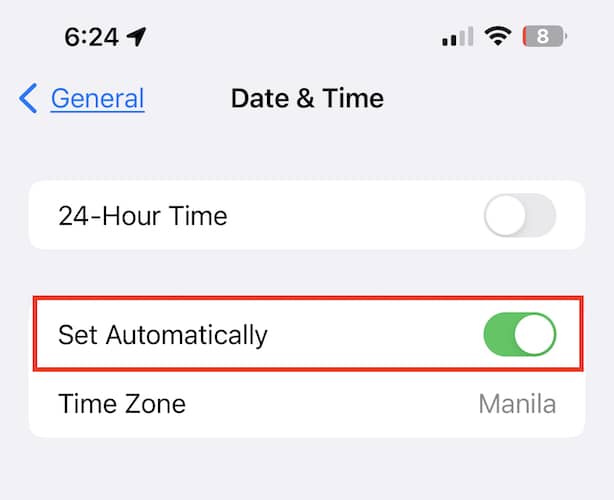 6. Make Sure Your Device is Running the Latest Instagram Version
Check whether there are available updates to the Instagram app. An outdated version of the app may cause Instagram not to refresh its feed. Simply launch App Store on your iPhone or iPad, then check whether there are available updates for Instagram. Download and install the update if there is one. Then check if your Instagram feeds are refreshing properly.
Final Words
Any of the steps mentioned above should solve the issue of Instagram feeds not refreshing on your iPhone or iPad. If you still can't get Instagram to show the latest posts or feeds, you can try reporting the issue to the folks at Instagram. To do this simply go to Profile on Instagram. Click Settings > Help > Report a Problem.