Technically, Windows users cannot use macOS on their PCs. Furthermore, newer Macs with the Apple silicon chip cannot run Windows. But thanks to the development of emulators and virtualization tools, it is possible for users of both platforms to use one operating system together with another. I've rounded up four Windows emulators on Mac to help you decide which one to use to install the Windows operating system, apps and games on your Mac.
What is a Windows Emulator?
Emulators allow you to reproduce the function or action of a Windows-based PC on your Mac through virtual machines and guest operating system images. To put it simply, a Windows emulator is a tool that lets you run software or applications (including games) that are otherwise not compatible with your computer's operating system or chip architecture. Hence, a Windows emulator for Mac allows you to run Windows 11, for example, on your Mac. This enables you to install and use Windows apps as well as play many Windows-based games.
4 Best Windows Emulators for Mac (Paid or Free)
Boot Camp
The first and possibly the easiest emulator to use included on our list isn't really an emulator at all. This would be Apple's Boot Camp. It comes preinstalled on Intel-based Mac computers, and it's free to use. You can access Boot Camp through the Utilities folder in your Mac's Applications folder. Boot Camp allows you to install Windows on your Mac.
Once installed, you can dual-boot both Windows and macOS. The good thing about using Boot Camp to dual-boot between Windows and macOS is that both operating systems can fully utilize the power of your Mac hardware. It doesn't scale down the performance of the two operating systems.
Boot Camp utilizes two partitions on your Mac's hard disk to install the two operating systems separately. So, when you boot your Mac, you will be given the option to either boot into Windows or macOS. One letdown of Boot Camp is that it only works with Intel-based Macs; it's not compatible with the newer Apple Silicon Mac computers.
Availability: Free.
Pros
Free and built-in to macOS.
Delivers a fast and more stable performance.
Cons
It's not a virtualization tool, so you can't run macOS and Windows at the same time.
Takes up a lot of space.
You won't be able to change the partition size of your Mac HD once installed.
Parallels Desktop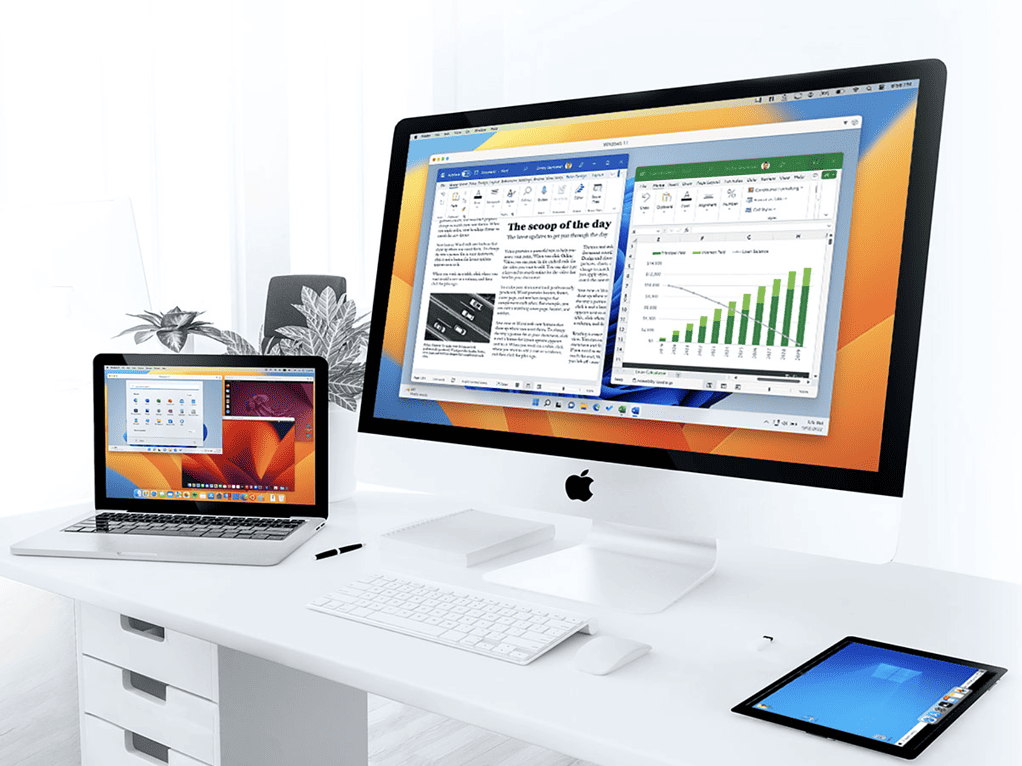 Another popular emulator that lets you run Windows on your Mac is Parallels Desktop. It's a visualization tool that allows you to create a virtual machine where you can install Windows, and then install apps and play games.
Compared to Boot Camp, Parallels Desktop allows you to run Windows within macOS. This means you don't have to reboot your Mac anytime you want to switch between the two operating systems. Another difference between Parallels Desktop and Boot Camp is the fact that it is compatible with Apple Silicon Macs. It might even work better with those Macs.
Availability: $99.99 annual subscription fee. A free trial is available.
Pros
Smooth graphics performance.
Lets you install macOS from the recovery partition of Intel-based Macs.
Faster than its rivals.
Runs ARM-based Windows on Apple Silicon Macs.
Cons
Not as stable as VMWare Fusion.
Integrations between Windows guest and Mac host can become quite confusing.
VMWare Fusion

VMWare Fusion is similar to Parallels Desktop. It's also a virtualization tool that lets you run Windows OS within macOS. Hence, no rebooting is needed to switch between Windows OS and macOS. VMWare Fusion allows you to use your Mac apps in the background while you use Windows OS. And when you're using Windows, you can expand into full window mode, allowing you to run apps easily and enjoy playing your favorite Windows games. One good thing to note about VMWare Fusion is its Unity Mode. This lets you run Windows Explorer, Windows equivalent to Finder, as an app in macOS.
Availability: $149 (30-day trial free version is available).
Pros
Supports virtualization of any Intel-compatible OS and macOS.
A free, limited-feature version is available for personal use.
The virtual machine runs on Macs, Windows, and Linux hosts.
Cons
May run slower than Parallels Desktop.
Lacks support for ARM-based guests or hosts.
VirtualBox

VirtualBox is another tool that lets you create a virtual machine to install Windows on your Mac without the need to reboot. It's freely available for personal and educational uses. But for businesses, a paid version is offered, which comes with technical support and more features. These also include support for Mac hardware such as the camera, connected printers, and other peripherals.
But as it is, the free version has been proven to be stable enough to run Windows apps, games, audio, and 3D graphics. The only letdown is that VirtualBox can be rather difficult to set up. But with patience, I'm pretty sure you'll be able to run it smoothly.
Availability: Free for personal and educational users. A paid version is available for businesses.
Pros
Offers an unlimited number of snapshots.
Easy to install and takes less storage space.
Can detect USB devices.
Cons
Offers limited support for 3D graphics.
The user interface needs improvement.
Final Words: Emulators That Let You Install Apps and Games on Your Mac Without Installing Windows OS
I intentionally did not include Wine and CrossOver on the list simply because both of them only allow you to install apps and games on your Mac without the need to run Windows itself in a separate virtual machine. So if you just need to use Windows apps and play Windows games, these two tools would serve the purpose, and serve it well.
Wine is free to use while CrossOver is available for $74.00.