No, not the highway north out of London.
Rather, M1 is Apple's name for its SoC chip specifically designed for the Mac.
M1 is optimized for Mac systems in which small size and power efficiency are critically important. As a system on a chip (SoC), M1 combines numerous powerful technologies into a single chip, and features a unified memory architecture for dramatically improved performance and efficiency.
Some specs are in order.
5 nanometer process
16 billion transistors
4 high-performance and 4 high-efficiency CPU cores
Up to 8 GPU cores capable of almost 25,000 threads
2.6 teraflops of graphics throughput
Twice the CPU performance of a comparable Intel CPU at 25% of the power consumption. As a result, MacBook Pro battery life is just about doubled to 20 hours.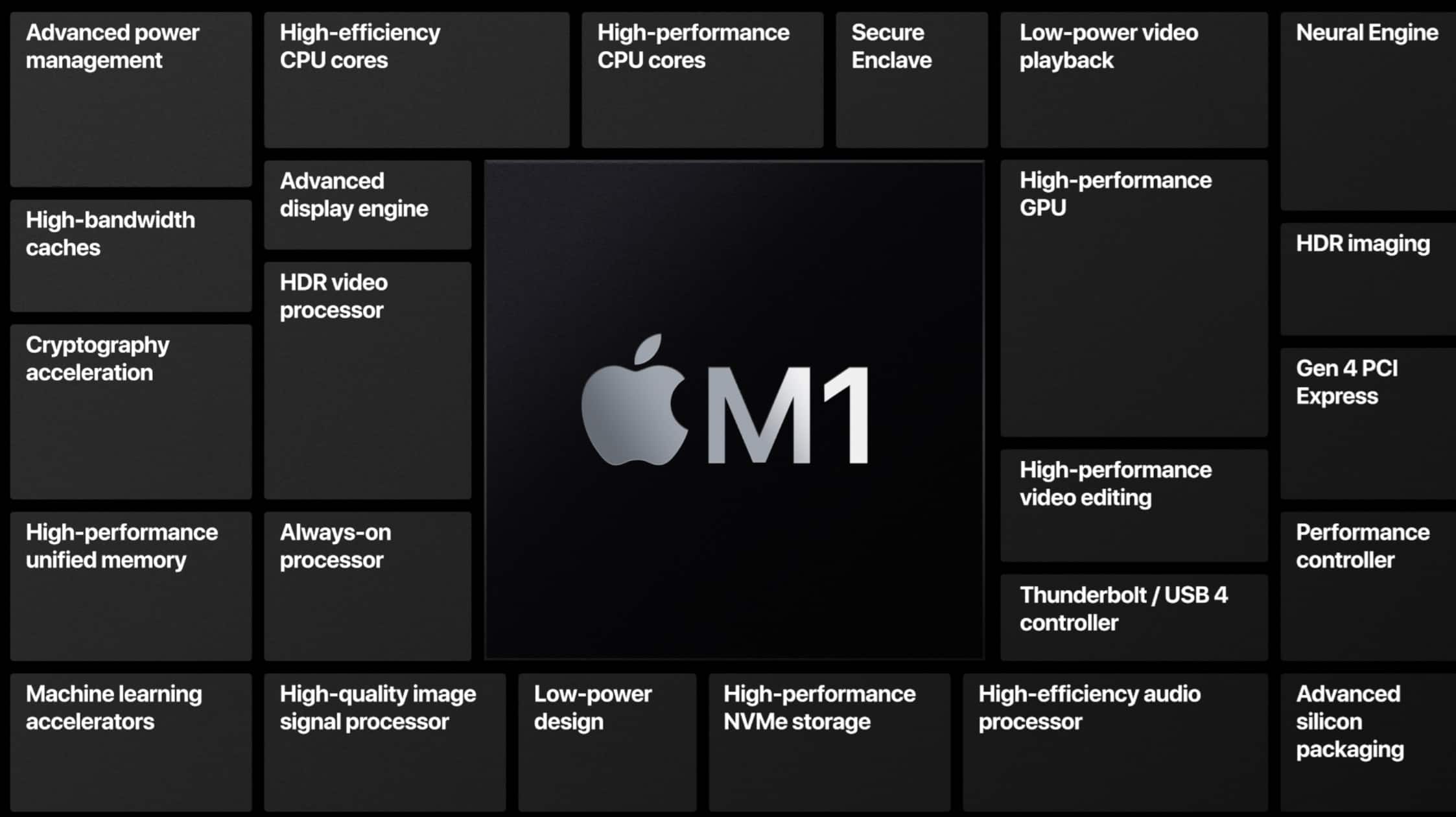 This is a seriously impressive Soc that integrates all the previously discrete chips onto one SoC.
CPU
GPU
Thunderbolt 4 controller
I/O controller
T2 & Secure Enclave
There is also what Apple calls a unified memory architecture.
[The] M1 also features a unified memory architecture that brings together high-bandwidth, low-latency memory into a single pool within a custom package. This allows all of the technologies in the SoC to access the same data without copying it between multiple pools of memory, further improving performance and efficiency.

Discussion
It seems to me that Intel was holding Apple back. Clearly, with the M1, Apple was able to pull every modern technology it desired into a single SoC: 5 nm process, integrated system chips, unified memory architecture, video HDR, Wi-Fi 6, Thunderbolt 4, and very high performance integrated graphics. Intel couldn't do that for Apple.
Key here is the low power design which allows, for example, the MacBook Air to go fanless and roughly double the battery life of the MacBooks.
The M1 performance/watt and resulting Mac pricing are very impressive, and it's clear now why Apple decided to go with this architecture for the Mac.