Dr. Mac's Rants & Raves
Episode #284
If you haven't tried GarageBand, the free audio production software included with every Mac, there's never been a better time. Last week Apple updated the app to version 10.3 and added more than half a dozen new and useful features.
In the beginning
Before I talk about the new features, let me offer some background: After working in advertising for a few years I decided I wanted to be a record producer instead. I completed a two-year music production course taught by Grammy award winning record producer Bill Lazerus at Evergreen Studios in Burbank, CA.
When I went out to start producing music I was shocked to discover that I couldn't afford to produce music. Renting a decent recording studio with an engineer cost at least $30 or $40 an hour (and usually more), and this was way back when that was a real lot of money. I considered building my own, but even a modestly equipped studio back then would have cost at least $100,000. While I desperately wanted to make music and knew precisely how to do it, I couldn't afford it. So, I pivoted and became a writer instead.
Fast-forward to Macworld Expo in January 2004, where Steve Jobs introduced GarageBand. I was in my publisher's booth minutes later, arguing loudly that nobody was more qualified to write GarageBand For Dummies than yours truly.
After writing GarageBand For Dummies, I was smitten. Apple had created the software equivalent of a fully-equipped recording studio and all I had to add was a microphone, a guitar, and an audio interface. For only a couple of hundred dollars I finally had the software equivalent of a fully-equipped recording studio!
GarageBand 10.3 rocks!
Here's the good news: A couple of weeks ago, Apple released the most extensive update to GarageBand in recent memory. New features in GarageBand 10.3 include:
2 new Drummers playing Roots and Jazz-influenced brush styles
1,000 new electronic and urban loops covering Reggaeton, Future Bass, and Chill Rap
400 animal, machine, and voice sound effects
Play and record using traditional instruments from China and Japan with the Guzheng, Koto, and Taiko drums
Updates compatibility with GarageBand for iOS and includes stability improvements and bug fixes
Add classic sounds to your song with 5 Vintage Mellotron patches
Free Artists Lessons in GarageBane 10.3
Much as I love those new Mellotron sounds, which are perfect for recreating songs by the Moody Blues and Beatles (to name a few), my favorite new feature has to be free Artist Lessons. They cost $4.99 each before; now they're free. Each of the 22 lessons offers a popular recording artist showing you how to play their song on piano or guitar. The lessons are well produced and easy to follow, even for fat-fingered guitarists like me.
My only complaint: Two of my favorite lesson artists—Sting and John Fogerty—are no longer available (at any price).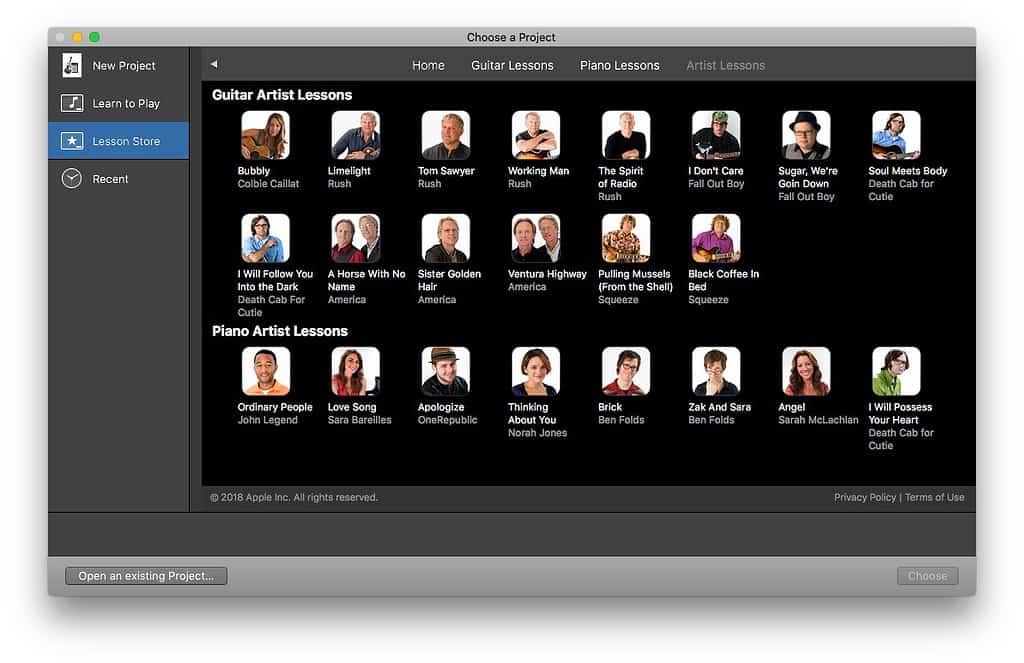 If you haven't played around with GarageBand lately, what are you waiting for? If you're not sure where to start, I recommend choosing Help–>GarageBand at a Glance, where you can explore GarageBand's tools along with descriptions and tips for using them.
Then, try a guitar or piano lesson. 🙂