Page 2 – The Tech News Debris for the Week of September 19th
The Pundit Sheep Eviscerated

Very often, I run across a great missive from Jean-Louis Gassée. He writes the legendary Monday Note commentary. This week he names names amongst the pundit sheep. "iPhone Nonsensus: Apple's Debt To Bloggers." If I may quote:
In the months leading up to the product launch, Apple was warned: Taking the headphone jack off phones is user-hostile and stupid. Have some dignity. And we were prodded to be alarmed: Fewer wires isn't better. It's worse. Much worse. There were many other admonitions in the same vein.

Apple didn't help its case when one of its execs said that removing the analog connector was an act of courage. The backlash and jibes that followed obscure a simple, straightforward decision, easily summed up in one sentence: We're going wireless, please join us. [Emphasis mine.}

But bloggers will always be bloggers; their business model feeds on controversy.
I like the suggestion by Mr. Gassée. We know very much now how Apple thinks. The company leads. This time around, the design of the iPhone 7 is indeed an invitation and customers are accepting. "We're going wireless, please join us."
Well said, sir.
But the pundit sheep, like Lucy and her football presented to Charlie Brown, keep expecting to fool us.
Moving on….
__________________________
More Debris
The calendar delay by Apple in updating its Macs may now properly be described as geologic. If you've been pondering a replacement Mac, here's a great page at MacRumors that provides a purchase recommendation, a sidebar of recent rumors, and a log of "days since last release" for each Mac. See: "MacRumors Buyer's Guide."

That said, it's almost certain that Apple will hold an event in October to announce new Macs. However, which ones will be refreshed and which ones won't even be mentioned is what the buzz is all about. October 11th is the date I'm betting on. Any later, and the holiday buying season will be adversely affected.
Dr. Raymond M. Soneira is an expert on optics and display technologies. If you're interested in the technical details of the iPhone LCD display and how it's evolved from the iPhone 6 to the iPhone 7, I recommend this: "iPhone 7 Display Technology Shoot-Out: iPhone 6 and iPhone 7." Pour yourself a cup of tea. It gets geeky. Like this.
The iPhone 7 has 2 Standard Color Gamuts, following in the footsteps of the innovative iPad Pro 9.7 that was introduced earlier in 2016. Most mobile displays only support a single Color Gamut, including all previous iPhones. The iPhone 7 has both the traditional smaller sRGB / Rec.709 Color Gamut that is used for producing most existing consumer content for digital cameras, TVs, the internet, and computers, including photos, videos, and movies, and the new wider DCI-P3 Color Gamut, which is 26 percent larger.
It's always informative to hear from users who came over from another fold. In this short piece at BGR a former Android smartphone user (Nexus 6P) provided his thoughts on his new iPhone 7. "Android user switches to iPhone 7 from pure Android and has some surprising opinions."
Sometimes a software developer gets nervous about telling the user too much. That should never be the case with great software, but it happens. And when it does, we get this nice explanation from Glenn Fleishman at Macworld . "Google Earth's Mac updater isn't malware, but deserved your suspicions."
One aspect of marketing is all about focusing on your own strengths and glossing over the strengths of the competition. The wise choice of wording and technical focus can help. That's why when we see comparison charts of one company's specs compared to any equivalent Apple product, the Apple product often looks backwards and not characteristic of the most modern thinking. But Apple makes technical decisions for specific reasons, and that results in high customer satisfaction. See, for example, "Competing with the iPhone's specs is harder than it seems."
We're only a few weeks into iOS 10 and more than a third of eligible iOS devices are already on iOS 10. Business Insider has a great Chart of The Day that shows the corresponding situation with Android. Fascinating. Or depressing if you're Google.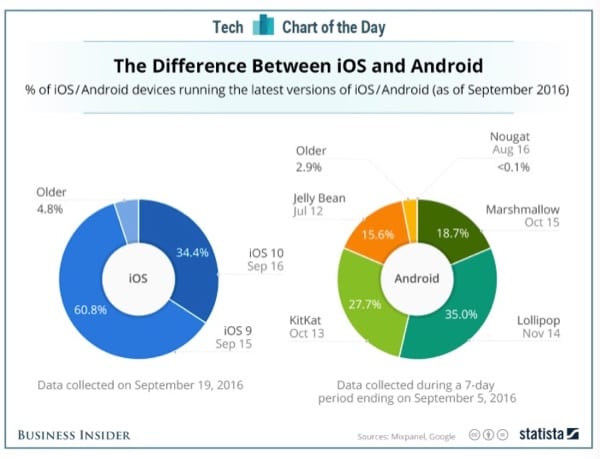 Each time a new version of the Mac's OS is released, older Macs don't make the cut and are unsupported. But if you have an older Mac, not on the macOS Sierra supported list, and you're desperate to try, there's hope. "Want to install macOS Sierra on an older, unsupported Mac? Try this hack." I haven't tried it and make no affirmations. If you do, let me know how it goes.
Now that AT&T owns DirecTV, you might expect some changes to be forthcoming. After all, the direct, beamed geosynchronous satellite delivery of TV is beginning to look awfully expensive and old-fashioned compared to modern internet technologies. In fact, I predict that just like the 10 foot original satellite dishes (before modern, encrypted services like DirecTV) and the old rooftop TV antennas of the 1950s and 60s, our modern 18-inch dishes will soon be a thing of the past. Accordingly, to ponder: "AT&T Said to Plan Web Streaming as Primary TV Platform by 2020."
Finally, we hear a lot these days about Apple and machine learning. Just what is that exactly? Here's a very readable introduction. "An Honest Guide to Machine Learning."
____________________________
Particle Debris is a generally a mix of John Martellaro's observations and opinions about a standout event or article of the week (preamble on page one) followed on page two by a discussion of articles that didn't make the TMO headlines, the technical news debris. The column is published most every Friday except for holidays.