Apple announced the "Close Your Rings Challenge" for developers during next week's World Wide Developer Conference. Designed for teams up to four WWDC attendees in conjunction with the Challenge app, developers who complete the challenge will earn an unspecified reward on Friday, June 8th.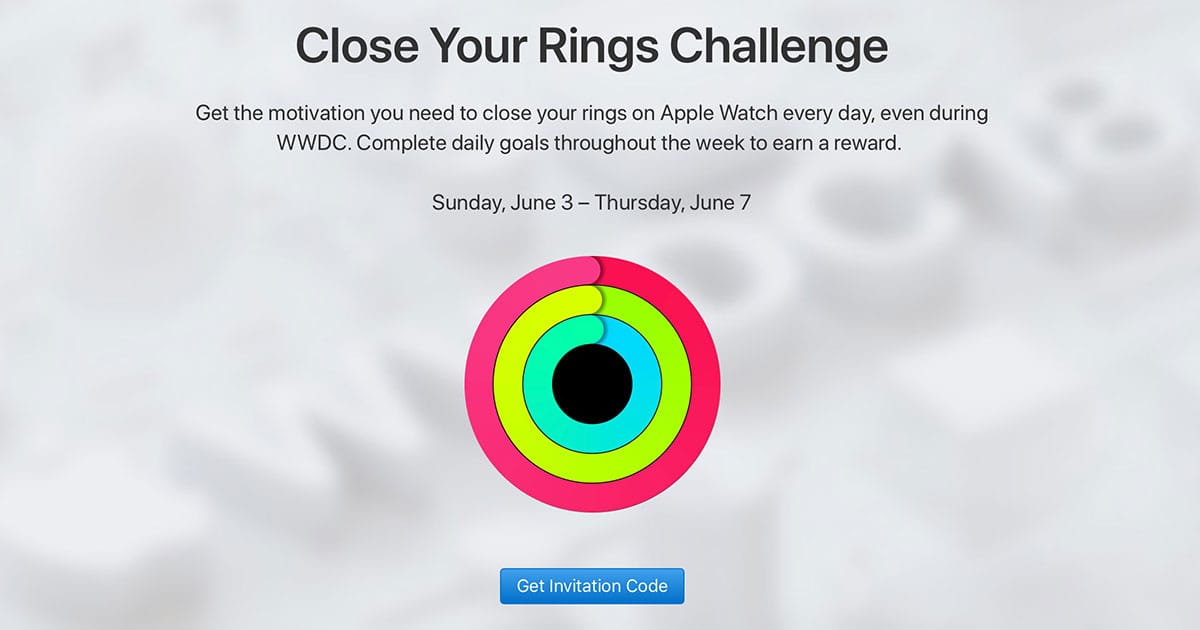 Apple's description:
Earn points each day, from Sunday, June 3 at 12:00 a.m. to Thursday, June 7 at 11:59 p.m., by wearing your Apple Watch and closing your Activity rings. Simply download the Challenges app on iPhone and allow Challenges to access Health app data, which includes data from your Activity rings. Work as a team of four with fellow WWDC18 attendees to earn as many points as you can. If everyone on your team closes their rings that day, you'll get team bonus points (in addition to individual bonus points). Individuals who earn 200 points or more during the challenge will receive a reward on Friday, June 8 at McEnery Convention Center.
How to Participate in Apple's Close Your Rings Challenge for WWDC18
The WWDC18 Close Your Rings Challenge is open to attendees of WWDC18. Before you begin, make sure you're running the latest release version of watchOS on your Apple Watch and iOS on your iPhone. You'll also need to install the Challenges app on your iPhone.
Sign up to receive your unique invitation code.
Open the Challenges app and sign in with your Lose it! account, or create a free account.
Enter your invitation code, tap join, and agree to the terms.
Enter your weight to find out what your new Move ring calorie goal will be for this challenge. Make sure to change your Move goal on your Apple Watch to match. Firmly press the Apple Watch screen in the Activity app and choose "Change Move Goal".
Choose to create a team, join a specific team, or get randomly assigned to team. All teams consist of four people.
When prompted, allow Challenges to access Health app data. Challenges can read and write exercise data and other custom goal values that you set up in the Health app on iOS.
Verify your data throughout the week to make sure you're getting credit for your workouts.
Good luck to participating developers!