Thomas Ross says he invented and patented the idea of the iPhone in the early 1990s, so he's suing to the tune of US$13 billion Apple for stealing his intellectual property. Never mind the fact that his patent was declared abandoned in 1995, he didn't go after Apple when the MessagePad was a thing, and he isn't suing other smartphone makers.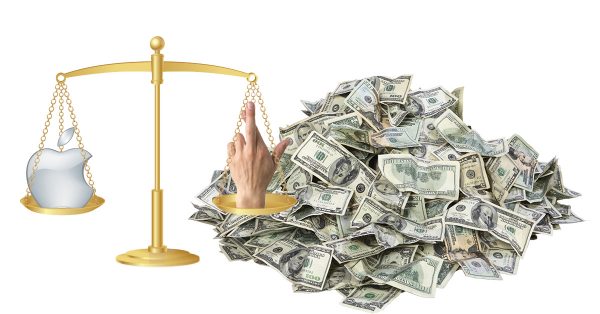 Mr. Ross filed his "Electronic Reading Device" utility patent in 1992 for a device that lets users read news and books, view pictures and video, write notes, and make phone calls. His ERD included a physical keyboard much like Blackberry devices, a back lit touch screen display like every smartphone on the market, solar panels, a folding dual display, and a built-in floppy drive.
In 1995 the U.S. Patent and Trademark Office declared the patent abandoned when Mr. Ross failed to pay his application fees. He tried to breathe new life into his concept in 2014 by filing his drawings with the U.S. Copyright office.
The fact that his patent was abandoned 15 years before the first iPhone was introduced and 20 years since the iPhone 6s shipped isn't deterring Mr. Ross from hitting Apple for some serious money. His lawsuit argues Apple needs to pay up because his concept is protected under the law of restitution, is protected by copyright law, and is protected under patent law as an invention.
Despite the physical similarities between the iPhone and Mr. Ross's concept, winning a court case against Apple may not be as easy as he hopes. Mr. Ross didn't pursue a case against Apple when the MessagePad was released in 1993, he didn't file lawsuits against Palm and other companies who made personal digital assistants in the 1990s, and earlier smartphone makers weren't targeted, either. Samsung so far hasn't been hit with a lawsuit, despite the company's dual display smartphones.
Apple: the company that steals
According to Mr. Ross, Apple looks for abandoned "prior art" to use for its own designs. His case cites Steve Jobs saying Apple steals ideas, which may be a comment taken out of context.
What Mr. Jobs said in 1996 was, "Picasso had a saying: 'Good artists copy; great artists steal.' And we have always been shameless about stealing great ideas. Apple senior vice president of worldwide marketing shared his take on what Mr. Jobs meant during a 2014 interview on the Mac's 30th anniversary. He said,
I think what he meant by 'steal' was you learn, as artists have, from past masters; you figure out what you like about it and what you want to incorporate into your idea, and you take it further and do something new with it. I can see why people might confuse that with the current use people have for that phrase. You don't just say, 'I want something that looks just like yours and I'm going to sell it too.'
He added that building on what came before is not the same as copying, and that Apple sees the what makes an idea great and knows how to take it to the next level.
Bud Tribble, who was in charge of the original Macintosh team shared his perspective on Mr. Jobs's comment saying,
I think people focus on the Picasso statement and focus on the word 'steal.' If you take that word, which is kind of pejorative, and replace it with 'make it your own,' I think the underlying idea is that you can't do great design by copying something because you aren't going to care about it. If you take something and make it your own, what really happens is now you care about that design.
It may not matter how Mr. Jobs's statement is interpreted because Mr. Ross may have a hard time proving he's owed anything in the case. Apple's legal team also says based on the information Mr. Ross's attorneys provided, his ERD concept wasn't publicly available, making it impossible for the company to have found and copied it.
What Mr. Ross wants is $10 billion restitution, $3 billion for damages, a 0.5% royalty on all of Apple's mobile device sales, and for Apple to destroy any copies of his works in its possession. He filed his case this week in U.S. District Court in the Southern District in Florida.
[Thanks to Patently Apple for the heads up]