Apple released GarageBand 2.3 for iOS, a significant upgrade that adds a sequencer, a sound library, and new instruments to the recording software. GarageBand is a free download for macOS and iOS, though this update is only for iOS.
GarageBand Beat Sequencer
Beat Sequencer can best be described as an old school drum machine. It's built on GarageBand's pre-assembled drumsets. Users can choose from "12 Apple-designed drum kits, each with their own unique sound and 25 beat patterns." Notes are played by tapping on squares within those sequences, which is loops for easy layering. The resulting beat can then be dropped directly into a song. Here's Apple's demo video for Beat Sequencer:
GarageBand 2.3 for iOS Beat Sequencer Demo Video
GarageBand Sound Library
The addition of Sound Library to GarageBand for iOS allows users to both preview and download Apple-designed loops and instruments. Apple has long had a solid catalog of loops and libraries, but the company hasn't done added much in years. The company's announcement makes it seems as if this is changing, as it noted that users can get notifications when new packs are available.
New GarageBand Touch Instruments
Lastly, Apple is adding new Touch Instruments to GarageBand for iOS, including the Japanese Koto and Taiko Drums (shown below, on an iPhone X, of course), and the Chinese Guzheng. Six new Drummers were also added, three each in Pop, Songwriter and Latin styles, and then three more in Rock and Alternative.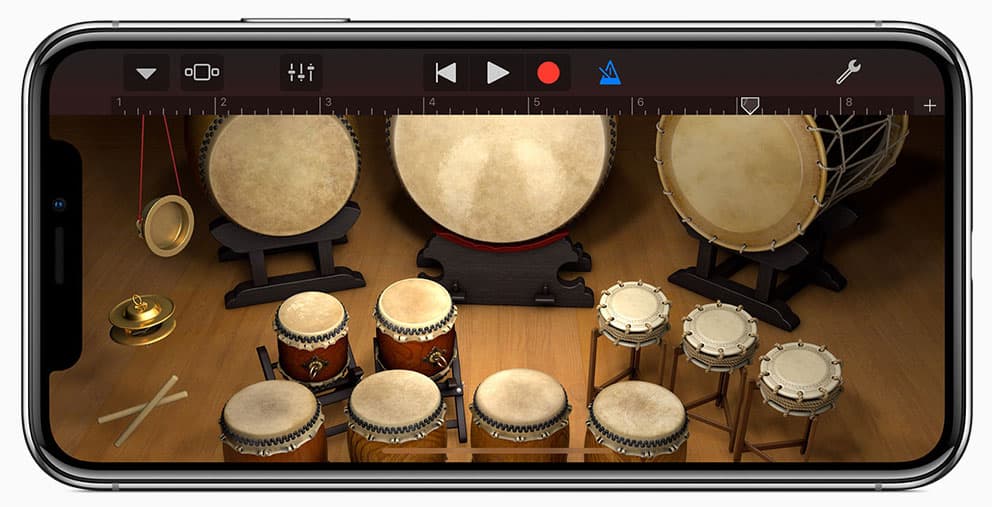 As noted above, GarageBand for iOS is free.