Apple announced iPadOS 17 during the WWDC 2023 keynote. The latest version of iPadOS will be available to the public in fall 2023. According to Apple, iPadOS 17 will bring new levels of personalization and versatility to iPad. Find out more about what's new in iPadOS 17.
At the WWDC 2023, Apple's senior vice president of Software Engineering, Craig Federighi said:
iPadOS powers our most versatile device and enables users to do so many things on iPad, and now with iPadOS 17, we deliver an experience that's even more personal and capable with interactive widgets on the Lock Screen, updates to PDFs and Notes, as well as enhancements to Messages and FaceTime, iPadOS gives users even more ways to get things done easier and faster than ever.
Lock Screen Becomes Even More Beautiful and Customizable in iPadOS 17
When iPadOS 17 becomes available, folks will be able to customize their tablet's Lock Screen. The new feature will take full advantage of the iPad display with rich photo features. This will allow you to select a photo from your personal library, a dynamic set of photos that shuffle throughout the day, or a Live Photo for a smooth slow-motion effect whenever you wake your iPad.
Additionally, you will be able to choose a wallpaper from the Lock Screen gallery, select expressive font styles and colors to further customize the look of the date and time, and create unique designs using emojis and various color combinations.
Finally, iPadOS 17 will also bring in Live Activity. This will let you stay on top of things that are happening in real-time right on the Lock Screen of your iPad.
Widgets Become More Powerful in iPadOS 17
Also new in iPadOS 17 is interactive widgets, which will become available on both the Lock Screen and Home Screen of your iPad. This will help make it easier to take action and get helpful information at a glance. Widgets will blend seamlessly on your iPad's wallpaper with adaptive tinting features that optimize legibility. For more information, check out how to use Interactive Widgets on your iPhone and iPad.
iPadOS 17 Makes it Easier to Work with PDFs on Your iPad
With iPadOS 17, working with PDFs on your iPad will become easier. iPadOS 17 uses machine learning to identify fields in a PDF, allowing you to quickly add details such as names, addresses, and emails from Contacts.
When using the Notes app on your iPad, iPadOS 17 will provide you with new ways to organize, read, annotate, and collaborate on PDFs. It will be easier to flip through pages, make a quick annotation, or even sketch directly on a PDF since it appears in full width in the Notes app. The Notes app in iPadOS 17 will also allow you to mark up and scan PDFs as well as collaborate with other users in real-time.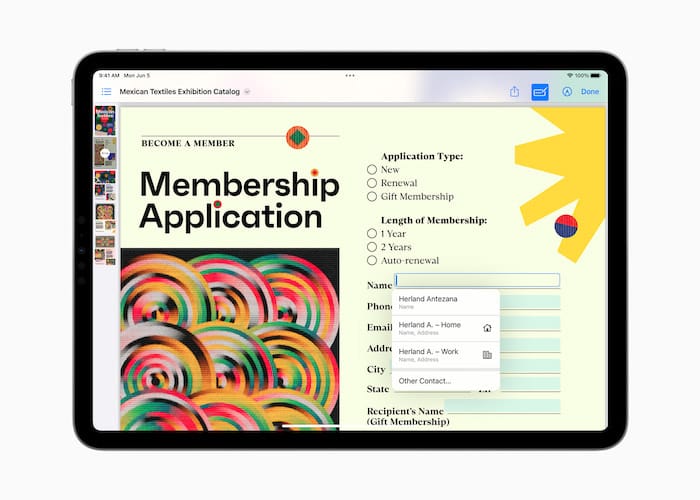 iPadOS 17 Brings in More Interactive Communication Tools
In Messages, iPadOS 17 offers several new features. These include an expandable menu that appears with a simple tap for easy access to your most frequently used iMessage apps. Searching through messages will also become easier with filters for people, keywords, and content types.
One interesting new feature that iPadOS 17 brings to Messages on iPad is the ability to create Live Stickers from your own photos. You can also add effects to these Live Stickers, bringing conversations to life.
FaceTime Becomes a More Expressive Way of Communicating
iPadOS 17 will also bring major improvements to FaceTime on iPad. Soon, you will be able to leave audio or video messages whenever your contacts don't pick up your FaceTime call. You will also be able to use Reactions to express your moods or feelings through hearts, balloons, fireworks, laser beams, and more during Facetime calls.
Final Words: Other New Features of iPadOS 17
In addition to the major new features mentioned above, iPadOS 17 will offer other new features. The Health app, which has been available on iPhone for quite some time, will finally come to the iPad. The Health app for iPad will have an optimized design that takes advantage of the tablet's large display. Health app features such as Cycle Tracking, medications, emotions, and daily mood logging, and other features will also come to the iPad when iPadOS 17 gets released to the public.
Finally, iPadOS 17 will also bring new features and functionality to Stage Manager, Freeform, Spotlight, Keyboard, Siri, AirPlay, Reminders, Maps, Privacy, and accessibility tools for your iPad.
Apple released the developer beta of iPadOS 17 during the WWDC 2023, while the public beta will be released in July 2023.