Apple's WWDC 2023 brings a lot to the company's ecosystem, including new updates and features for Apple TV, AirPods and HomePods. Many of these elements already finding themselves in developer betas, the public may want to know what to expect from this round of updates. While it seems like Apple TV is getting the most out of this wave of updates, there's plenty in store for the HomePod and AirPods as well. Let's dive right in.
What's New for Apple TV?
For Apple TV, Apple has announced tvOS 17. Arriving Fall 2023, the developer beta is now available. Along with a wealth of new features and changes, perhaps the most exciting feature is the addition of FaceTime arriving to the TV 4K.
FaceTime Comes to Apple TV
For the first time, Apple TV 4K users will now be able to connect to their family and friends through Apple's video messaging service. Users will be able to initiate calls on their iPad or iPhone, and then immediately switch over to their Apple TV 4K or vice versa. Even better, users will also be able to take advantage of the Continuity Camera, which can connect an iPad or iPhone to help bring those closer through Apple TV.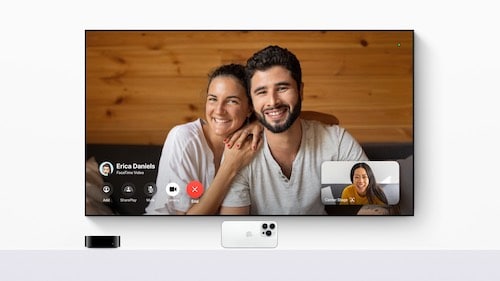 Center Stage and Third-Party Video Conferencing
Along with FaceTime arriving to Apple TV 4K, Center Stage is going to help make the experience even better. Along with helping keeping users in the frame during a call, Center Stage is also bringing reactions based off gestures to the platform. These gestures allow users to interact with the screen via their hands, letting users produce vivid on-screen effects. Users will also be able to implement Split View, as well as interact with FaceTime controls through their iPad or iPhone.
Furthermore, other video conferencing apps will be coming to Apple TV, include Cisco's Webex as well as Zoom. Not only will this give users more options for engaging with others, but developers will also be able to take advantage of Continuity Camera APIs, allowing third-party apps to integrate certain features into their own products.
Apple Music Sing and Revamped Control Center Arrive to Apple TV
Going back to entertainment, tvOS 17 is also bringing Apple Music Sing to the platform. A popular feature for those with an iPhone, iPad and/or a love of karaoke, users will now be able to sing along to their favorite tracks. Additionally, just like the Continuity Camera, users will also be able to add specials effects to their performance while seeing themselves on screen.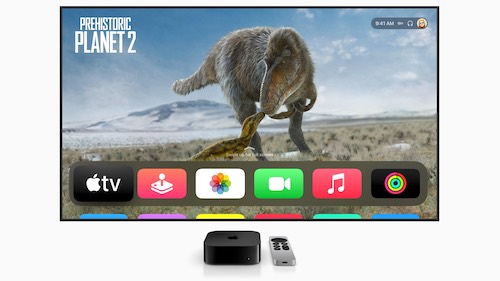 In addition to these entertaining feature, there's also a revamped Control Center arriving to Apple TV, which the company promises will make it "easier than ever for users to access key settings and information throughout the entire Apple TV experience". The new Control Center will now display system status information, including how much time has been spent on an active profile, while also providing users with additional activity information.
Siri Remote and Additional Features for Apple TV
Along with some new entertainment and console features, there's also new elements arriving for the Siri Remote. One that may be particularly useful for users is the ability to locate the Remote (second-gen or later) via their iPhone. Using their iPhone, users can launch the Remote via Control Center, utilizing their screen to inform them how close they are to the Remote.
Another new Remote feature includes the ability for a user to switch to their profile as soon as they wake their TV with the device. Concerning profiles, users can now save their personal preferences and settings, which includes pairing of AirPods and system languages.
Additional Features for Apple TV:
Enhancements to Screen Saver: Along with an even more beautiful and customizable look, users will now be able to curate Memories containing photos from their personal or shared libraries. Aerial screen savers will also feature new locations, including the coastal redwoods of California and the Monument Valley of Arizona.
Enhance Dialogue: This new feature will allow users to hear dialogue better over the sound effects of a film or show, so long as their Apple TV 4K is paired with a second-ten HomePod. Dialogue sounds will find themselves separated from background noise, bringing the vocals more forward in the center channel.
Apple Fitness+ features: Along with Custom Plans, which is a brand-new way for Fitness+ users to get meditation schedules and custom workouts, users will also have access to Stacks. This new feature allows users to perform and select multiple workouts and meditations that they can do right in a row. Fitness+ users will also have the ability to focus on either their music or the voice of their trainer in thanks to Audio Focus.
Support for third-party VPNs: Developers will now be able to design VPN apps for Apple TV, allowing users to access content through private networks.
As mentioned, the developer beta of tvOS 17 is now available, with a public beta arriving sometime in July. Users can expect a public release of the operating system sometime in the fall.
What Features are Arriving to AirPods?
Besides the updates to Apple TV and it's new features, Apple has also announced a software update to the second generation AirPods that will arrive in Fall 2023. Three of the largest features are Adaptive Audio, Conversation Awareness and Personalized Volume. Even better, the new software update will also improve upon older features, including more features for Automatic Switching and phone calls.
Do you remember the good old Live Listen feature? If you're interested in learning how to use the Live Listen feature with AirPods or Beats, check out our dedicated guide.
Adaptive Audio and Personalized Volume Features for AirPods
To start, Adaptive Audio is a new listening mode for AirPods that is capable of blending Transparency Mode and Noise Cancellations in a dynamic way. This means that users will have a deep and rich listening experience tailoring itself to their environment. For example, if you move from a loud area to a more quiet environment, your AirPods will be able to account for this and adjust themselves accordingly.
When it comes to Personalized Volume, this new personal audio experience feature will help fine-tune a user's listening experience based on certain environmental factors as well as their individual preferences. Furthermore, Conversation Awareness allows second-gen AirPods to both enhance and lower any voices facing a user. This feature will also help reduce background noise.
Automatic Switching Arrives to AirPods
For those that need to switch devices while using AirPods, updates to Automatic Switching will now make this easier than ever. Thanks to this feature, connection times between Apple devices will now be even more reliable and speedier. Lastly, AirPods Pro (first and second gen), third-gen AirPods and AirPods Max will now see a new Mute or Unmute feature. This allows users to press the stem or Digital Crown (Max) to unmute or mute themselves.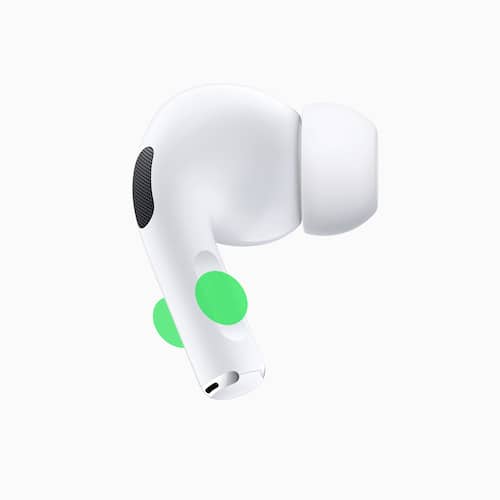 Those in the Apple Developer Program, the new developer betas are already available. For everyone else, the firmware update will arrive Fall 2023.
New Features for HomePod
When it comes to the HomePod, a few additional features are arriving for the device as well. The focus will be primarily on AirPlay. For example, on-device intelligence on iPhone and iPad will help these devices get a better understanding of when users use certain things.
For example, those that listen to music while they cook may find their iPhone or iPad recommending their HomePod in a notification window. Users will also be able to ask Siri to start an AirPlay session directly from the device. You might also be interested in how to create a HomePod stereo pair.
Stay Up to Date: New Features for Apple TV, AirPods and HomePod
Apple is certainly revving up the features in these new round of releases. For those that own an Apple TV 4K, the new FaceTime features will no doubt be incredibly useful for those looking to connect with others across the globe. The new updates to AirPods should also create a more dynamic user experience, and sharing things to a HomePod will now be easier than ever.
While developer betas are currently available, users will have to wait for a public betas or even the official release to get their hands try out these new experiences for themselves. Of course, there's plenty arriving to iOS 17 as well, and our very own Darryl Dsouza can show you the best of the bunch. There's also a lot of information concerning macOS Sonoma, which Jeff Butts helps break down. For those looking for the latest AirPods, Apple TV and HomePod features, there's plenty to enjoy while you wait.