Looking to make Apple Music louder on your iPhone? There's nothing better than an excellent music streaming experience, which is why many choose an iPhone in the first place. From the crystal-clear music experience Spatial Audio can deliver, to the specific hardware the company packs into each device, there's a lot to love about listening to music on your iPhone. However, some people may want their music to be louder, or they have noticed differences in music quality as they continue to use their phones. Fortunately, I know just the solution. 
For those who need it, I'm will show several ways you can make Apple Music louder on your iPhone. I'll also show a couple of tips for Apple Music on Mac. While there are a number of ways to adjust the volume, many may be surprised that it's your music equalizer settings that can play an important role in reaching that maximum decibel level. For a music enthusiast, having the ability to listen to jam the way you want can be incredibly important, so let's take a look at some solutions. 
Why is the Volume in Apple Music So Low?
There could be a number of reasons why the volume is low. It may be your output format, or it may be environmental noise preventing sound waves from moving properly. Most likely, however, is that you should look at the Sound Check feature, which aims to eliminate differences in music volume within the app. Essentially, Sound Check ensures that all music is playing at the same volume, which will likely cause some music tracks to be quieter than they would normally be. You can turn this feature off by navigating to Settings > Music and ensuring the Sound Check feature is disabled.

How Do I Increase the Volume on Apple Music?
Below, I take a look at several solutions that involve the software of your device. However, you should also check the hardware side of things as well. For example, ensure that the speakers you are using are clean and not damaged. Louder music, especially bass heavy music, can easily destroy a speaker. Whether you are using a Mac or iPhone, ensure that the volume on your device is at the appropriate level.
On your iPhone, you can use the buttons on the side of your device to raise or lower the volume. On a Mac, you can easily adjust the volume slider from the Control Center in the menu bar. Click the icon that looks like a hamburger that's next to your clock.
Solutions to Make Apple Music Louder
Check out some of these tips and tricks to adjust your sound control within Apple Music. Note that some of these features, especially the EQ settings, are potentially going to affect your music quality. When it comes to music output, adjusting the EQ and volume can have an impact on quality. If you go over a certain threshold, you're likely to experience crackling in your music.
Adjusting Apple Music Settings on iPhone
For those who are looking to make Apple Music louder, there are a couple of Settings that you may want to take a look at for the app. For an iPhone, there are two features Apple Music implements that affect the audio volume on your device. Both EQ and Sound Check can affect your music volume. 
Time needed: 2 minutes
To access these features, follow these steps:
From your iPhone, go to Settings.
Scroll down and select Music. 

Under the Audio section, you will see two different settings: EQ and Sound Check.

Ensure that Sound Check is off by making sure the button is grey.
Concerning the EQ, either turn it off or choose from the list of Equalizer Presets, as many may increase the volume in a manner that suits your tastes. Many recommend the Late Night setting for maximum volume. However, EQ presets can react differently depending on the type of music. Experiment for the optimal volume boost.
While Sound Check may unintentionally decrease the volume of your music, adjusting the EQ settings may have an impact on your volume that you either may like or disapprove of.
If you are using a Mac, you can adjust the EQ from the menu bar by going to Window > Equalizer. There are presets available, or you can use the crossfaders to adjust the EQ option manually. Remember to turn on the Equalizer from the window by enabling it in the top-left corner.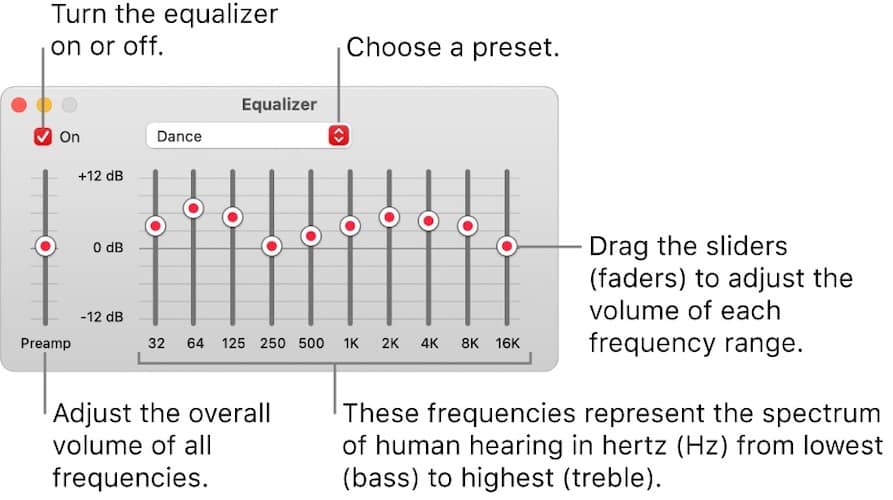 For Mac users, there is also the Sound Enhancer, which adjusts the "wideness" of your speakers' stereo effect by adjusting the bass and treble. You can adjust this setting by navigating to Music > Settings > Playback > Sound Enhancer from the Music app. 
Make Apple Music Louder Through Lossless Audio
If you have an Apple Music subscription, you can enable Lossless Audio, which provides a richer and more robust listening experience. Even better, music on in your Apple Music Library that is tagged as Lossless Audio will match perfectly with this feature.
From your iPhone, go to Settings > Music.
Select Audio Quality.
Ensure that Lossless Audio is enabled.
Additionally, ensure that both Wi-Fi Streaming and Downloads are set to Lossless.
That's all there is to it! However, if you want to enable or disable this feature on a Mac, open the Apple Music app, then select Music > Preferences from the menu bar. Select the Playback tab, and then select or unselect Lossless Audio. The feature is under Audio Quality. 
Disable Headphone Safety
This feature is essentially exactly what it sounds like. Your iPhone has an automatic volume limiter that ensures the audio output isn't at a loud volume. Your device will automatically reduce loud sounds and bring them to an appropriate volume level and decibel limit. Be careful turning off this feature, as proper headphone safety can be important for protecting your hearing. Always pay attention to your sound volume, as extremely loud headphones can cause hearing loss.
To turn off Reduce Loud Sounds, follow this simple trick.
Open the Settings app on your iPhone.
Navigate to Sounds & Haptics.
Under Headphone Audio, select Headphone Safety.

Ensure that Reduce Loud Sounds is turned off.

Bonus Tip: Using the Bowl Method
If you have ever worked in a restaurant, you probably already know this trick. However, for those who haven't, there's a way to increase your music volume by taking advantage of your built-in iPhone speaker. Simply place your iPhone in a metal bowl, which will cause the music to become louder. This is really only a good solution if you want to increase your speaker output, but don't actually have a Bluetooth speaker or headphones. This is also why it's typically a solution for those who work in a kitchen, as a large sauce tub is perfect for this trick.
It's a cool trick, but it will sound exactly how you think it will sound (like your iPhone is in a can). However, it's a way to boost the default volume of your device without using much else.
Conclusion
Having the right volume for Apple Music ensures that you enjoy the music player exactly as you want it. While it is likely that you need to simply adjust the volume controls, be sure to note the above tips and tricks to get the most out of Apple Music. Of course, now that you have your volume where you want it, you can also try more advanced tricks with Apple Music, including setting the cross-fade option. We can even show you what to do concerning how to see your loved songs within the streaming service.
If you found this particular guide helpful, or you have any other comments about Apple Music, let us know in the comments.
F.A.Q.
Is there a volume limiter on iPhone?
Yes, the iPhone has a volume limiter, which is known as the Reduce Loud Sounds feature. However, this is typically a safety feature for headphones. Nonetheless, you can enable or disable this feature via the settings app. Simply navigate to Settings > Sounds & Haptics > Headphone Safety > Reduce Loud Sounds.
How do I increase the volume on my Music settings?
There are a number of ways to increase the volume in your Music settings. One of the easiest ways on an iPhone is by adjusting the EQ of Apple Music. Simply go to Settings > Music > EQ and select a different EQ. Most people suggest using the Late Night option to increase the volume of songs. You can also ensure that Lossless Audio is enabled by going to Settings > Music > Audio Quality and ensure that Lossless Audio is enabled. However, keep in mind you need a subscription to Apple's music streaming service to enable this feature.
How do I make Apple Music louder on Bluetooth?
The best way to make Apple Music louder on Bluetooth is by adjusting the volume controls on your Bluetooth as well as the device you are using to play the music. If it is your iPhone or an iPad, ensure your volume is at the level you want by using the volume buttons on the side of your device. If you are using a Mac, remember that your volume controls can be found in the menu bar by clicking the speaker icon or hamburger icon for Control Center. You can also try adjusting your EQ settings following the steps above.