Today I'm looking at some of the best wallpaper apps for the iPhone in 2023. Having a good wallpaper is but of course one way to show off the fantastic resolution of an iPhone screen, and I want to provide users with some options for finding the best apps for them through the App Store. When you consider the new Lock Screen options available in iOS 16, there's even more reasons to ensure your wallpaper looks its best. Fortunately for users, I took the time to go through a lot of the wallpaper apps to determine which ones I like the most. Here's what I found.
Keep in mind that when it comes to many of these apps, you're more than likely going to have to spend some money in one facet or another. After all, nothing in this life is free. Jokes aside, I did feel it best to provide this warning now. While there are a lot of cool apps and wallpapers on this list, you're more than likely going to need to fork over some dough, or at the very least, watch some ads to retrieve your wallpaper. Keeping all of this information together, let's explore some options for the best wallpaper apps available.
What Are the Best Wallpaper Apps for iPhone?
Zedge
One of the coolest wallpaper apps worth checking out is Zedge, which not only features your traditional, static wallpapers, the app also features plenty more animated wallpapers and options as well. You not only get access to a wide variety of some rather awesome looking wallpapers, but you also get access to live wallpapers, custom icons, ringtones and even NFTs if that's your bag. There's even ways to support your favorite wallpaper artists through a credit system.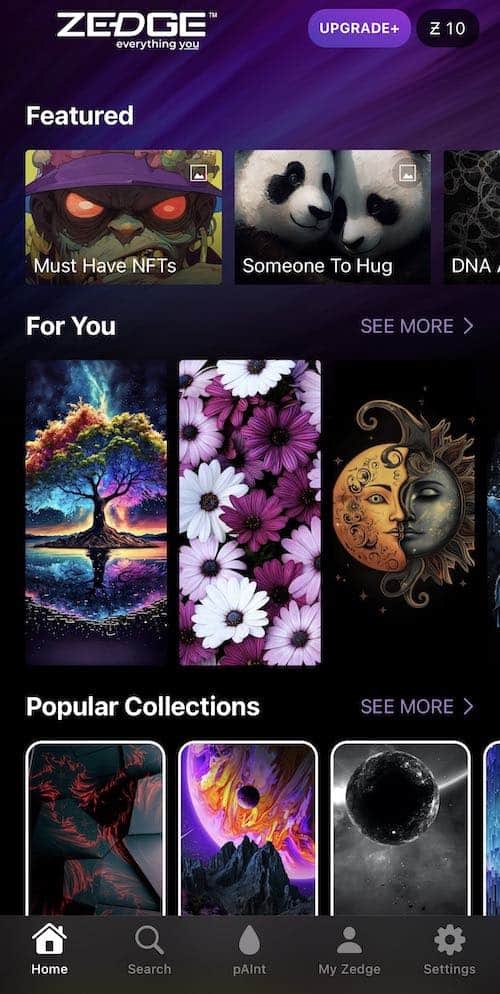 Perhaps one of my favorite features about this app is Zedge pAInt, which uses artificial intelligence to create custom wallpapers for users. All one needs to do is describe something with a bit of detail, and the app will create a wallpaper for you–neat! While some of the features in this app are going to cost 'credits', there's still plenty of wallpapers that you can access for free. Even better, since it offers items through credits, users get an ad free experience. It's definitely worth checking out.
Pros:
Zedge pAInt worth the price of admission.
Plenty of extras.
UI looks good.
Supports artists.
Cons:
Some may not like the paywall.
Aesthetic Wallpapers
One app that I like in particular is Aesthetic Wallpapers by Hafsa Jouhari. For me, having an iPhone has always been about making sure it looks as cool as it possibly can. I like having a wallpaper that really shows off the features of the phone, while also making sure that everyone in the room knows my wallpaper is absolutely hip. Aesthetic performs well in making sure my background looks cool.
What I really like about this app is that it does offer the vast majority of its wallpapers for free. Users will only see an ad after they download a wallpaper. Additionally, there's also an image editor included, so you can make your own wallpapers, and some of the photos included with the app also include additional color options. The only real downside to this app is that the selection could be a bit larger, but there's plenty of options for users looking for something interesting.
Pros:
Extremely easy to use.
Plenty of wallpapers that are easy to download.
No subscription.
Cons:
Need to watch an ad after downloading wallpaper.
The UI could be a bit nicer on the eyes.
Themify
When it comes to wallpapers, why stop there? Ever since iOS has supported widgets and the changing of icons, you can give your iPhone an entire facelift. That's where Themify comes in. Not only are users able to get access to wallpapers, but they can completely revitalize the looks of their phone thanks to icons, widgets and more. Additionally, there's plenty of customization options for each theme, and some themes even offer live wallpapers as well as additional options. There's a lot going on in this app, giving users plenty to explore as they customize the look of their device.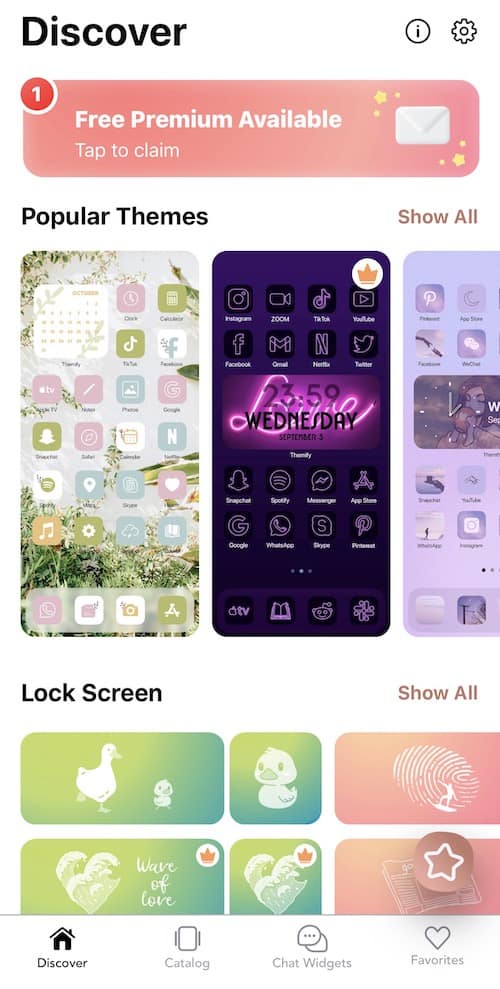 Of course, just like the vast majority of wallpaper apps, it's going to come at a price. The app is going to try and get you to sign up for a subscription while offering a free trial, but you are able to cancel out of this and simply go to the free version of the app. Though, I do find this incredibly annoying. However, if you're looking to give your iPhone a complete makeover, this might just be the app for you.
Pros:
Lots of different wallpapers and themes.
One of the nicest UIs on the list.
Plenty of customization options.
Cons:
Users may not like the paywall.
Has a subscription page that immediately comes up that users need to avoid.
Lockd
Another wallpaper app I would like to suggest would be Lockd. With the iOS 16 update, users got a cool new feature where the Lock Screen can now have a really cool depth effect. Now, if you're anything like me, none of the pictures on your phone seem to really take advantage of this new feature. At least, I can never seem to find a photo on my iPhone that really makes the depth effect stand out. That's where Lockd comes in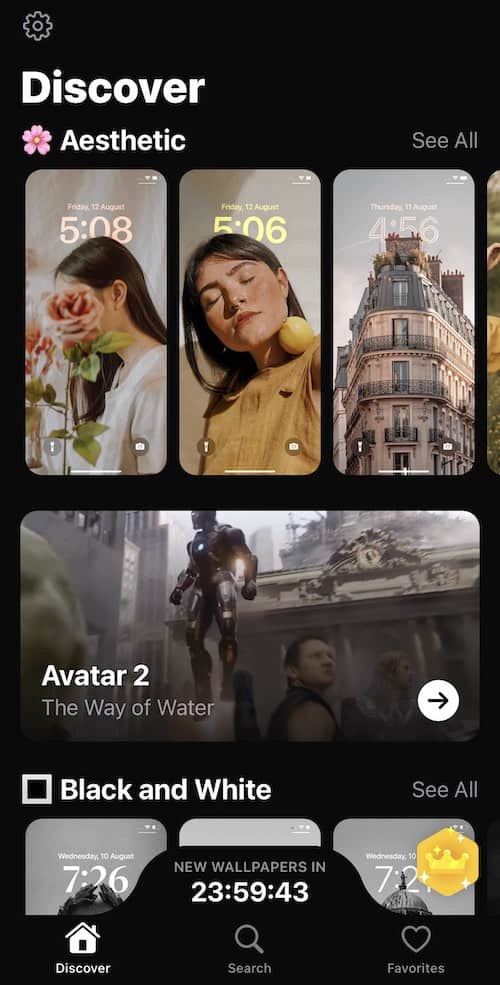 Now, I will warn that the app is going to want you to join its subscription service, which starts at $9.99. However, there's still wallpapers that are accessible via watching an ad before you download them. Outside of this, there's plenty of wallpapers to choose from, especially when it comes to taking advantage of the Lock Screen's new depth effect. If you're looking for something a little different, give this one a try.
Pros:
Lots of wallpapers that support iOS 16 Lock Screen.
Admittedly cool wallpapers in general.
Cons:
Subscription service.
Need to watch an ad before or after downloading.
Unsplash
When it comes to wallpapers, what better way to get them than through a community of photographers? When it comes to Unsplash, that's exactly what you're getting. What I like most about this app is that it seems to combine the best of social media, while also taking the best features from other, more traditional wallpaper apps. All of the wallpapers available are from community members and photographers, meaning anyone with a camera is able to submit photos to the app as well.
Personally, out of all of the apps, this one feels the most accessible when it comes to nabbing wallpapers. Trying out each of these apps, Unsplash is the one that gives you the quickest and easiest access to their wallpapers, which is great. The only downside to the app is that because it is community driven, you may need to do some digging to find a wallpaper that you actually want to use. Additionally, don't expect to find anything outside of photography on this app. With that said, I still found a couple that I plan to throw in my rotation, and there's a ton of options to work with.
Pros:
Community driven.
Tons of different categories and styles.
Cons:
Almost too many wallpapers.
Backdrops
The last wallpaper app for iPhone that I would like to take a look at is Backdrops. Considering we went with one app that focuses exclusively on photography, I decided to also focus on an app that works with photos that are more abstract. A simple wallpaper can really make icons and widgets pop rather nicely, and I think this app does a wonderful job of capturing wallpapers that can really give your device a crisp look.
Featuring a range of tags including Scenery, Space, Minimal, Geometric and more, Backdrops has enough wallpapers to keep even the pickiest person in the world satisfied. . . at least for awhile. Not only do I really like the wallpapers that are available in Backdrops, but out of all of the apps I have suggested, the ads are pretty much the least obtrusive, which may be the largest selling point for a lot of individuals. If you're looking for some cool wallpapers, I would really suggest giving Backdrops a try.
Pros:
Plenty of options for wallpapers with tons of different categories.
Minimal ads.
My personal favorite.
Cons:
Some users may be looking for more well-known or popular characters and images.
Options Galor: The Best Wallpaper Apps Available for iPhone
Choosing the right wallpaper for your iPhone can be something of a hassle, especially if you are the type that likes to keep things exciting and interesting. Luckily, there's plenty of apps in the Apple App Store that can provide users with plenty of options, while also taking advantage of iOS 16's new Lock Screen features. Even better, along with the new Lock Screen available in iOS, you can have multiple choices to change the Lock Screen and Home Screen wallpaper on your iPhone. You can create different sets based on mood, functionality and more. 
Being able to customize the look of your iPhone ultimately brings a better experience to the device: adding a touch of personalization can truly help your device standout from the pack. While you may find that a lot of these apps are going to ask you to subscribe or watch an ad to get your wallpaper, you may find that much of the art found within these apps is worth plunking down the cash. Taking a look at these apps, there's so many wallpapers available, you may not even know where to begin. Of course, isn't that half the fun of finding new looks for your device?