What is better than Mac Disk Utility? The native disk repair tool for macOS packs many features, but you may be looking for something more expansive. As someone who has to spend a lot of time repairing disks, I have found some great alternatives better than Mac Disk Utility. Let's explore some of the best alternatives to Apple's native program.
Why Look for an Alternative?
The primary reason why users may want to look for an alternative to Disk Utility is because third-party applications are more likely to have more advanced and expansive features. The largest benefit of Apple's Disk Utility is that it comes baked into macOS. However, when it comes to fixing a corrupted disk, users may want more essential features, such as a way to remove duplicate files and more.
Going with a third-party app can expand compatibility with your Mac, have a better overall user experience or may simply provide better technical support. Third-party disk repair tools often have features and capabilities that extend past what Disk Utility is capable of doing. Many also have a more simple interface, eliminating human error and offering a more clean interface for casual users.
While Mac Disk Repair software offers powerful tools such as creating disk image files, volume management, disk repair and the ability to combine multiple disks into a RAID set, casual users and even more experienced users may want an application with more features.
What is the Best Disk Utility Alternative for Mac?
When determining Mac disk repair software alternatives, casual users may want to consider what they'll be using the program for. That means looking for the best compatibility, the best usability and the best key features and support. Having all of these in one application can create the best user experience when looking for a Disk Utility alternative.
Having a wide range of options for your operating system is never a bad thing, and having the right disk repair tools can be critical. Let's take a look at some fantastic alternatives.
Techtool Pro
A great program for disk repair needs is Techtool Pro by Micromat. If your Mac is crashing or your Mac has slow performance, this can be a great tool for disk issues. With Techtool Pro, you can check your disk for volume structure damage or physical disk damage.
Techtool Pro comes with a series of tools capable of checking your volume structures while also looking for physical disk damage. It also provides other features, such as Volume Cloning, which allows you to easily make backups of your drives. Techtool Pro also comes with volume and file optimization, which can help with the defragging process.
There's also additional features that allow you to check your battery if you are using a laptop. Techtool Pro also includes network monitoring and networking testing.
Offering a subscription for $80.95 the first year and $89.95 for each year after, you can also buy it outright for $159.99. While this may be steep for some users, frequent updates to the program and good customer support make it worth it.
Paragon
A great option for Intel-based Macs is Paragon Hard Disk Manager for Mac. Exemplary disk repair software, this system management and drive repair software can be an incredibly powerful disk monitoring program. Paragon offers more advanced functions than typical drive repair software.

From my experience, Paragon has been a significant upgrade as a recovery tool, thanks largely to its ability to fix corrupt drives. Recovery modes include the ability to fix lost or accidentally deleted partitions, and secure data wiping and disk cloning allow me to quickly go back to enjoying my spare time. If you're having drive errors on an intel-based Mac, consider Paragon.
While this application is more for older Macs (up to macOS 12 Monterey), taking care of an old Mac can also be incredibly important. Even better, Paragon also offers backup and recovery tools for your Mac, giving you a full-range of features that are more expansive than Mac's simple Disk Utility for only $39.95.
DiskWarrior
If you have corrupted disk issues, nothing is better for your disk health than DiskWarrior from Alsoft. A highly regarded disk repair software application for older Macs, Disk Warrior helps your physical disk in ways other programs can't. With 1-click recovery, DiskWarrior scans your corrupted drives and salvages files and problematic folders, creating a new directory on your machine that is free of errors.
One of the strongest defenses against drive errors for older Macs, DiskWarrior pulls no punches when repairing your machine. In addition to monitoring the health of your drive, the application also ensures that your new directory has fail-safes in place so that it doesn't happen again. The app also tests the entire device for directory damage, letting you know if you're in need of directory repair before it happens.
If you're looking for professional data recovery for your entire device, DiskWarrior is your one-stop shop. Though, remember that it is for older Macs, as it does not support APFS. Along with the superior ability to fix disk issues, Alsoft also provides excellent customer support. One of the best in the game since 1998, DiskWarrior has won more awards than any other disk utility program. While the $119.95 price tag may seem steep, the capabilities of this macOS recovery tool are superior to Mac's Disk Utility and it's worth it.
Drive Genius
Drive Genius by ProSoft gives users total control of their machine. Featuring automated problem detection, malware protection and 16 other powerful features, there's a reason I trust this program for my Disk Utility needs.
Like CleanMyMac X, Drive Genius also features malware scanners and the ability to scan for duplicate and large files. If speeding and cleaning your machine weren't enough, Drive Genius also goes beyond Mac's Disk Utility capabilities. For example, the repartitioning options in Drive Genius are far more expansive than Disk Utility's offerings.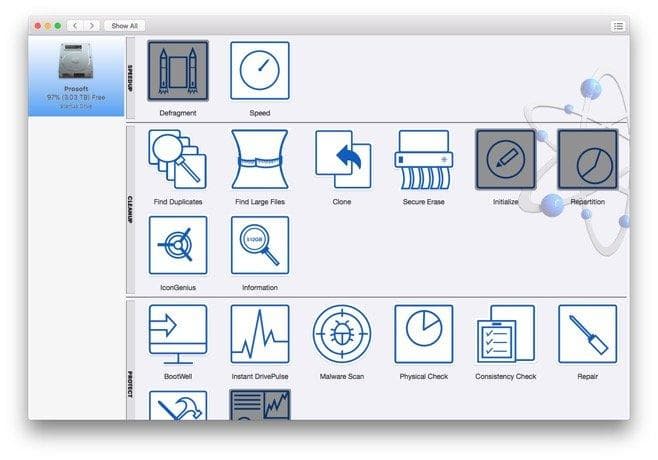 With offerings of $99 for a perpetual license or $79 for an annual license, Drive Genius offers options for those on a budget. You can essentially think of it as having a more professional version of Mac's Disk Utility, with the benefit of having more expansive features. I would recommend ProSoft's app if you are looking for the complete package in disk repair.
Factors to Consider When Choosing an Alternative
The largest factor of choosing a disk utility is features. What is this app going to do for you? Of course, usability should also be a consideration, as features aren't that beneficial if it they are difficult to perform. A good Mac disk repair software should also be affordable, so you don't have to break the bank just to protect your machine.
You should consider your own needs when choosing a disk repair application. Are you looking to get rid of corrupted files or unwanted applications? There are options. Do you need more advanced functions beyond what Disk Utility provides? Picking the right Mac disk repair software can seem complicated, but looking at the features, price, compatibility and usability are all factors you should consider.
Conclusion
Your Mac is only as powerful as your disk drive, which means having an app that offers more than the capabilities of Disk Utility can be extremely beneficial. However, knowing what you want from the app is key. If you're tied of cryptic errors or power outages crushing disk usage, consider the above recommendations.
Getting the most out of your machine means having the software that protects your hardware. While I have made several recommendations for alternatives to Apple's Disk Utility, know that more exist. Finding the one that works best for you may take some time, but the benefits are worth it. Of course, if you have any additional feedback, or have tried any of the above programs, let us know in the comments.