Users should know that there is a way to mute an Emergency Alert on the iPhone without dismissing it entirely. It's a situation you've likely been in before: you're enjoying a peaceful dinner with your family, when all of a sudden five different phones begin blaring an emergency notification. While these messages are often important, some may want to at least avoid the sound, which can be extremely uncomfortable for some users.
Considering this information, I'm going to explain what types of Emergency Alerts might be sent to an iPhone, while also explaining how you can silence them without the need to remove the notifications from your phone completely. Of course, I'm also going to quickly show you how you can disable them entirely as well. Why it may not be the best idea to remove them from your iPhone sight unseen, it's of course ultimately up to the user.
Can You Mute Emergency Alerts?
For those unfamiliar, an America's Missing: Broadcast Emergency Response, or AMBER Alert is an emergency response that broadcasts information to the public regarding a missing person. Usually, the missing person in question is a child, making these alerts extremely important when reaching the public. Whenever an AMBER Alert goes out, your iPhone is going to notify you via a sound as well as a notification. These notifications can be critical in helping locate a missing individual.
Additionally, an iPhone will also display other emergency alerts, with most of them being geared toward public safety as well as notifications involving government matters. These alerts can include:
Alerts issued by the country of the government of the region.
Alerts involving the threat toward safety or life.
Extreme weather conditions will receive an alert.
Public Safety Alerts.
While these alerts can be crucial for certain situations, many can also find the incredibly loud volume that coincides with these alerts to be extremely bothersome. Those with hearing sensitivities may also find them uncomfortable or even painful. Fortunately, there is a way to disable the ringing while also keeping the notification on your screen.
How Do I Mute Emergency Alerts On My iPhone Without Dismissing Them?
If you need to mute an alert, but still want to read the message, all you need to do is press the Volume Down button as the notification rings. This will stop the ringing, but allow you to continue reading the alert. This not only gives you the information you still need, but does so without dealing with a non-stop alarm blaring in the background.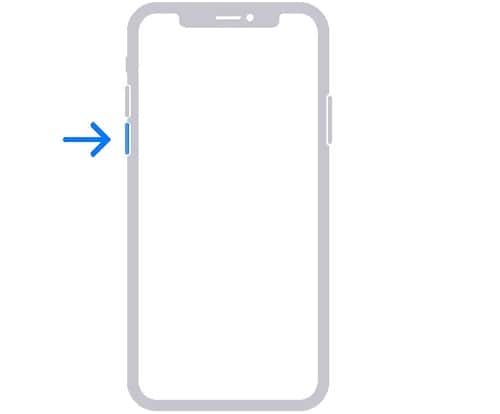 There is also a way to disable government alerts completely. While I really wouldn't recommend this, it is certainly possible. Keep in mind that by turning them off, you will no longer receive important notifications, including alerts regarding extreme weather and public safety. Nonetheless, if you are tired of hearing and receiving these notifications, just follow these steps.
Time needed: 1 minute
Disabling notifications is as easy as follows.
Go to Settings.
Select Notifications.
Scroll to the bottom of the screen. Under Government Alerts, choose which ones you would like to disable. Note that some regions and countries may disable the option to turn off government alerts.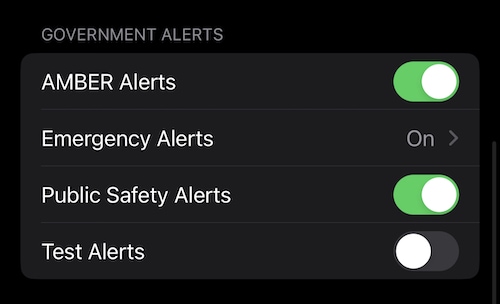 Note that while you're in this section, you actually have several options. You can disable AMBER Alerts separately from government alerts, while also being able to do the same for Public Safety Alerts. When it comes to government alerts, you are able to disable either the sound or the notification, or even both. Note that these options may depend on what version of iOS you're sporting.
Enabling Government Testing Alerts
Furthermore, users are also able to enable government Test Emergency Alerts. Available only in the U.S. and Puerto Rico, users can enable Test Alerts to receive test notifications from the government. However, this setting is only available in iOS 15.4 and later. If you are using an iOS 15.3 or earlier, you will need to dial *5005*25371# and then the Call button from the Phone app. Repeating this process will also disable these test alerts. You can also read more about this feature, including why you would want to enable it, thanks to our very own Jeff Butts.
Conclusion: Mute an Emergency Alert Without Dismissing It
While emergency alerts can be incredibly important, even life saving, it's still reasonable that some individuals will want to turn them off. They're loud, startling, and as mentioned, folks with hearing issues may find them particularly painful. Fortunately, there is a way to disable the sound without disabling notifications entirely. You will need to be near your phone to disable the sound, however.
At the end of the day, it's ultimately up to the user what they want to hear on their device. Alerts, however, are meant to be alarming for a reason. While the alerts that are sent out can be incredibly important, both for you and those that are in need of emergency help, the alerts themselves can be rather excruciating for some. Fortunately, Apple gives you options. At the end of the day, having the option to mute Emergency Alerts on an iPhone leaves it up to the user regarding what is ideal for them.