Password managers are wonderful, allowing you to keep track of all of those logins with ease. While Apple's built-in password manager has lagged behind third-party solutions, it is trying to catch up. In macOS 14 Sonoma, you gain the ability to share passwords through iCloud Keychain. Let's take a look at how it set it up.
Bringing Shared Passwords to iCloud in macOS 14 Sonoma
Through the additions to Apple's built-in password manager and its integration with iCloud Keychain, macOS 14 Sonoma users can share passwords with groups of people. As long as they are also running macOS 14 Sonoma, iOS 17 or iPadOS 17, they can use those passwords with ease.
To get started on your Mac, you just need to have the macOS 14 Sonoma beta installed. Once that's done, read on to learn how to use the new feature.
Getting Started with Shared Passwords in iCloud
To create your first shared password group, follow these steps.
Open Settings > Passwords, then click Get Started in the Family Passwords section.

After reading the introduction to the feature, click Continue.

Next, give your shared group a name and click Add People.

Type or click the person or people you want to add, then click Add.

Choose which passwords to share, and click Move.
That's all there is to it. You can create multiple shared password groups, add or remove passwords, and add or remove people.
Frequently Asked Questions
Which operating systems work with the iCloud Passwords Shared Group feature?
Apple's password-sharing functionality requires iOS 17, iPadOS 17, macOS 14 Sonoma, or later operating systems.
How do I add someone to my Shared Passwords Group?
Navigate to the group and click Manage > Add People.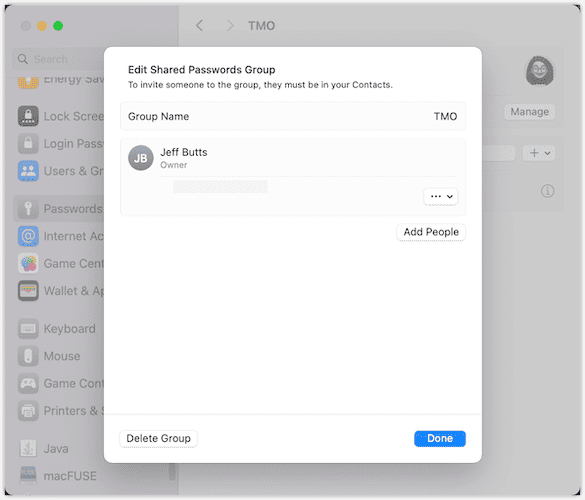 How can I add or delete passwords from my group?
Again from the group pane in Settings, click the + symbol to add a new password or move a password to the group.

Can I maintain multiple password-sharing groups?
Absolutely. From Settings > Passwords, click the + symbol, then New Shared Group.