While Voicemail may seem outdated to some, being able to access it on your iPhone may be crucial for users. While sending a text or an email is often an easier solution than receiving a Voicemail, some may still choose to use this system. If you're having trouble with your Voicemail not working on your iPhone, I have a couple of solutions that you may want to try.
Before beginning, I would recommend taking a look at each of the options before diving in. While most of them are rather straightforward and easy, the ones near the end of the list do get a bit more complicated. Remember that the most obvious solution is typically the right one. With that said, let's explore a user's option when it comes to getting their Voicemail operating properly again.
Fix Voicemail Not Working on iPhone: Solutions and Fixes
If after you set up your voicemail on your iPhone you find that it is not working, do the following:
Directly Call Your Voicemail or Check for Setup
Users should remember that they are able to directly call their Voicemail. To do this, all a user needs to do is go to their Phone app and open the Keypad. Then, simply press and hold the number 1 and your phone will then call your Voicemail. You will then be able to access your Voicemails.
You may also want to ensure that Voicemail is actually set up on your iPhone. While this may seem obvious, certain updates may change or even reset Voicemail configurations. Go to your Phone app and select Voicemail to check if it is working. You can also go to Settings > Phone and see if you have the option for Change Voicemail Password.
Restart Your iPhone
Users may also want to restart their iPhone. This can also be an incredibly easy way to fix small glitches and errors occurring on your device. Users can go to Settings > General > Shut Down to power-down their device. Wait around 10 to 15 seconds before turning it back on.
You can also power down your device using the physical buttons:
If you are using an iPhone X or newer, you can also restart your iPhone by pressing and holding the side button and one of the volume buttons. Hold these buttons until the Shut Down slider appears, and slide it to the right.
If you're using an iPhone 8 or older, simply press and hold either the side or the top button, and then wait for the Shut Down slider to appear. Wait about 10 or 15 seconds to turn it back on.
Force Close the Phone App
Force closing the Phone app is also another option. This can be a quick fix if it a simple bug causing a user to not access their Voicemail. Using an iPhone X or newer, simply swipe up from the very bottom of your screen to bring up your apps in Task View. You will then swipe up again on the Phone app to force quit.
For users with an iPhone 8 or earlier, simply double-tap the Home button to bring up your app cards. You can then force quit the phone app by swiping up on it. No matter what device, you can relaunch the Phone app after completing this step to see if it is working again.
Turn Off Cellular Service, Wi-Fi, or Enter Airplane Mode
Users can also try turning their Cellular Service off and on to see if that fixes the issue. Simply go to Settings > Cellular and turn off Cellular Data. You should then wait around 20 to 30 seconds to turn it back on again.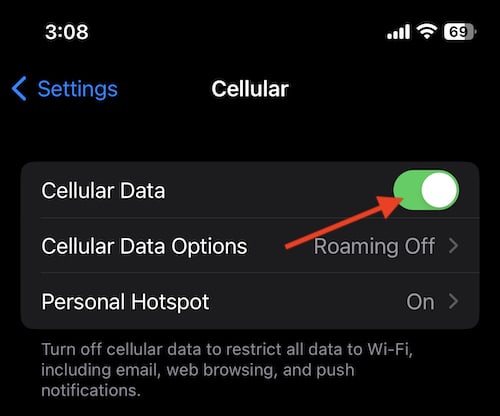 Similarly, switching Airplane Mode on and off may work as well. If you are using an iPhone X or newer, you can swipe from the top-right corner of your screen to bring up your Control Center. You can then tap the Airplane icon to enable Airplane Mode. Wait around 30 seconds before turning it back off.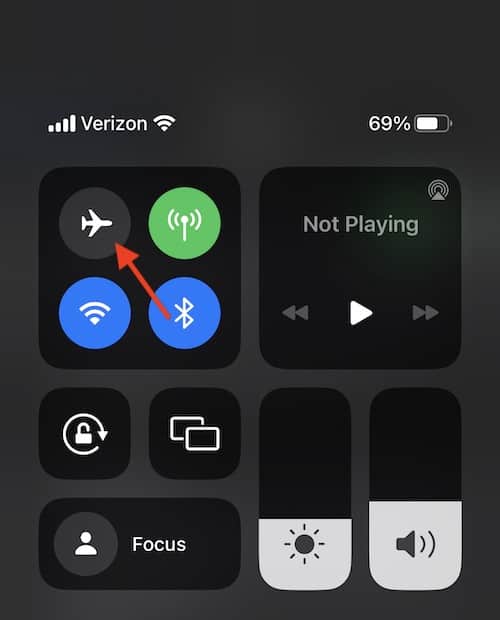 You can also turn Airplane Mode on or off directly from Settings.
Users may also want to try disabling their Wi-Fi to see if Voicemail will work. You can turn off your Wi-Fi either through the Control Center, or by going to Settings > Wi-Fi and disabling it. Once it is turned off, try using your Voicemail again.
Check if Your iPhone needs a Carrier Settings Update
Users may also be in need of a Carrier Settings Update if they are not able to access their Voicemail. Simply go to Settings > General > About. If you are in need of an update, your iPhone will inform you of one through a pop-up, and you will simply need to hit Update to continue.
Check Your Date and Time Zone
It's also a good idea to ensure that your device is automatically setting the time correctly on your device. This will help ensuring that both your date and time zones match and are correct.
Time needed: 1 minute
Go to Settings > General.
Select Date & Time.
Ensure that Set Automatically is set to On.
Check Call Forwarding
Call Forwarding may also cause issues with Voicemail. Users can disable Call Forwarding to see if this fixes the problem. All you need to do is go to Phone > Call Forwarding and ensure that it is set to Off. Note that this only works for Carriers that implement GSM. If you use a cellular provider that is CDMA, such as Verizon, you will need to speak to your carrier about enabling and disabling this feature.
Reset Voicemail Password
Resetting your iPhone Voicemail password may also do the trick. This can be done either by logging into your carrier's website or by contacting their customer service for further help. You may also be able to do it from a provider's mobile app.
You may also be able to reset your Voicemail password from Settings by going to Settings > Phone > Change Voicemail Password. However, if you forgot your current password, you will need to contact your service provider.
Reset Network Settings
As a last resort, users can also try Reset Network Settings. I would ensure that you have explored all of your options before attempting this. While it will not delete any stored data, it will restore your networks settings back to their factory defaults. Again, I would only go this route if it is one of your last options.
To reset your network settings, simply go to Settings > General > Transfer or Reset iPhone > Reset Networks Settings. You will then need to enter your iPhone password and select Reset Network Settings again. (Note: some versions of iOS may use Settings > General > Reset > Reset Network Settings.)
If none of these options work for you, it may be time to get ahold of your network provide, or get in touch with Apple Support. While this isn't the ideal solution for users, it may be their last option.
What to Do if Your Voicemail is Not Working on Your iPhone
For some iPhone users, being able to access their Voicemail is crucial. With luck, one of the easier solutions will work before getting into some of the more hardcore options. Again, I would highly recommend going through each of the easier options before choosing to Reset Network Settings or get in contact with any sort of customer support.
If Voicemail isn't working on your iPhone, there's a multitude of solutions a user can try to get it working again. Exploring your options, see what works best for you when attempting to fix your Voicemail. Again, it is likely a simple issue, though you may need to contact your service provider or Apple if you are having major issues.