With over 2 billion users (as of 2021) exchanging over 100 billion messages daily, WhatsApp is possibly the most popular messaging app today. Although most of the WhatsApp userbase are Android device users, there are still a considerable number of iPhone owners who use it as their preferred messaging app. Despite this, WhatsApp is not immune to occasional bugs, glitches, and crashes. As a matter of fact, many users complain that WhatsApp keeps crashing on iPhones. If you're one of them, read along to learn how to fix the issue by following several troubleshooting steps.
Why Does WhatsApp Keep Crashing on iPhone?
Whether you have an iPhone 11, 12, 13, or later, you may find WhatsApp suddenly not working properly on your iPhone. Some of the possible reasons for this error include an outdated app version, an outdated iOS version, a weak internet connection, lack of storage space on your iPhone, incorrect configuration of the app's settings, and app glitches.
To solve the issue of WhatsApp that keeps crashing on your iPhone, follow the troubleshooting steps below.
1. Check Your Internet Connection
Since we're talking here about message exchanges over the air, it's a must that your iPhone is connected to a strong network. When using WhatsApp, your iPhone needs to connect to the app's server before it can receive and send messages. So, make sure that you have a strong and stable Internet connection when using WhatsApp. The same holds true when you're using a cellular data connection to connect to WhatsApp.
2. Check Whether There's a Problem with the WhatsApp Servers
Unlike Apple and other big tech companies, WhatsApp doesn't have a website where you can check the status of its servers. The company does, however, have device reporting mechanisms through its social media accounts. So, make sure that you are following one or all of its accounts on various social media platforms.
3. Update Your iPhone's OS to the Latest Version Available
We have always reiterated the importance of having an updated version of iOS on your iPhone. Continuously running on older versions of iOS could cause a problem when using various apps on your device. That's because when Apple releases the latest iOS, app developers make it a point to update their apps to run smoothly with the latest version.
4. Update to the Latest Version of WhatsApp
Similar to updating your iPhone to the latest iOS, you should ensure you are using the latest version of WhatsApp. Prolonged usage of an outdated version might result in a glitchy app.
5. Restart Your iPhone
Before you go further into resolving the issue of WhatsApp continuously crashing on your iPhone, you might want to try giving your device a fresh start first. Most of the time, restarting your iPhone can resolve glitches and bugs, especially involving a particular app. So, go ahead and force restart your iPhone if you must.
6. Uninstall and Re-install WhatsApp
If restarting your iPhone doesn't resolve the issue at hand, you can try refreshing WhatsApp instead. You can do so by uninstalling the app and reinstalling it. It's a free app anyway. And even if it were a paid app, uninstalling and re-installing will not cost you anything.
7. Verify the Configuration Settings of WhatsApp on your iPhone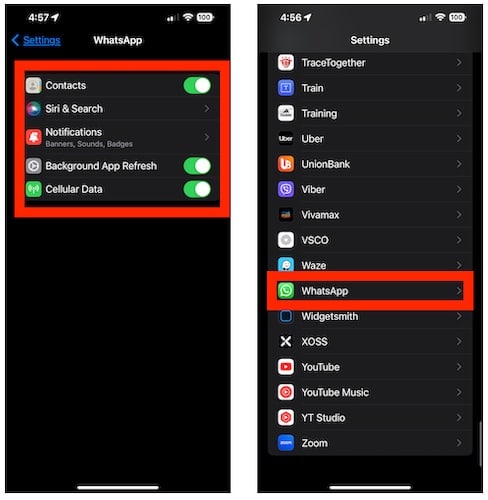 This simply means giving WhatsApp the necessary permissions to work its wonders while installed on your iPhone. These include location, network, and message delivery options. Choose the necessary preferences and hopefully, it resolves the issue of WhatsApp that keeps crashing on your iPhone.
8. Reset Your iPhone
This is different from restarting your iPhone. Before resetting your device, make sure that you have done all the possible troubleshooting steps to make WhatsApp work properly again. That's because completely resetting your iPhone takes a considerable amount of time.
Although this will give your device a fresh start and possibly remove system bugs and glitches, it also means that all your saved preferences and other pertinent data will be totally gone.
Final Words
If all of the above-mentioned steps did not resolve the issue of WhatsApp not properly working on your iPhone, your last resort would be to contact Whatsapp's customer support. Go to the WhatsApp website and look for their customer service page. You can directly contact WhatsApp through that page and hopefully, somebody will respond and handle your request for help.
Now that you know what to do if WhatsApp keeps crashing on your iPhone, you might want to consider regularly backing up important conversations and data to ensure that you won't lose them in case you need to uninstall the app and then install it again.
Also, make it a habit to check the WhatsApp website to know about the latest updates and reported issues or bugs with the app.