I'm taking a look at some of the best Mastodon apps available for iOS. With Mastodon quickly gaining in popularity, there are many users out there champing at the bit to gain access to this decentralized social network. For those that are looking to get in on the action, I have a couple of recommendations for gaining access to the social network through several different iOS apps.
For those not in the know, Mastodon is a decentralized social network that is composed of independent servers. Essentially, due to the nature of working through thousands of independent servers, it doesn't entirely rely on a single entity, unlike traditional social networks. Organized around specific topics, interests and themes, Mastodon allows users to follow other users, join servers and engage in conversations.
What Are the Best Mastodon Apps for iOS?
When it comes to Mastodon apps available for iPad and iPhone, users should keep in mind a couple of things. For starters, Mastodon as a social network only began in March of 2016, whereas the platform only saw a gain in popularity starting in late 2022. With that in mind, many of the apps that are a part of the list below will likely still be missing some features, or are even still in beta.
While each app does what it can to deliver you the best Mastodon experience, many of them likely have yet to reach perfection. Keeping that in mind, here's a list of some of the popular choices when it comes to accessing Mastodon on iOS.
The Official Mastodon App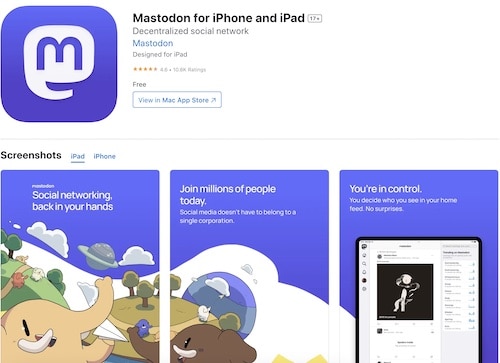 If you are simply looking to join-in on the Mastodon experience, then the official Mastodon app for iOS is one of the best ways you can get access to this decentralized social network. In terms of the app itself, the official Mastodon app features a Dark Mode, notifications and sharing. There's also an easy way to navigate what is trending on the social network, providing you access to the latest news and information.
Even better, the official Mastodon app for iPhone and iPad is free for users.
Toot from Dag Agren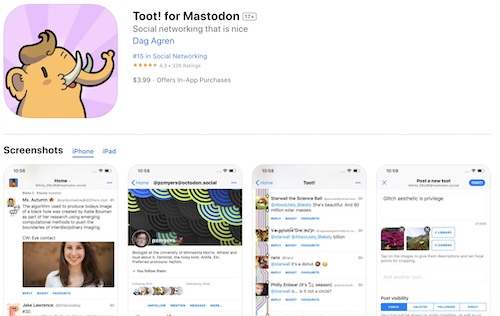 When it comes to using Mastodon on iOS, one of the best apps available right now is Toot from Dag Agren. Featuring a beautiful design and rich animations, the app also features "amusing details and hidden treasures". Easy to use and fast, Toot also remembers your reading position, and caches data locally so that a user can read without waiting for loading. Furthermore, switching between accounts is easy, and has support for most of the features in Mastodon.
When it comes to some drawbacks, one of the largest faults seems to be that adjusting the text-size can be an issue. Nonetheless, Toot is available in the Apple App Store for $3.99.
Ivory by TapBot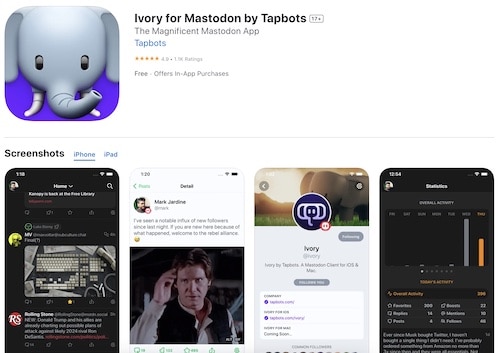 A popular Mastodon app is also available from the team that brought the world TweetBot. Ivory by TapBot can be a great Mastodon client, though users should know that the app does require a subscription (however, there is a free subscription good for a year available on the App Store). Nonetheless, the app provides many features found within the official Mastodon app, while also providing themes and different app icons, as well as further additional features, such as timeline filters and support for multiple accounts.
Additionally, the app is also updating all the time, ensuring that Mastodon users get the best and most current social networks services available.
Metatext by Metabolist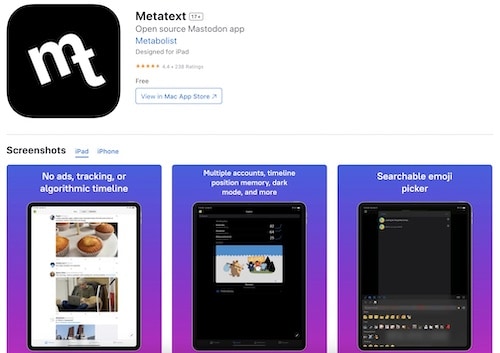 Receiving a 4.5-star rating in the Apple App Store, Metatext can be a great way to gain access to Mastodon on iOS. Featuring a clean and easy-to-use interface, Metatext gains a lot of praise for being fast and easy to use. While a lot of people are referring to it as the best Mastodon app, there are some drawbacks. Many users are requesting a Dark Mode (though, they may just be missing it in Settings), and the app is currently experiencing some bugs.
However, while there are some bugs, none of them seem to lower Metatext's overall score on the App Store. Additionally, the app is also free for users. It is also available for both iPad and iPhone.
Mammoth by Shihab Mehboob
Another app that is currently gaining a lot of popularity among Mastodon fans is the Mammoth app, created by Shihab Mehboob. While it is currently only in beta, fans of the app are already giving it a lot of praise for its ease of use and general aesthetics. However, if you want to be on the ground-floor of this app, you are going to need to first download Apple TestFlight so that you can join the Mammoth beta.

While a lot of Mammoth users are giving high praise to the app, those that are looking for something that is out of beta may want to look for other alternatives. Hopefully Mammoth will be out of beta at some point soon.
Making the Decision
For those looking to join in on the conversation using Mastodon, there are several options available currently. No doubt as Mastodon continues to grow and expand, more apps will become available down the road. Remember that right now, Mastodon is still in its infancy when compared to other social networks.
While all of these apps are powerful and unique in their own right, some, if not most of them will still be missing certain features and options. Of course, considering that most of these are free, you can of course give each one a try and see which you like the most. No doubt as Mastodon continues to expand, many of these apps will continue to expand as well.