I showed you how to do this on your iPhone, so let's look at changing which card Apple Watch uses for Apple Pay. This is actually a simpler, more intuitive process. You can even see the visual cues for it, as you'll note in a moment. So, without further rambling from me (or at least without much further rambling), here's how to switch Apple Pay cards on your wrist.
Same Problem, Different Solution
You're about to make a purchase with Apple Pay, and decide you want to use a credit or debit card other than your primary one. If you're doing this with Apple Watch, you might have noticed there are dots beneath the primary Apple Pay credit or debit card. That's your cue to swipe left or right, which is exactly what you should do.
In programmer's parlance, Apple is using a Page View Controller for your cards in Apple Pay on the wearable device. Don't ask me why Cupertino doesn't follow the same paradigm for the iPhone; I don't know. It's something Bryan Chaffin would probably refer to as "feature drift," and I'd agree with him.
You Said No Further Rambling, So Get On to Changing Which Card Apple Watch Uses for Apple Pay
To be fair, I qualified that with not much further rambling. Be that as it may, if you haven't already figured it out, here's what you do. Simply swipe from right to left until you've selected the card you want to use.
As you can see above, my Radius Bank card is my default for Apple Pay, on my wrist the same as on my iPhone.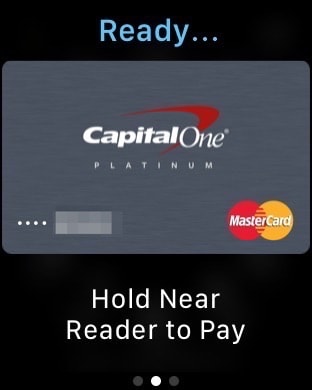 If I want to switch to my Capital One card, I just swipe from right to left. Et voilà, the correct card is now selected.
Why Don't I See My Other Apple Pay Cards in Apple Watch?
If you didn't add them when you first paired your Apple Watch, you might have some missing cards. Apple Pay doesn't mirror from the iPhone to the Apple Watch; you have to manually tell it to use a card from your wrist as well as from your handset. You take care of that through the Watch app on your iPhone.
Navigate to Watch > Wallet & Apple Pay. From there, you can add one of your other Apple Pay credit or debit cards to your Watch. You can also change your default card; it doesn't have to be the same as the primary choice on your iPhone.
The Same, Yet Different
This difference in how you can go about changing which card Apple Watch uses for Apple Pay is strange, to say the least. There's no real reason why Cupertino couldn't use the same type of control (the Page View Controller) on the iPhone; it exists there, the same as it does on the Apple Watch. It's certainly much easier and more intuitive to switch cards on your wrist.