It has been a few years since Apple debuted Face ID with the iPhone X. It marked a significant improvement over existing face detection technology. But what if multiple people use your iPhone? Do you have to unlock it every time? Thankfully, no. You can add up to two users on the same device. Apple terms it as an 'alternate appearance.'
Initially, I presumed the feature was meant for people with different appearances, and I was not wrong. However, the alternate appearance feature can be used to add another person to the system. Once done, both can unlock the device using your face. This is akin to sharing your password with another person.
Let us look at how to set up and add another Face ID on any iPhone.
How to Add Another Person to Face ID
You can add a maximum of two people across all iPhones supporting the feature.
Time needed: 3 minutes
Before trying to add another person, enable the facial recognition feature. Follow the steps below to add another person to the system.
Open Settings on your iPhone.

Select Face ID & Passcode.

Enter the Passcode to proceed.

Tap Set Up an Alternative Appearance

A floating window with instructions appears. Select Get Started to begin the process.

Move your head to complete the circle. Be patient, as this might take a while.
Kudos! You have now added another person. A word of caution, facial recognition is used to authenticate personal things like banking transactions or access to Google Photos. Only add people you trust the most to the system. And always remember they have complete access to your device and the associated apps. For further reading, you might want to check out how to make Face ID work with sunglasses.
Useful Face ID Settings
iOS offers a lot of flexibility and control over Face ID. You can choose where it can be used and for what purpose. For instance, Face ID can unlock certain apps or authenticate App Store transactions.
Use Face ID for
iOS lets you control facial recognition access. Use the toggle to allow/disallow an app from using the feature. Select Other Apps and control access to all third-party apps as well. If needed, you can deactivate facial recognition for banking and other financial apps.
Face ID with a Mask
During the pandemic, iPhone users were hassled by the Face ID. One had to remove the mask to authenticate themselves. Soon enough, Apple tweaked the feature to work with masks. If you wear a mask, enable this option instead of using a passcode.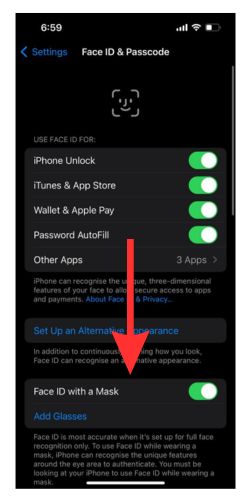 Reset Face ID
What if you want to delete a person's face from the system? Well, this can be done using the reset feature. Do note that once reset, there is no way to recover. You will have to set it up fresh. One caveat is that you cannot delete individual access. The only way is to delete all the profiles at once. On the bright side, setting up a new Face ID doesn't take much time or effort.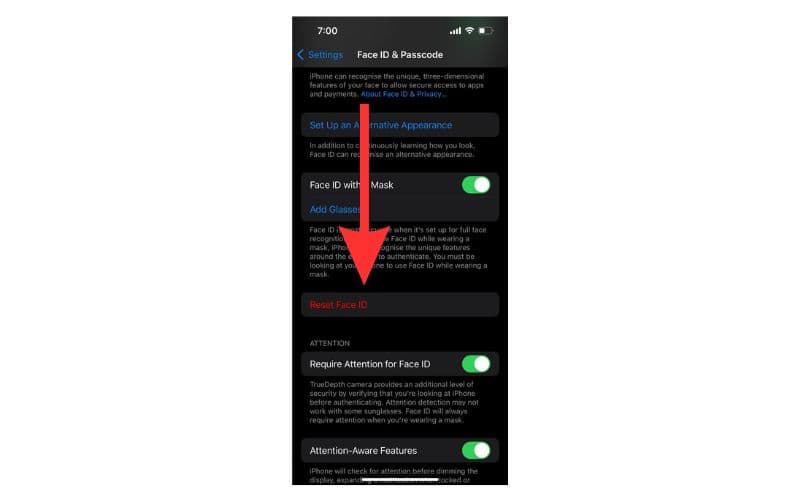 Other Useful Face ID Features
Attention-aware feature ensures that the device unlocks only when you are directly looking at the phone. The TrueDepth camera offers a layer of details for this feature to work. Attention-aware is very useful when someone forces you to unlock it or even when you are asleep.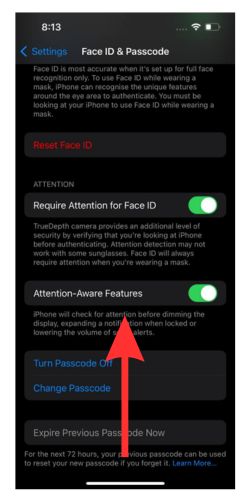 The expiry Passcode feature will forcibly retire the old passcode once it is changed. Otherwise, iOS 17 has a feature wherein the old passcode is valid for 48 hours after being changed. Check out our guide on how to use Previous Passcode Expire feature on iOS 17.
Add Second Person to Face ID on iPhone
Multiple Face ID is useful when two or more people use your device. Furthermore, you can control which apps can use facial recognition. We suggest using passcode for sensitive apps like banking, financial, and Photos.
FAQ: Frequently Asked Questions
What is "alternate appearance" in the Face ID Settings?
Alternate Appearance is Apple jargon for adding second person to Face ID or people with different appearances. 

Can I add more than one alternate appearance?
No, you can only add one alternate appearance. 

Are there any security risks in adding another person to Face ID?
Absolutely, the said person can access all your information and use banking, dating, and other types of apps. It is equivalent to handing over your iPhone passcode.
How does adding a second person affect the speed or accuracy of facial recognition?
The accuracy and speed remains unaffected even after adding alternate appearance.