The Apple TV 4K (5th generation) shipped on September 22, 2017. Physically, it is very similar to the 4th generation. The difference is that it has ventilation slots on the bottom. In terms of the connectors, they are exactly the same, physically.
Nothing has changed in the 4K/UHD industry that would require an update to Apple's 2017 model. The year 2018 was mostly about manufacturers getting their act together with Dolby Vision, refining their TV offerings, and the arrival of 4K/UHD Blu-ray players that also support Dolby Vision. Unfortunately, there are still some wrinkles there. "It's Still Too Early to Buy a 4K Blu-ray Player."
But on the streaming side, all is well. Notably, Amazon, Apple, Netflix and Vudu offer 4K/UHD content with HDR compatible with the Apple TV 4K.
Features
The 2017 Apple TV 4K brings this product well up-to-date.
HDMI support moves from 1.4 to 2.0a with HDCP 2.2.
The Ethernet port has been upgraded to gigabit speed.
Bluetooth has been upgraded from BT 4.0 to 5.0.
Wi-Fi remains at 802.11ac with MIMO but adds both 2.4 and 5 GHz capability.
The processor moves from an A8 (previous model) to an A10X.
UHD video (3840 x 2160p) is supported at 60 Hz. There is HDR support for Dolby Vision (Profile 5), HLG and HDR10.
Audio support: AC-3 (Dolby Digital 5.1) and E-AC-3 (Dolby Digital Plus 7.1 surround sound). Recently, support for Dolby Atmos sound was added with tvOS 12.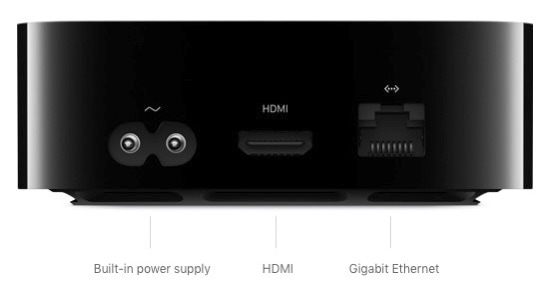 The Apple TV 4K is available with either 32 or 64 GB of storage. Apple provides guidance.

Purchasing Sequence
If you buy an Apple TV 4K before you get a new 4K/UHD TV, it will detect that the best picture the TV can accept is (likely) HD and auto-select 1080p (or 720p/1080i if the HDTV is older). You won't have to worry about the Apple TV selecting a mode your current (HDMI-based) TV can't handle.
It's important to know that the three (current) HDR modes supported on the Apple TV 4K are: Dolby Vision, HDR10, and HLG. Some 4K/UHD TVs do not support Dolby Vision, namely Panasonic, Samsung and TP. See the chart below. So if an Apple TV 4K is on your mind, you'll want to make sure the 4K/UHD TV you buy supports those HDR modes.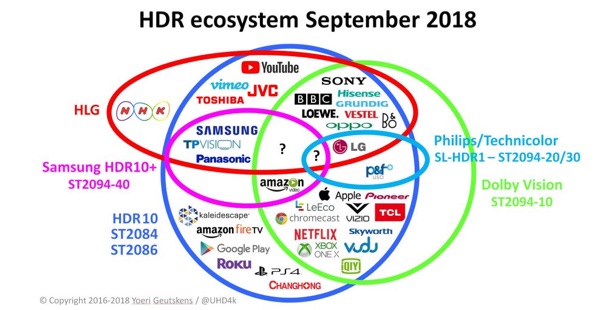 The best article I've seen on purchasing a 4K/UHD TV is at Digital Trends. It is basic, thorough and very readable. "Ultra HD 4K TVs: Everything you need to know." I strongly recommend you read that article completely before you buy a 4K/UHD TV to partner with your new Apple TV 4K.
Scaling
The Apple TV 4K includes a scaler. This would be helpful when driving a 4K/UHD TV with 1080p (or less) content. Why Apple made this decision is a little unclear because any modern 4K/UHD TV will have its own scaler. (High end 4K/UHD TVs have very good scalers.) It's possible Apple wanted to make sure the user would get a consistent experience no matter which TV the unit connects to. For more background on scalers, see the Digital Trends article linked above.
Last Words
Understanding the Apple TV 4K better will help you get the maximum performance out of your chosen home theater system, guide you in your TV choice, and avoid buyer's remorse or disappointing, nagging incompatibilities. Questions?  Let me know in the comments.