MacBooks are arguably one of the best products from Apple, especially since their transition to custom silicon (M series SoC). Most of the MacBook lineup is priced competitively based on its hardware and features. However, brand new MacBooks are expensive, especially if you're a student.
And, even if you can afford to pay the asking price, wouldn't it be better to save a couple of hundred dollars? Yes, you can get MacBooks for significantly cheaper by going down the path of getting a refurbished product.
Also, you do not have to compromise on the quality of the product either if you decide to get it from the Apple Refurbished Store. Because it goes through rigorous testing and is bundled with the same warranty period as a brand new product.
Moreover, there are several channels through which you can buy a refurbished MacBook. This guide will help you learn everything about Apple's refurbished store. We've also listed alternative stores that are the best places to buy a refurbished MacBook.
Understanding Apple's Refurbished Store
Many of you might not be aware that Apple Certified Refurbished products are sold on Apple's Refurbished Store. Apple doesn't advertise or showcase much about it even on the Apple Store. But if you're looking to save money when buying an Apple product (in our case, a MacBook) the Apple Refurbished Store is the right place.
The Apple Refurbished Store has various products like iPhones, iPads, Apple Watch, Apple TVs, MacBooks, etc. These products are usually demonstration units or returned items within the 14-day return window or because of some hardware defects.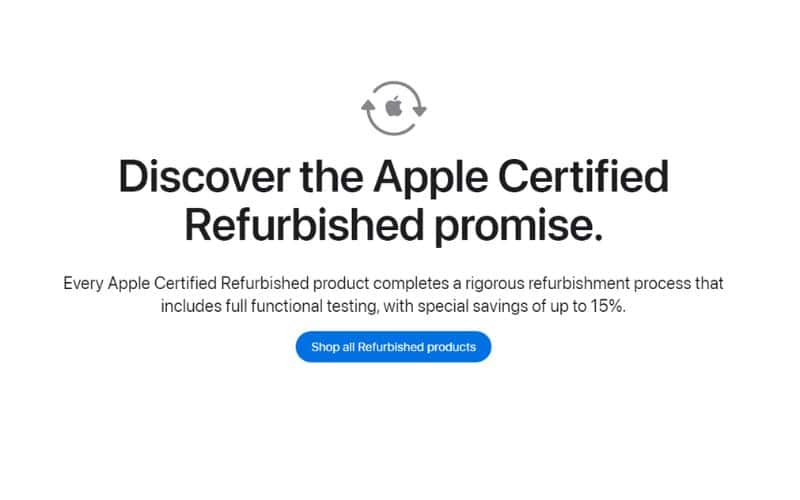 Regardless, all the issues are fixed before Apple lists these products on its Refurbished Store. Every device undergoes a rigorous refurbishment process, and each shortcoming is fixed.
If there are hardware issues, they're fixed using genuine Apple replacement parts and thoroughly cleaned and inspected before being listed on the website. You will get a product that looks and feels, "Like New."
Advantages of Buying Refurbished MacBooks
The price is the first and most obvious benefit of buying a refurbished MacBook. You can often find Macs for up to 15% cheaper than their brand new counterparts. It's also very difficult to distinguish the refurbished MacBooks from brand new units because of these factors.
If there is any defective hardware part in the device, it is replaced with genuine Apple parts.
Every MacBook will be thoroughly cleaned and inspected.
You will receive every accessory, cable, etc., that is supposed to be in a new box.
The device is packed in a new white box.
You get free shipping and returns.
The refurbished product comes with Apple's standard one-year warranty (Just like brand new Apple devices.
Covered under Apple's 14-day returns policy.
90 days of complimentary technical support.
The option to purchase AppleCare+ to extend the warranty and insure your device.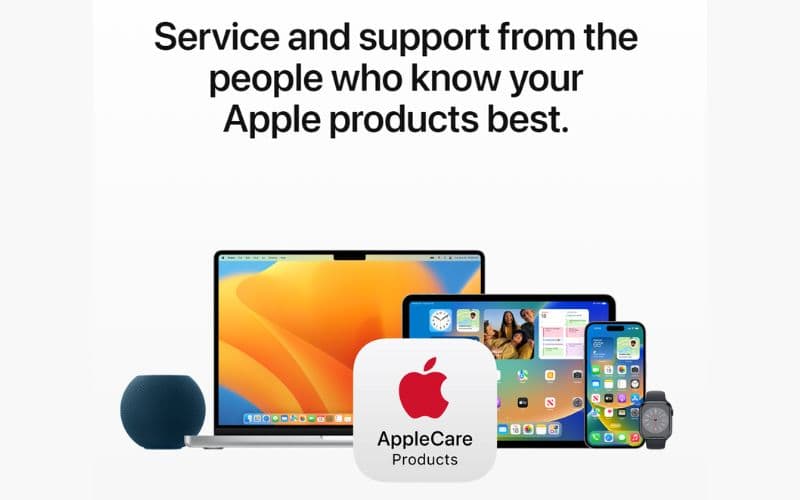 Apart from these benefits, when you buy a refurbished product it also helps reduce electronic waste. Considering everything, you're getting a Mac that feels brand new and comes with the same benefits as a new device.
Potential Drawbacks of Buying Refurbished MacBooks
While there are several advantages to buying a refurbished Mac, there are a few drawbacks too. To begin with, the unpredictable stock and availability. The model and configuration you're looking for, might not be available on Apple's Refurbished Store. Moreover, if you're looking to buy one of the latest releases, it's going to be very difficult.
At some stores, you might get a brand new Mac for the same price the Apple Refurbished Store is selling a refurbished device. Let me share a real time example of this situation. As of writing this article (August 2023), the MacBook Air M1 is available for $849 on Apple's Refurbished Store. The same MacBook Air M1 can be bought brand new for $749 from Best Buy, which is significantly lower than retail price on Apple Store or its website.
Alternative Places to Buy Refurbished Macs
You might not be able to find the Mac you're looking for on the Apple Refurbished Store. Or, it might even be priced on the higher side for a refurbished device. In that case, several other companies sell refurbished Macs. However, these products do not get the Apple Certified Refurbished tag, and neither the benefits associated with it.
Regardless, if a device has a refurbished tag, the company is supposed to check for faults and rectify them before selling it. Also, getting a refurbished Mac rather than a pre-owned or second-hand device is better. Because there is no guarantee that the device will work as expected. With that said, here are some reputable sellers (US and UK) that offer refurbished Macs at lower prices.
1. Amazon Renewed
Some third-party sellers list refurbished Macs on the Amazon website. However, Amazon has a set of guidelines for these sellers and ensures they follow them. Also, you should look for the Amazon Renewed Guarantee. Because, it allows you to return the product (or get a replacement) within 90 days if you are not satisfied with it. So look for Macs that have the Amazon Renewed Guarantee mention the product page.
Buy Now: Amazon Renewed
2. Best Buy
Best Buy also sells refurbished Macs alongside pre-owned and open-box Macs. You can return a refurbished product within 15 days of purchase if you do not like it. However, it does not have a huge variety of refurbished Macs. But, you can often find Macs for significantly lower than retail prices on their website and at their stores. They also toss in three to six months of Apple subscriptions with purchase or refurbished or new Macs.
Buy Now: Best Buy
3. Back Market
Back Market is another website that lists products from third-party sellers on their website. However, they have a set of guidelines which the sellers have to follow. Most Macs listed on the Back Market come with a 1-year warranty policy and a free 30-day return policy. They even list the product at different prices based on its condition. You can choose from Fair, Good and Excellent.
Buy Now: Back Market
4. Decluttr
Decluttr is another website from where you can get yourself a refurbished Mac. Every Mac listed on the website undergoes an in-house refurbishment process. They conduct over 70 tests to ensure you get a good product. Apart from this, Declutts Certified Refurbished Macs also come with free shipping and a 12 months limited warranty. Additionally, you get a 14 day money back guarantee if you're not satisfied with the product.
Buy Now: Decluttr
5. Gainsaver
Gainsaver has a huge collection of Macs as it gets them from various sources. After which these products go through rigorous testing, refurbishing and reconditioning. They claim that every Mac is in 100% excellent working condition as they have technicians who clean, test and repair these Macs before putting them up for sale on their website.
You also get a one-year warranty which you can increase up to three years through their Extended Warranty options. Lastly, if you're not satisfied, you can return the product for a full refund or even get a replacement for the same or different product.
Buy Now: Gainsaver
6. OWC (Other World Computing)
OWC has Apple Certified Technicians that test the Macs before listing them on their website. So, you do not have to worry about the quality when you get a Mac through OWC. It also has a special trade-in program where OWC offers a fair price when you want to upgrade your Mac.
The company offers 90 days limited warranty for most of the Macs. But some of the latest models are exceptions to this rule as these are still in their Apple Warranty period. Finally, if you don't like your Mac, you can return it within 14 days for a full refund.
Buy Now: OWC (Other World Computing)
7. Refurb.me
RefurbMe is a website that compares the prices of any Mac you're looking to buy from various online retailers. While they do not refurbish the Macs, they ensure that every merchant listed on their website does. At the end of the day, it's a win for us consumers because you can compare prices and get from a seller who meets all your requirements and offers competitive prices. Moreover, all Macs on RefurbMe come with a minimum 30-day warranty period and most offer 1-year warranty.
Buy Now: Refurb.me
8. Hoxton Macs
Each Mac listed on Hoxton Macs goes through their refurbishment process. It is tested by an expert technician, cleaned, graded and restored to factory settings after which it receives the Hoxton approval seal. Macs are listed based on their condition as Fair, Good and Excellent. Every device is 100% functional and has more than 80% battery capacity.
Buy Now: Hoxton Macs
9. MacFinder
Macs listed on MacFinder go through comprehensive testing process. Then these products are refurbished, i.e., any and all parts that aren't working are replaced. And, before these Macs are listed on the website, they are cleaned, have to undergo testing again and are finally sent to the quality assurance team that will then grade the machine and list it on their website. So that you can buy a Mac based on its condition and pay a fair price for it.
Buy Now: MacFinder
Recommendations for Buyers
Macs are known for their longevity. However, if you pick a refurbished Mac that has already reached its end of life then getting such a product won't be worth it. I strongly advocate purchasing refurbished Macs running Apple's custom silicon (M1 and M2 SoCs). It's been almost three years since then and you can get a brand new MacBook Air M1 for as low as 749 USD. It's an excellent machine for its price.
If you're looking for a refurbished MacBook, please do not purchase a Mac over seven years old. Because these devices won't run on the newer software versions and you'll miss out on newer software features. If possible, please stick to M1 and M2 Macs as these machines offer incredible value for the money you spend.
Once you decide which Mac you want to get, compare it to all the third-party sellers in your region that sell refurbished Macs. The Apple Refurbished Store should ideally be your first choice due to its benefits. While it will cost you a little more than other sellers, the experience is unmatched. Amazon Renewed has a 30-day return policy, which is a decent choice.
Apple Refurbished Store's After-Sales and Support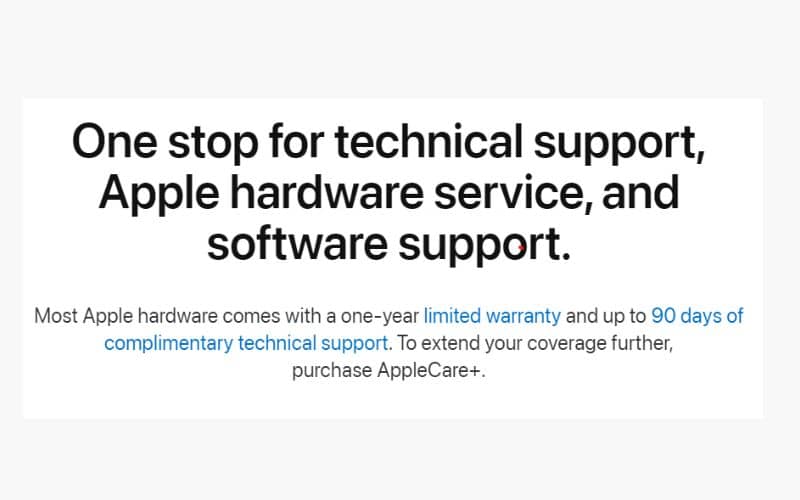 As mentioned earlier, when you get any device from Apple's Refurbished Store, it comes with the best after-sales support. Listed below are all the benefits you can enjoy if you buy a Mac from Apple's Refurbished Store.
Free shipping and returns.
Covered under Apple's 14-day returns policy.
Covered under Apple's standard one-year limited warranty (Just like brand new Apple devices.)
90 days of complimentary technical support.
The option to purchase AppleCare+ (To get an extended warranty and insure your device).
Save Your Money by Getting an Apple Certified Refurbished Mac
Macs are the best value-for-money laptops you can get. At first, they might seem to be priced on the higher side. However, the longevity of Macs makes them value for money. And with refurbished options readily available, you can save more and get a product that feels like new.I recommend getting a Mac from the Apple Refurbished Store even if it is more expensive than other websites as they offer different after-sales support than Apple.
We hope this article helps you make an informed buying decision and you pick the right device that fulfills your needs and lies within your budget.