Maybe the Mac isn't the primary target for viruses and malware, but it is important to note that Macs are not immune to virus attacks. Therefore, it is crucial to acknowledge the need for reliable antivirus software for Mac. This software will effectively protect against adware, ransomware, and password theft.
Moreover, having antivirus software will prevent your Mac from becoming a host for malware intended for other operating systems. It will also ensure that infected files do not harm any virtual machines you might be using. Understanding the necessity of antivirus software for your Mac, you might be curious about the best options available.
I have compiled a list of the top ten Mac antivirus programs, and my top recommendation is Intego Mac Internet Security. However, the ideal choice may vary depending on your specific requirements, such as the type and number of devices you want to protect and your budget. Keep reading to explore the leading contenders for the best Mac antivirus software for your remote work.
Intego has long been recognized for its high-quality software products, primarily designed for macOS. This reputation is why it takes the top spot on my list of Mac antivirus software. With decades of experience, Intego's team of Mac experts has developed an exceptionally effective antivirus solution.
This expertise is evident in every aspect of the antivirus, including its quick scanning time and user-friendly interface. Internet Security X9, Intego's flagship malware defense service, also utilizes a firewall to help safeguard your Mac by preventing hackers from gaining access.
Intego also offers scheduled scans, real-time malware scanning, and regular blacklist updates for their antivirus. In addition, their content filter ensures that unwanted and potentially harmful content is blocked from appearing on your Mac. This feature makes Intego an excellent choice for parents concerned about their children's online safety, as it not only blocks malware but also adult content from their devices.
Intego Features at a Glance:
Firewall protection.
Anti-predator chat monitoring.
Mac optimization.
Simple user interface.
Content barrier.
Quick runtime.
Parental control.
Identity theft protection.
Intego also provides identity theft protection as an added feature. By linking Intego to your credit score, you will receive updates whenever there is a significant change. This feature serves as an essential early warning sign to alert you about potential cases of identity theft, ensuring you stay informed and vigilant.
Pricing
Regarding pricing, Intego offers a range of plans, albeit with limited flexibility. Intego's basic plan which is Mac Internet Security X9 is $39.99 a year. When purchasing Intego, you will need to choose the number of devices you wish to protect, as the default coverage is for a single device.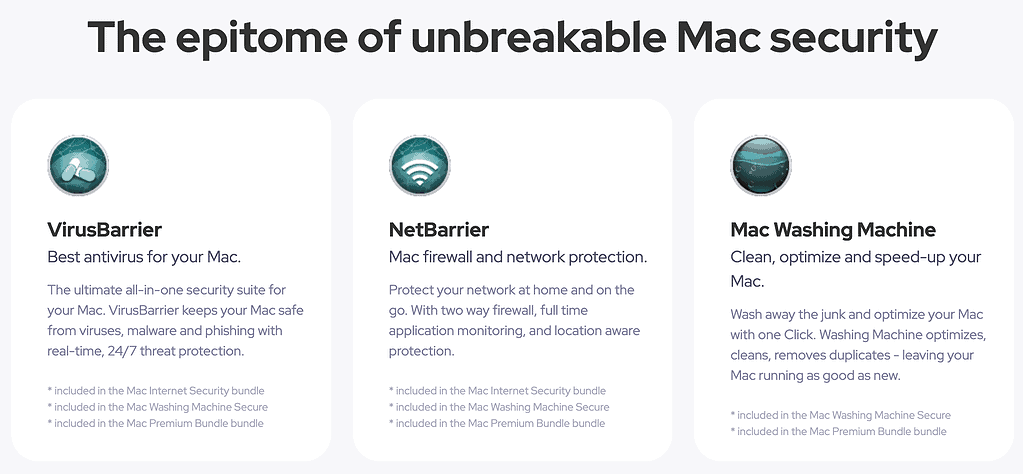 Intego's pricing brings you the high-quality protection this brand guarantees. Check out Intego's plans below.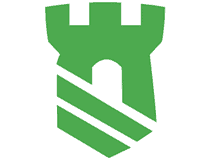 Intego
Try Intego and improve your device security while optimizing its state as well.
Norton, a well-established antivirus software company renowned for its reliability, provides Norton 360 Plus specifically designed for Mac owners. Priced at $39.99 per year, the Standard plan offers comprehensive protection for a single device.
However, some critics argue that the range of features provided may not justify the higher price. Like other antivirus software options mentioned in this guide, Norton 360 Plus offers real-time threat protection against ransomware and malware. Moreover, it ensures the security of your private and financial information during online transactions and includes a secure VPN for added privacy.
Norton takes an extra step by actively monitoring the dark web to detect any potential compromise of your personal information resulting from data breaches. Additionally, it incorporates a password manager that generates and securely stores strong passwords for your various accounts, as well as the ability to store credit card details and other credentials securely.
In addition, Norton offers a valuable 10GB cloud backup feature that safeguards your information against hard drive failures, ransomware attacks, or device theft. Furthermore, Norton 360 Plus includes a "SafeCam" feature that actively alerts you to any unauthorized attempts by cybercriminals to access your webcam, effectively blocking their actions.
While Norton 360 Plus provides good value for its features, critics argue that Mac owners can access similar additional features through alternative providers.
For instance, iCloud offers password and document storage specifically for Macs and iOS devices, and VPN services can be obtained from other providers at a lower cost. Additionally, if you have concerns about webcam access by cybercriminals, a simple solution could be to place tape over your webcam as a precautionary measure.
Norton 360 Deluxe
Obtain complete online safety and security with this powerful tool.
Surfshark is exceptional antivirus software that also includes a VPN feature. In fact, it is one of the pioneering providers to combine antivirus and VPN services. With Surfshark's bundled offering, you can enjoy unlimited VPN connections for your devices, and its antivirus suite covers up to five devices, providing comprehensive online freedom and protection across multiple platforms.
Surfshark excels in terms of speed when scanning on Mac and is highly regarded for its effectiveness in blocking ads and known distributors of malware. Additionally, Surfshark actively monitors the dark web to ensure that your personal details are not accessible to potential identity thieves. This feature undoubtedly adds significant value to Surfshark's overall package, enhancing your overall security.
Pricing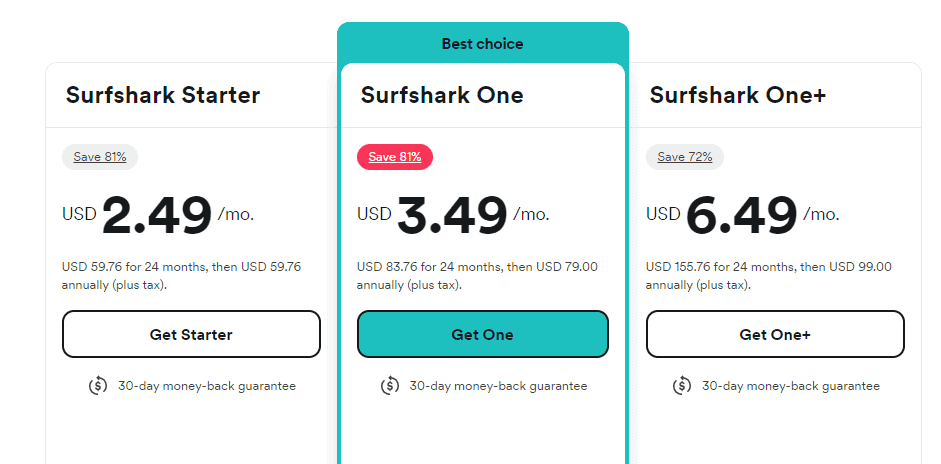 Surfshark offers a single subscription package that includes the bundled antivirus feature. However, apart from that, they provide several subscription durations for subscribers to choose from.
Their long-term plan costs less than $2.50, positioning it as one of the most affordable antivirus solutions available. Considering the price, it already offers fantastic value for money. Moreover, when you factor in the unlimited connections that Surfshark provides, it becomes evident that this is an excellent option with great affordability.
Surfshark
Enjoy limitless VPN connections and antivirus protection for your Mac.
Apart from being a reputable VPN service provider, NordVPN also offers a comprehensive threat protection function that safeguards subscribers from malware, ads, and various types of malicious attacks. Nord Threat Protection provides robust online protection at a budget-friendly price point.
Nord Threat Protection is seamlessly integrated into the NordVPN app. It conducts scans on downloaded files to ensure they are not hosting any malware. A noteworthy feature is that it operates even if you are not connected through NordVPN, ensuring all-around protection.
In addition to keeping you safe from malicious ads and malware, NordVPN grants you access to a wide range of opportunities by unblocking location-restricted content. This includes content on platforms such as Amazon Prime, Netflix, and numerous other websites. This allows for complete online freedom while maintaining security.
Pricing
NordVPN offers several options for subscribers to choose from. Threat Protection is included as a default feature in every plan. In addition, NordVPN's extra plans, namely Plus and Complete, provide subscribers with a data breach scanner for protection against identity theft, as well as one of the top data managers available. Furthermore, the Complete plan includes 1TB of cloud storage as an added benefit.
Nord Threat Protection
Get full online freedom while maintaining security for your Mac.
Avast is a widely trusted antivirus software known for providing reliable protection for Mac devices. Subscribers can have confidence in Avast's ability to safeguard their systems. Additionally, Avast is designed to have minimal impact on Mac performance. Hence, features like Smart Scan have a barely noticeable impact on RAM and CPU usage.
Avast prioritizes maximum protection for your device. During malware tests conducted, Avast successfully detected all malware on Mac systems, indicating its effectiveness in keeping your devices secure. Moreover, Avast offers additional features such as malware blocking, antiphishing protection, and a network analyzer that provides relevant details about devices connected to your network.
Pricing
Avast offers a straightforward pricing structure. While Avast Essential is available for free download, there are also options for the basic and enhanced packages. Notably, Avast covers up to five devices by default. This makes it a great choice for budget-conscious users who want to protect their entire household.
By subscribing to the Premium Security package, you can enhance Avast's capabilities even further. This includes the addition of network monitoring, which notifies you when a new device is connected to your network, as well as ransomware protection.
Avast Antivirus
Block cyber threats and keep them away from affecting your Mac with Avast Antivirus.
McAfee is a highly acclaimed antivirus solution that is trusted and used worldwide by both individuals and enterprises. It incorporates real-time threat protection and scheduled antivirus scans to ensure comprehensive security. Additionally, McAfee offers a personalized scanning profile feature. This allows you to customize the scanning settings for each family member.
However, McAfee Antivirus is just one component of a comprehensive suite of privacy protections that aim to enhance your online browsing security. The suite includes credit monitoring, online data cleanup, identity theft protection, and even a "kill switch" feature for your online accounts in case you suspect fraudulent activity. Furthermore, McAfee's security freeze feature enables you to quickly block access to your bank account and credit cards, providing an added layer of protection.
Pricing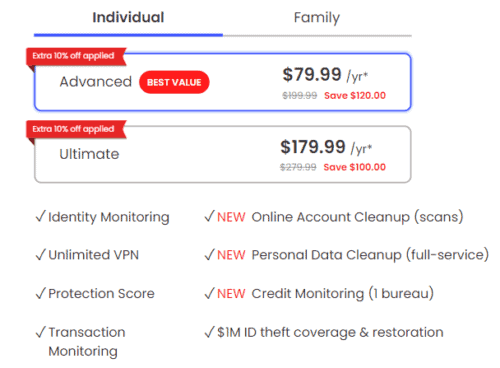 McAfee offers various plans to cater to different needs. The Basic package at $44.99 provides coverage for a single device and includes protection against dark web leaks by default. On the other hand, the advanced package grants access to powerful identity theft prevention features. The main distinction between the basic and advanced packages lies in the number of devices covered.
McAfee
Get McAfee and protect your Mac against malware and other online threats.
TotalAV is not only a robust antivirus software for Mac but also a comprehensive privacy protection solution. Its core antivirus functions are thorough and efficient, providing complete protection for your Mac. The software is user-friendly, making it simple to download and install. It also effectively detects and removes all malware from your Mac.
Furthermore, TotalAV offers real-time malware protection in addition to the Smart Scan feature. This means that any malware downloaded onto your Mac will be swiftly identified and removed before it can cause harm.
In addition to its malware protection capabilities, TotalAV includes a secure VPN feature and cloud file scanning. These features ensure that there are no infected files lurking in your cloud storage. This provides an additional layer of security for your data.
Pricing
TotalAV offers several plans tailored to different needs. The premium packages are particularly suitable for VPN subscribers. However, if your main requirement is protection against malware, the basic "Pro" package may be sufficient for you.
The core package is available at an introductory price of $29 per year. This makes TotalAV one of the most affordable providers on this list.
TotalAV
Avoid fake and unsafe websites and keep your Mac secure with TotalAV.
Frequently Asked Questions
Do I need antivirus software?
Yes, it is highly recommended, especially if you run a business or work remotely. The presence of numerous viruses specifically designed to harm your computer or steal your personal information necessitates the use of antivirus software. Moreover, certain advanced viruses can target customer data, potentially leading to significant financial losses.
What are some essential features that Mac antivirus software should have?
Mac antivirus software should encompass several key features. These include real-time scanning and the ability to schedule scans and convenient access to an on-demand scanner. Also, automatic virus and program updates, as well as dedicated scanners for instant messaging, POP3 email, webmail, compressed files, and other potential threats.
Do Macs need antivirus?
Yes, Macs require antivirus protection, just like any other computer brand. While the risk of infection is generally lower on Macs, it doesn't mean they are immune to threats. There are still plenty of malware threats that can cause damage to your computer. They will compromise your privacy, or steal your personal information.
Can I have more than one antivirus program on my Mac?
Although it won't cause harm to have multiple antivirus software installed on your Mac, it also won't provide any additional benefits. In fact, it would be a waste of money if you're paying for multiple antivirus programs. If you've obtained a new antivirus program to replace an existing one, it is recommended to uninstall the old antivirus software from your Mac.
Conclusion
Selecting the right Mac antivirus software for remote work is essential for maintaining a secure and productive work environment. With the increasing number of cyber threats, having robust protection against malware, ransomware, and phishing attacks is crucial.
Consider factors like real-time scanning, multi-device coverage, VPN capabilities, and additional features like identity theft protection and cloud backup. By investing in a reliable Mac antivirus solution, you can safeguard your sensitive data, enhance productivity, and work with confidence in the remote work landscape.
Is your Mac quite old? Why not check out Nick deCourville's article on the best antivirus for an old Mac here?