Unlike photo editing and image manipulation, video editing is a bit more complicated and requires a steeper learning curve. So, if you're getting started in the art form, you must use one of the best Mac video editors for beginners.
Unfortunately, most, if not all, of the really good video editors either require a one-time licensing fee or a monthly subscription fee. The good news is that once you've chosen the right Mac video editor for you, you likely won't have a change of heart and want a different option.
When you've mastered using a particular Mac video editor, chances are you're going to stick with it unless you've become a professional video editor. In the meantime, if you're still a beginner, I've rounded up the best Mac video editors to help you decide which one to get for your Mac.
The Lone Free Mac Video Editor On the List
Apple iMovie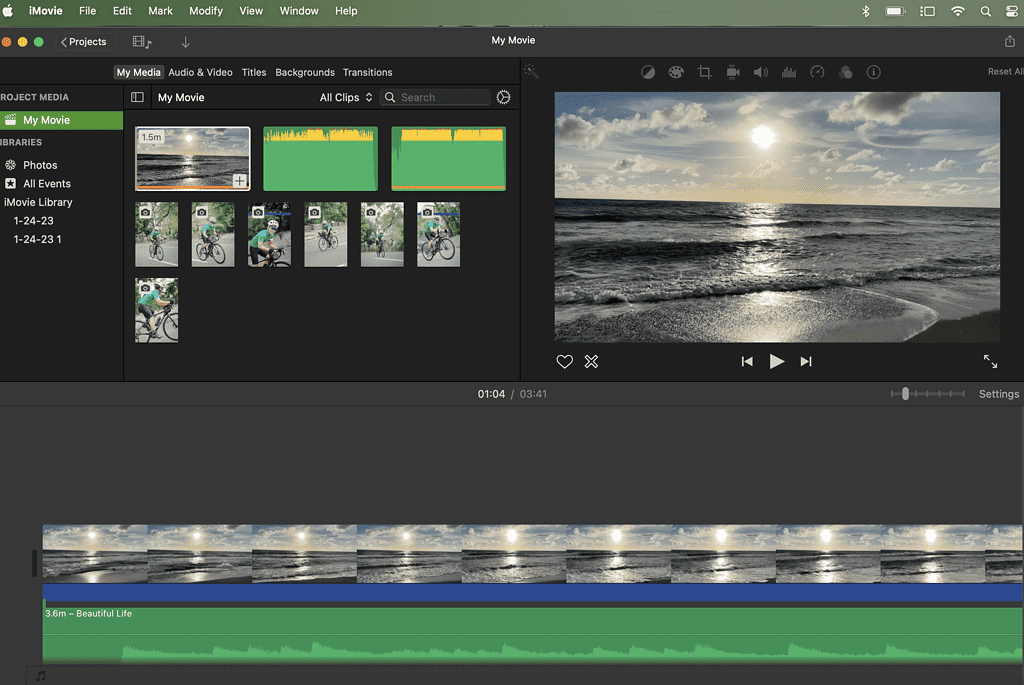 I'm putting the only free Mac video editor in this roundup on top of the list because of two main reasons — it's free and it's very easy to pick up if you're a beginner in video editing. Apple's video editor comes free with your Mac. And I don't mean a free and yet crippled version. iMovie, which comes pre-installed on your Mac, is the fullest version that you can get. As such, it has all the essential features that you need to get started with your video editing journey.
iMovie's user interface is simple, clear, and very easy to use even for the most novice in video editing. One of the good qualities of iMovie is the fact that being a free software, it's not lacking in advanced features. It has chroma-keying, color-matching, and even audio addition tools. And yes, since it's Apple software, it integrates well with other versions of it for iPhone and iPad. It even shares similarities with Apple's premium video editor, Final Cut Pro.
Availability: Free
Pros
Simple, clean, and beautiful user interface.
Comes with several classy themes.
Lots of audio tools.
Great collection of templates that you can quickly and easily use.
Cons
Does not support tagging.
No motion tracking capabilities.
Two video tracks limit when editing.
No 360-degree video editing capability.
Best Paid Mac Video Editors for Beginners
Final Cut Pro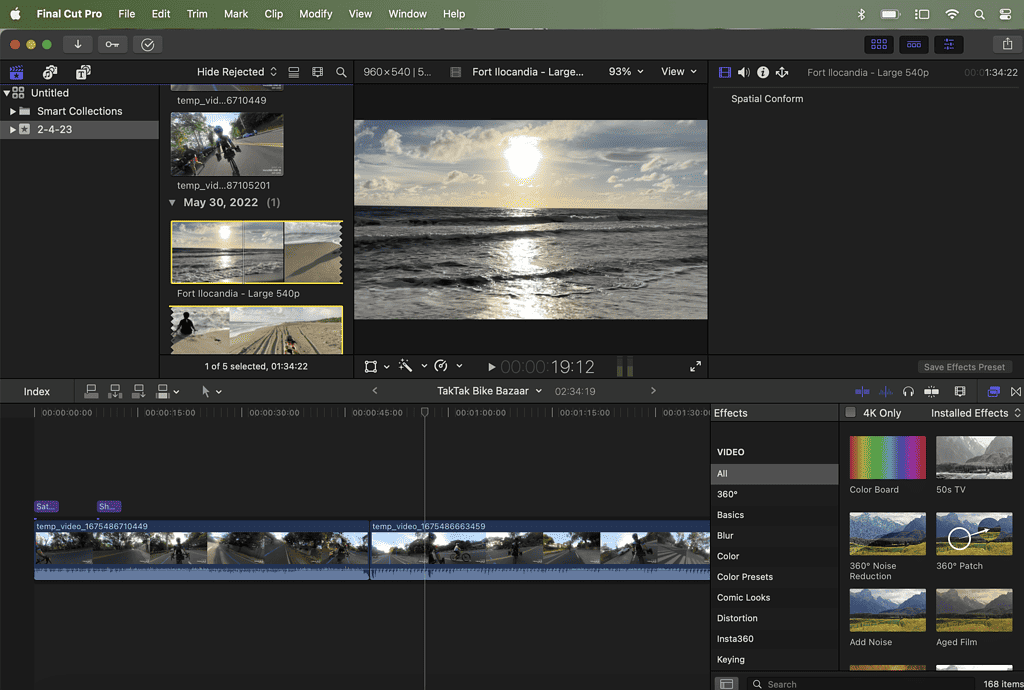 As mentioned, Final Cut Pro is Apple's premium Mac video editor. As such, it has all the features that other premium video editors possibly have, and even more. Many reviewers say that Final Cut Pro is intended for professional video editors. I beg to disagree.
It was the first video editor I used with my Mac and I'm still using it now. Final Cut Pro lets you do so many things to make your otherwise boring videos more exciting and entertaining to watch. It has a great selection of video effects and other presets that would elevate your video production.
Another proof that Final Cut Pro is indeed beginner-friendly is the fact that my daughter was able to pick it up when she was still in junior high school. Several years later, she's still using Final Cut Pro for her YouTube videos and school projects. And during the first time she used it, up until now, she never asked for my help. She was able to master using Final Cut Pro on her own. That's how easy it is to use this Mac video editor.
Availability: Once-time License Fee – $299.99
Pros
Fast rendering speed.
Features real-time graphics and effects that you can apply to your videos easily.
Highly customizable and streamlined sharing features.
Cons
Limited export settings.
No native support for redrawing files.
Not often updated by Apple.
Exclusively works with Mac.
Adobe Premiere Elements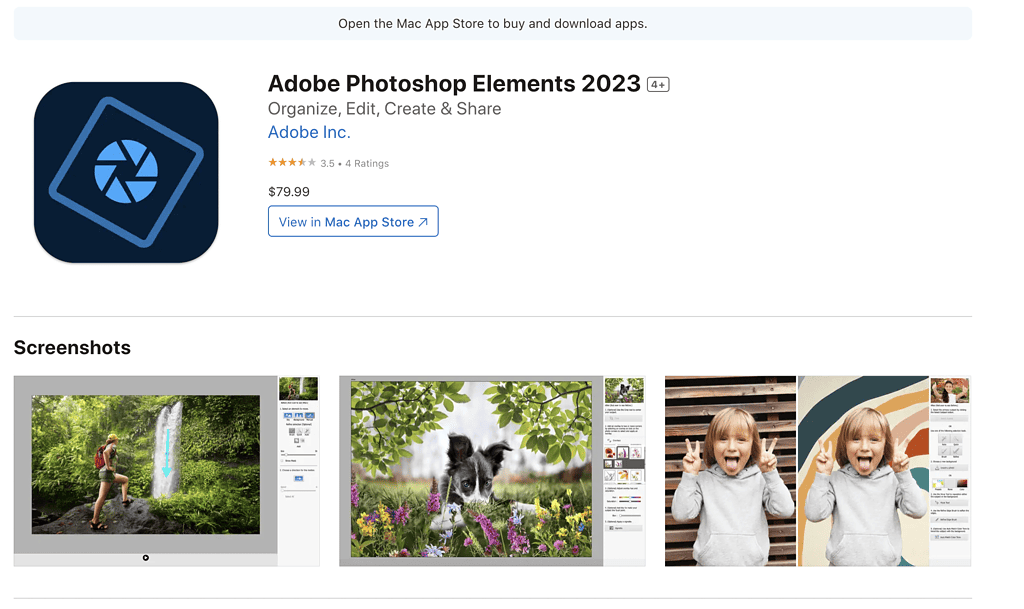 Adobe Premiere Elements is Adobe's video editor, geared for video creation enthusiasts. According to Adobe, its target audience are the "memory keepers." This refers to the member of a family or friend circle who wants to create simple yet appealing video footage of special occasions and gatherings.
Premiere Elements is great for those who want to avoid the complexities of more advanced video editors and yet still create videos that look as beautiful. Adobe also made an upgrade path from Premiere Elements to Adobe Premiere Pro in anticipation of amateurs who are most likely to become better and more serious video editors.
When it comes to features, this video editor offers standard project timelines and keyframe editing tools. And to make it easier for beginners, the software provides Guided Edits. And, like its Adobe photo editor namesake, it is also being offered for a one-time, free-forever pricing scheme.
Availability: One-time License Fee: $79.99
Pros
Guided edits provide an effective path toward mastery of the editing features.
Plenty of video effects to choose from.
Clean, simple, and yet efficient interface.
Multi-platform support.
Cons
Rendering speed can be slow at times.
Absence of screen recording feature.
Adobe Premiere Rush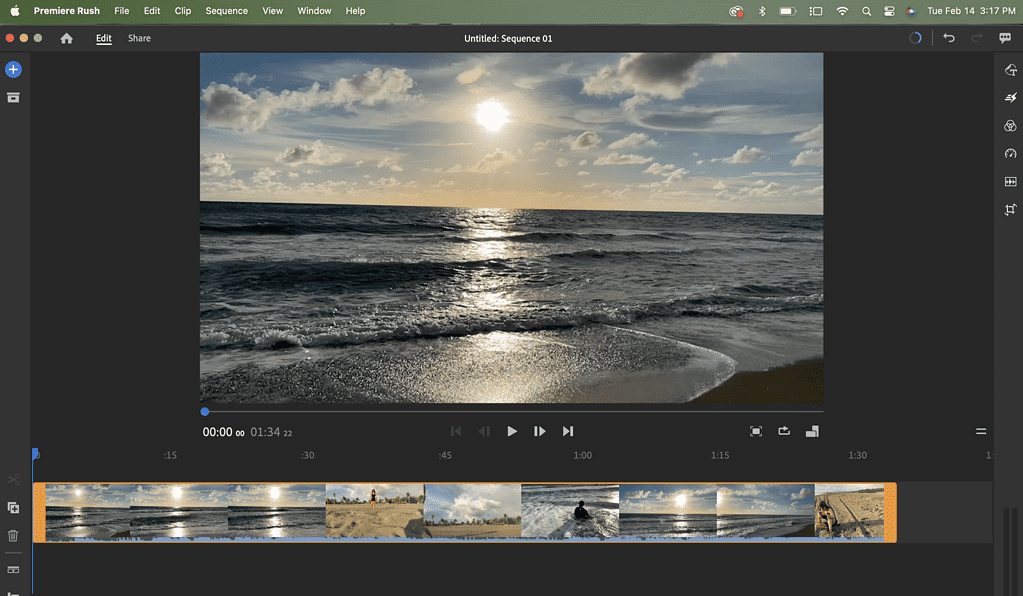 What started as a mobile video editor for creating social media-ready videos has now become a full desktop application. Premiere Rush offers enough video editing features that it will get you started in becoming a more serious video content creator and editor.
Adobe Premiere Rush has titles, color correction, effects, and audio tools. It also includes editing features to allow you to come up with visually appealing and entertaining videos. The app also supports cloud storage.
Should you decide to upgrade to a more advanced Adobe video editor, you can always pull out the video and edit it later using another Adobe video editor, such as Premiere Pro.
Availability: $20.99/mo.
Pros
Supports video speed modifications.
Seamless compatibility with Adobe Premiere Pro.
Clean, simple, and easy-to-use interface.
Provides a good selection of title effects.
Cons
Does not have enough transition effects.
No option for export file type selection and coded.
Lack of green screen and freeze frame feature.
Wondershare Filmora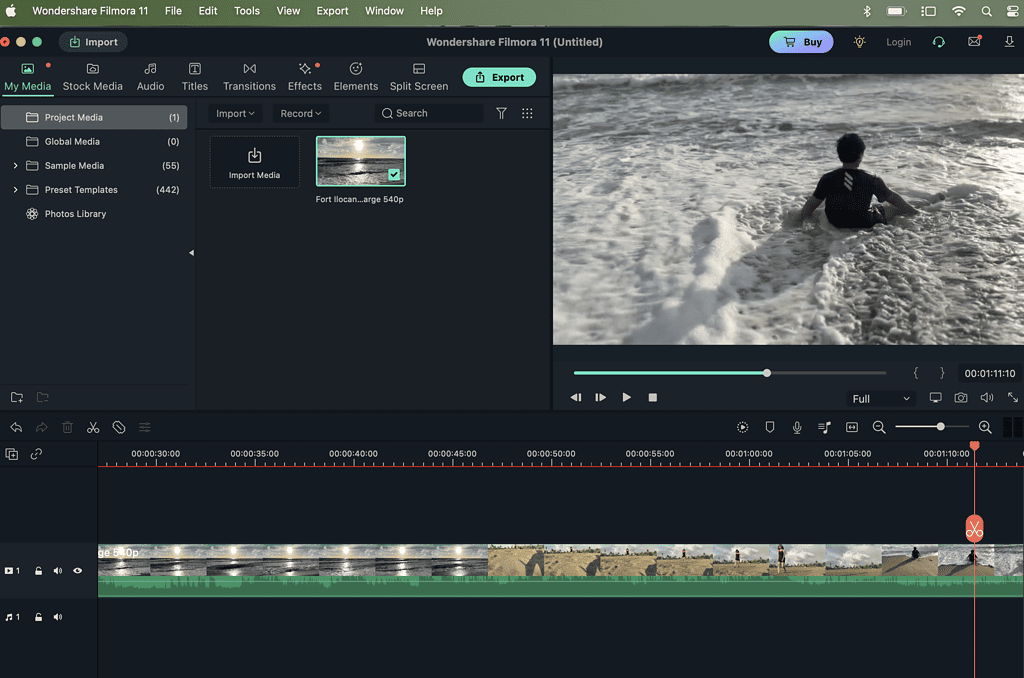 Filmora is a popular video editor among budding YouTube content creators. That's because it features a slick, clear, and pleasing user interface that will not be too bothersome to learn, especially for those whose intention is to publish as much entertaining content as they can on YouTube. When it comes to features, it is not lacking, either. Filmora has some interesting effects that you can use including motion blur, filters, animation, and transitions.
Availability: $19.99/mo.
Pros
Relatively fast video rendering speed.
Ample selection of effects and overlays.
Relatively inexpensive.
Cons
Some tools tend to be not as effective as other video editors' offerings.
Not so effective video stabilization feature.
Cyberlink PowerDirector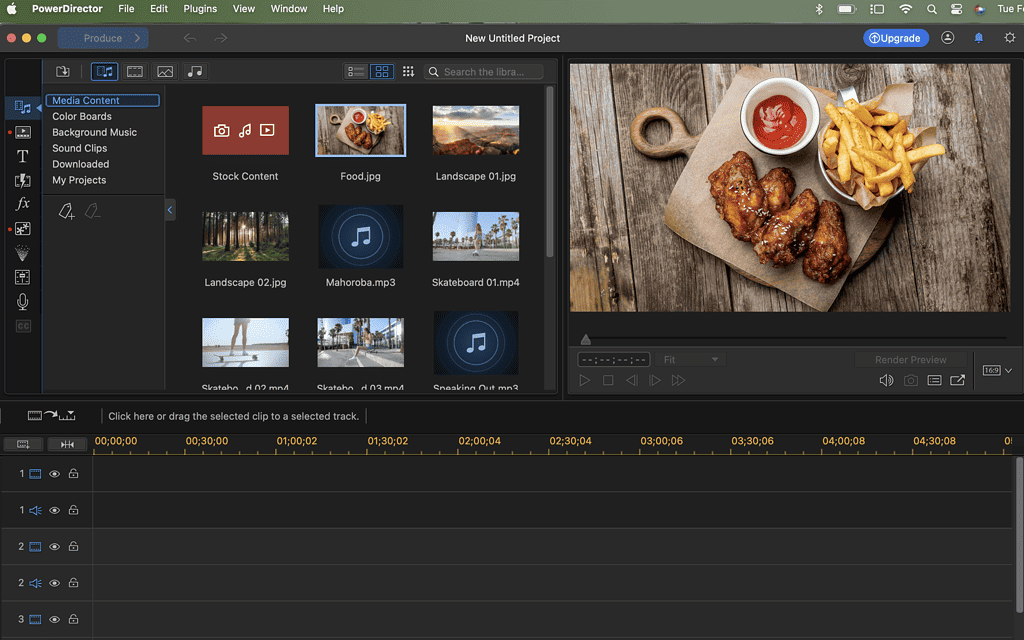 Although Cyberlink's PowerDirector made its way to Mac only recently, it has become a favorite of the more serious amateur video editor using Mac. Three outstanding features of PowerDirector are masking, picture-in-picture, and title designers. It also offers ample templates and stock content that you can use to greatly enhance your video production.
Another great feature that other video editors in its category don't have is the Audio Designer. This feature lets you play with sound, adjust pitch, and add radio effects. remove wind, and remove noise. Additionally, PowerDirector also allows you to apply LUTS, or studio-like color language, to your videos. That would be more than enough to make your YouTube more engaging and entertaining.
Availability: $4.33/mo.
Pros
Fast video rendering.
Tons of effects and AI editing tools.
Screen recording support.
Cons
Too many features might be overwhelming for beginners.
Video Editor Movavi Edit Easy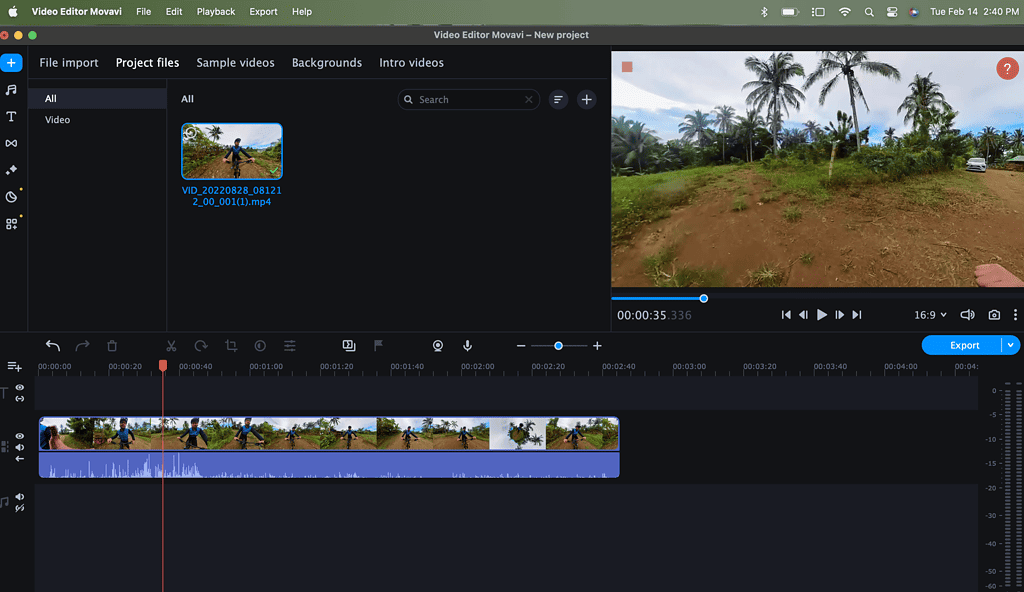 A round-up of Mac video editors for beginners would not be complete if Movavi Video Editor wasn't included. What you will appreciate most about Movavi Video Editor is the fact that it balances a user-friendly interface with enough video editing features. It's perfect for those who want to create videos for sharing online, either through social media platforms, group chats, or messaging apps.
The fact that Movavi's video editor is so easy to use makes this video editor perfect for those who have little or no experience at all in using video editing software. For YouTube content creators, Movavi integrates well with the platform, making it easy to upload your videos as soon as you're done editing them.
Availability: One-time License Fee – $39.95
Pros
Good tutorials for beginners are available online.
4K video support.
Easy-to-use interface.
Motion tracking and PiP controls.
Cons
Limited control over video effects.
Video rendering tends to be on the slow side.
Special Mention: Adobe After Effects
Before I give my final words about this Mac video editor round-up, I do have to mention another video editor that's a bit different from the ones we listed above. Adobe After Effects is a powerful video editor that lets you apply motion graphics and animation to your videos. Using this video editor you can create cinematic titles, transitions, and introductions for your videos.
In other words, Adobe After Effects is a visual effect software used by professional animators and video editors. What distinguishes it from Adobe Premiere Rush and Adobe Premiere Elements is the fact that those two are video editors while After Effects is a VFX (visual effects) app. So, if you're a beginner and you want to jump right into a more serious video editing journey, you might consider Adobe After Effects. Be forewarned, however, that After Effects has a much steeper learning curve than the others.
Availability: $31.49/mo.
Pros
Excellent motion graphics.
Vector-based animation features.
Chroma keying.
Stop motion animation.
Cons
Will use a lot of processing power on your Mac.
Steep learning curve.
Final Words: How to Choose the Best Mac Video Editor For You
If you are a beginner in video editing, the first question that probably comes into your mind is how you're going to choose the best software to use. The answer depends on the purpose of the video you're going to create. If it's going to be for social media consumption, then you can choose Movavi Video Editor or Wondershare Filmora, iMovie, or Adobe Premiere Rush. That is, if you don't mind paying for the software. Those video editors are perfect for quick edits with enough effects that you can apply before posting them on your social media accounts or your YouTube channel.
However, if you need more than just to apply basic edits to your videos but also to fully enhance their quality with a touch of professional elements, then Pixelmator Pro or Adobe Premiere Elements would fit the bill.
Finally, perhaps another factor that would affect your choice of a video editor to use is the type of device you used to record your videos. If you're using the standard DSLR or point and shoot cameras, then this list is certainly for you.
However, there are many specialized cameras available in the market today. Most, if not all of them, come with their own video editing applications that you can install on your Mac. For example, if you're using the Go Pro, DJI Osmo Pocket, or Insta 360 cameras to record your videos, you can opt to use their video editors instead. Those apps have a similar editing functionality as the commercially available Mac video editors and they will help you publish your videos quickly. A good example is Insta360 Studio App for Mac. It has enough features to produce excellent 4K and 360 videos.