You might (or might not) know about using a virtual private network (VPN) to keep your Mac traffic secure. But did you know you can also use a VPN on your iPhone? I'll explain what it is and show you how to set it up.
What Is a VPN?
A VPN, or virtual private network, is a type of networking technology used to bridge the gap between public and private networks. VPNs route your network traffic through a secure "tunnel." This encrypts the data coming into and out of your device so third-parties can't snoop on your web browsing. This makes a VPN safer to use than an insecure network.
Not only can you browse the web privately with a virtual private network, you can also use it to access content that is geographically restricted. When you connect to a VPN server, your device takes on the IP address of that server, and can access content as if it was in that server's country.
Despite the gray areas this implies, using a virtual private network is legal—what may or may not be legal is what you do while connected to it. So…mind your Ps and Qs.
iPhone VPNs
VPNs come in all shapes and sizes. Some offer access to more servers than others, some have slower or faster data speeds, and they all have different limitations.
There are also "free" VPNs, but if it's free, someone is paying for it, and that someone is usually going to be you one way or another. Always do your research. Know who you're doing business with. Personally, I stick with paid VPNs from reputable companies.
You can use all of these VPNs on any device. There are two ways to add one. You can manually add the details in the settings or use an app. First we'll start with manual configuration.
Manual Configuration
iOS 10 (and earlier version) includes a built in VPN configuration manager. But, installing a profile this way assumes that you already have your VPN details handy. Go to Settings > General > VPN > Add VPN Configuration. Depending on which type of technology your provider uses, you'll choose between IKEv2, IPSec and L2TP.
These are different protocols that route your data, and each have their own strengths and weaknesses. For most providers you'll probably be choosing IPSec.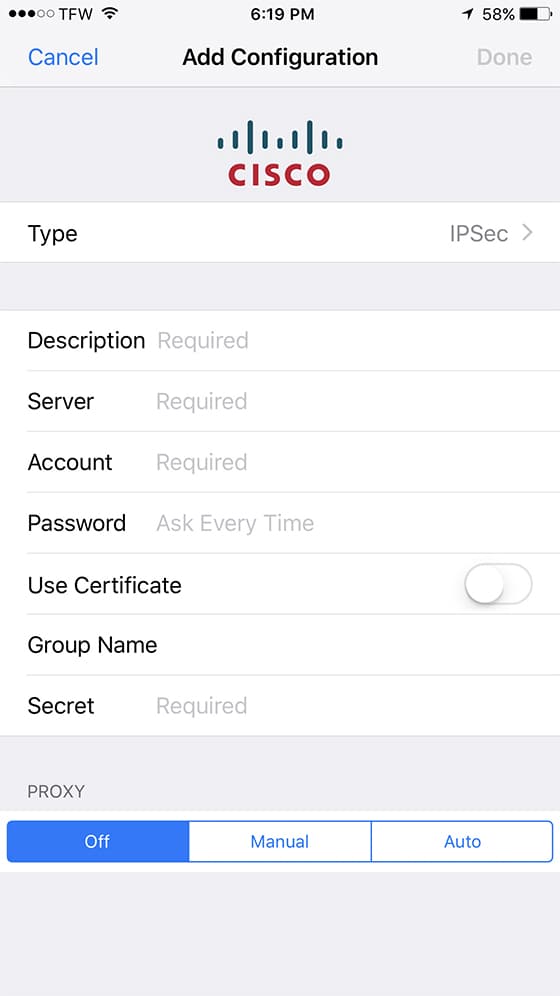 By using this, you'll enter in a description, server address, your username/password, and a group name. You'll get these details from your VPN provider. Keep in mind that you'll have to connect manually, so make sure that connecting to the VPN is the first thing you do when using public Wi-Fi.
Using an App
In some cases your VPN provider will have its own app you can use. If not, and the company uses OpenVPN, which is an open source platform that many providers use, you can download OpenVPN Connect on the App Store.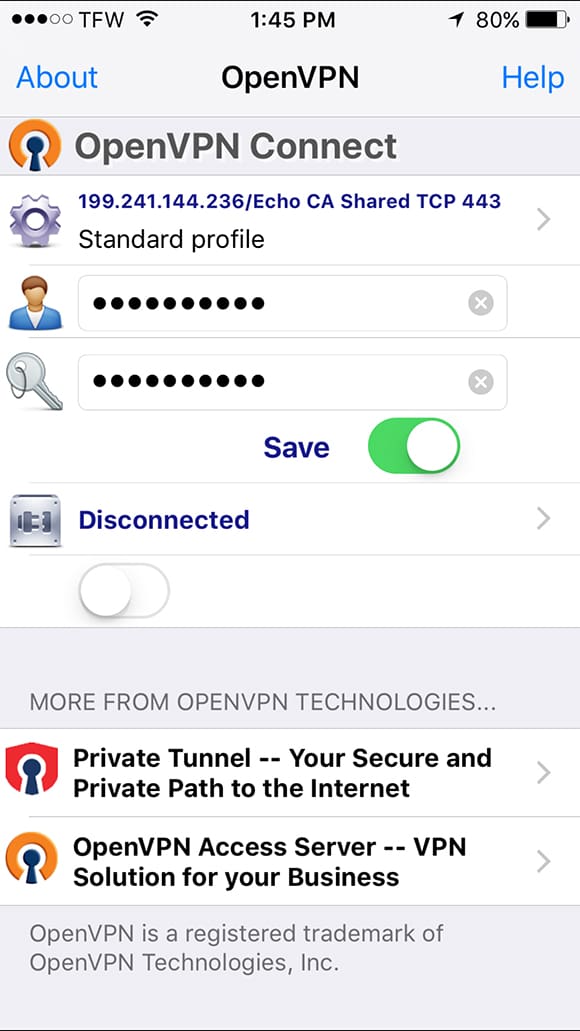 Once it's installed and you create an account, it will prompt you to install a configuration profile from your browser. Select Open in OpenVPN, and tap Accept. You'll then see the profile in Settings > VPN.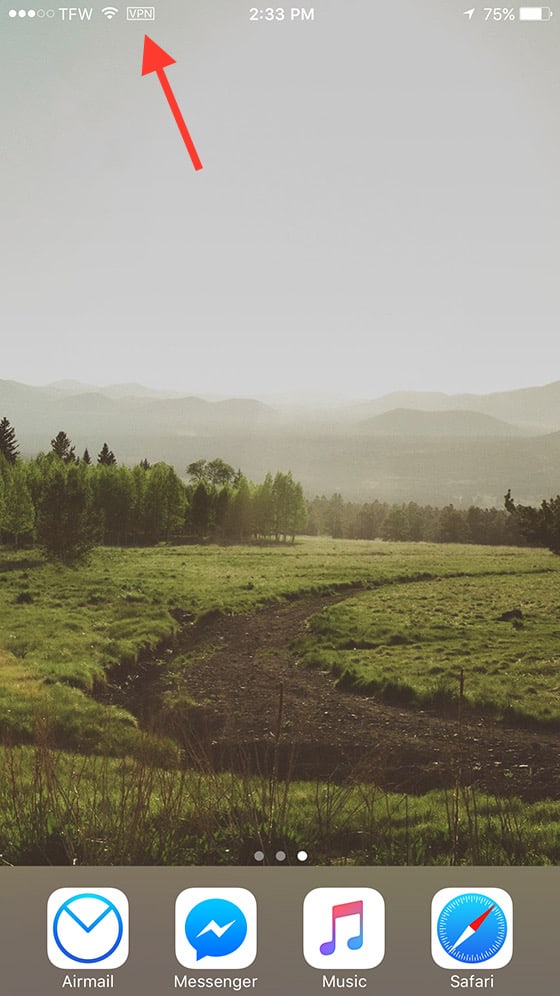 Go back into OpenVPN and type in your username and password. It will then try to connect to the private network. Once successful, you'll see an icon in the notification bar.
The process will be similar for providers that use OpenVPN. The only difference is that the provider will have its own profile to install. Once you've created an account with the VPN provider, it will tell you if you need OpenVPN, or if you have to manually configure.