With the release of iOS 17 on September 18th, iPhone owners worldwide are faced with the decision to upgrade to the much-anticipated iOS 17 or wait. Like me, you may have felt a curious mix of excitement and apprehension. You can't help but wonder, "Should I take the leap?" The fear of encountering a few glitches and bugs in the initial official software release is a sentiment that all iPhone owners have. So read on as I take you through the intriguing world of iOS 17 and whether you should embrace it or exercise a little patience.
Should I Update to iOS 17 or Wait?
Yes, you should update to iOS 17. This is because the iOS 17 is packed with a lot of exciting updates that you should experience. Let us consider some of them:
Live Voicemail
When someone calls and leaves you a message, you'll see a live transcription, and you can pick up the call or let unknown numbers go to Live Voicemail.
Sticker Central
The new Stickers experience gives you a hub for all your stickers, making it easy to react to messages with any sticker you like.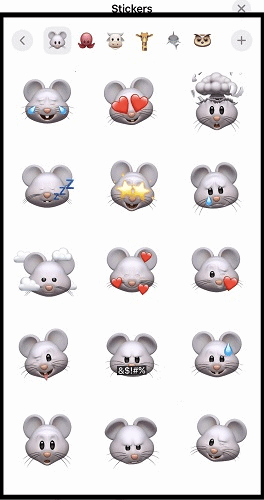 FaceTime Messaging
If someone misses your FaceTime call, leave a video or audio message with cool effects. You can even leave voicemails for FaceTime Audio calls.
Easy Contact Sharing
Exchange info by simply bringing your iPhone close to another. Your name and contact details are included, and AirDrop works even when you're not close.
Improved Autocorrect
Autocorrect now fixes mistakes for you more accurately than ever before by leveraging a new transformer language model in English, French, and Spanish keyboards, making typing easier.
Adaptive Audio
Adaptive Audio is a new AirPods Pro (2nd generation) listening mode that automatically adjusts the level of noise control for you. It adds Active Noise Cancellation in noisier environments and Transparency in quieter conditions, making it easier to use AirPods Pro as the environment noise changes.

Message Transcriptions
Audio messages are transcribed for you to read in the moment or later.
Location Sharing
Share or request locations easily from the plus button during conversations on the Messages app.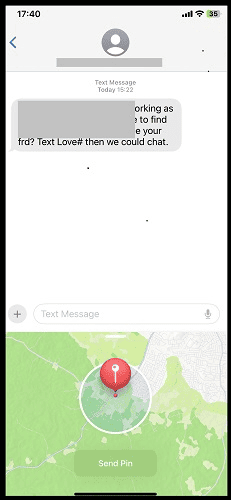 Sticker Drawer
All your stickers, including Live Stickers and emoji, are in one place and sync with iCloud.
Browsing Profiles
Separate your Safari browsing history and settings for work and personal use with profiles. Switch between them as you browse.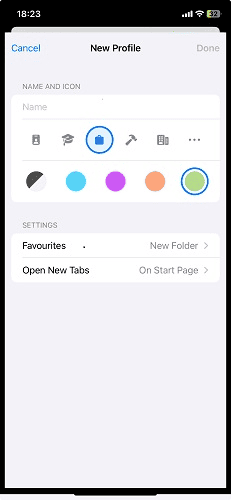 Is iOS 17 Considered Safe?
Yes, iOS 17 is considered safe. However, before installing the update, it's a good idea to back up your device with iCloud. This way, your data remains secure if anything goes wrong during installation. Check Nick deCourville's article on backing up your iPhone without iCloud.
Additional Safety Features in iOS 17
In iOS 17, Apple introduces new safety features with your well-being in mind:
Sensitive Content Warnings
You can now block incoming files, videos, and images containing nudity. To enable this feature, go to Settings > Privacy & Security > Sensitive Content Warning.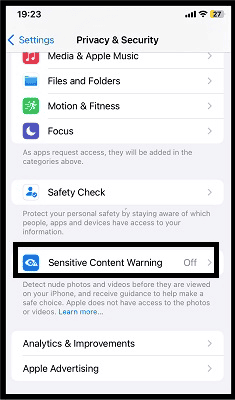 Messages Check-In
Keep others informed about your destination and expected arrival time. If you miss your check-in, a friend or family member can check on you and access your location during emergencies.
Communication Safety
Designed to protect children, this feature blurs nude photos and offers support resources. It's expanding globally in iOS 17 and will be enabled by default for kids under 13 within a Family Sharing group.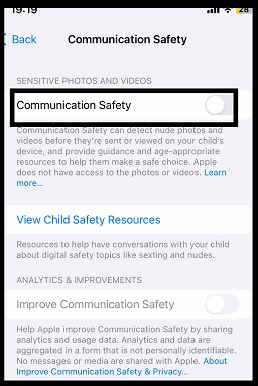 Is iOS 17 Worth Installing?
Yes, iOS 17 is worth installing. Although it's common to encounter a few glitches and bugs in the initial official software release, most major issues are likely sorted. Apple officially released iOS 17 on September 18, 2023.
You can go ahead and install iOS 17 without much worry. If you indeed decide to install iOS 17, check out Jeff Butts' article to learn how to update to iOS 17.
List of Compatible Devices
Here is a list of Apple devices that are compatible with iOS 17. Go through to see if your iPhone is on the list:
| | | | |
| --- | --- | --- | --- |
| iPhone 15 | iPhone 15 Plus | iPhone 15 Pro | iPhone 15 Pro Max |
| iPhone 14 | iPhone 14 Plus | iPhone 14 Pro | iPhone 14 Pro Max |
| iPhone 13 | iPhone 13 mini | iPhone 13 Pro | iPhone 13 Pro Max |
| iPhone 12 | iPhone 12 mini | iPhone 12 Pro | iPhone 12 Pro Max |
| iPhone 11 | iPhone 11 Pro | iPhone 11 Pro Max | |
| iPhone XS | iPhone XS Max | | |
| iPhone XR | | | |
| iPhone SE (2nd generation or later) | | | |
Conclusion
As we navigate the details of iOS 17, the decision to upgrade now or later is as important as it can get. The excitement and apprehension are palpable, but the fear of encountering glitches in this new software is a shared concern. I've presented you with an overview of what iOS 17 promises and potential reasons to embrace it.
Now, I want to hear from you. Have you upgraded to iOS 17? What has been your experience so far? Are you planning to wait? Your opinions and experiences are valuable, so share them in the comments below. Let's engage in this tech journey together!