Dr. Mac's Rants & Raves
Episode #295
There has been some confusion about the status of 32-bit apps in macOS 10.14 Mojave, which will be available soon (for free).
What's a 32-bit App?
I've got advice for you on handling the upcoming transition from 32-to-64-bit apps… But first, if you don't already know what a "32-bit app" is, or why it might matter, here's a brief excerpt from a relevant Apple tech note*:
All modern Macs include powerful 64-bit processors, and macOS runs advanced 64-bit apps, which can access dramatically more memory and enable faster system performance. The technologies that define today's Mac experience—such as Metal graphics acceleration—work only with 64-bit apps. To ensure that the apps you purchase are as advanced as the Mac you run them on, all future Mac software will eventually be required to be 64-bit.
Apple began the transition to 64-bit hardware and software technology for Mac over a decade ago, and is working with developers to transition their apps to 64-bit. At our Worldwide Developers Conference in 2017, Apple informed developers that macOS High Sierra would be the last version of macOS to run 32-bit apps without compromise. 
While developers optimize their apps for 64-bit compatibility, Apple is notifying customers when they are using an app based on 32-bit technology. This is done via a one-time alert that appears when you launch a 32-bit app.
* https://support.apple.com/en-us/HT208436
The "Not Optimized" Alert
You may have seen this alert in High Sierra (I saw it regularly) and wondered what will happen when you upgrade to macOS Mojave.

Here's the good news: I've been running beta releases of Mojave all summer as I wrote macOS Mojave For Dummies. And, in my (albeit limited) testing, most if not all of the 32-bit apps that worked properly under High Sierra (macOS 10.13) continued to work under macOS Mojave (macOS 10.14).
The bad news is that they will cease to work next year under macOS 10.15. But don't fret. There's no rush. You've got at least a year to determine how you'll handle apps that don't run under the next iteration of macOS (after Mojave). Until then, here's what I suggest:
Step 1: Identify your 32-bit Apps
To identify your 32-bit apps, choose About This Mac in the Apple menu and then click the System Report button. In System Report's Software section, click Applications and then click on the column name—64-bit (Intel)—to sort the applications. If it says, "Yes," the app is 64-bit; if it says, "No," the app is 32-bit.
Now that you have identified your 32-bit apps — I have 140 of 'em but I'm known to be an App hoarder—what next?
Step 2: Don't Delete Them (Yet)
Here's my advice: If an app runs OK under High Sierra and Mojave, you don't have to do much, at least not immediately. One thing I recommend is that you don't delete it yet. Its developer could still update it to 64-bits before the next version of macOS ships.
In the meantime, you should probably start thinking about replacements for apps you use regularly in the event it's not updated by its developer in time (i.e. Not updated to 64-bits before you upgrade to macOS 10.15).
One More Thing
There is one more thing… CleanMyMac X, released last week and included with Setapp subscriptions, has an uninstaller module that can be filtered to show only 32-bit apps. I've not tried it yet (I'm not ready to remove 32-bit apps yet for reasons stated previously), but it's the first app I've found that can not only identify 32-bit apps, but also bulk delete them along with their associated cruft.
By the way, even the just-released CleanMyMac X is a bit confused about Mojave and 32-bit apps: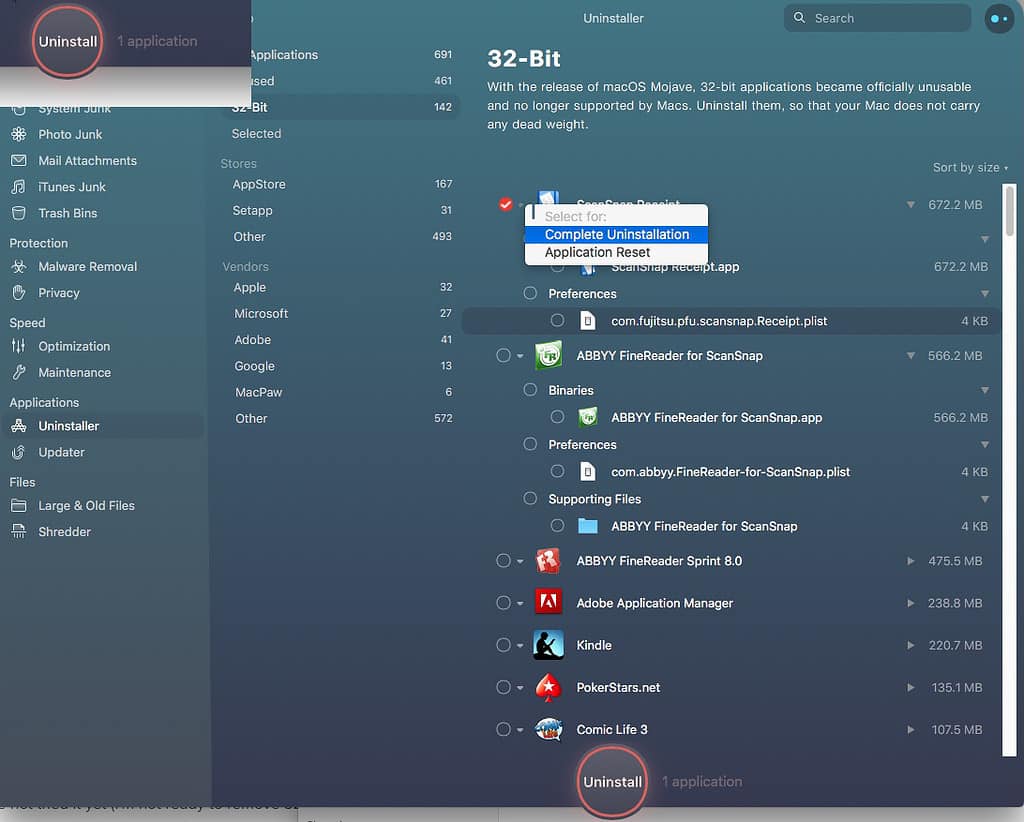 Notice where it says, "With the release of macOS Mojave, 32-bit apps become officially unusable and will no longer be supported by Macs."
As I've just explained, it's not true.
I suspect that'll be corrected in the next update of CleanMyMac X, but it does confirm the point of this column—that there is some confusion about what will happen with 32-bit apps and Mojave.
P. S. Do you know why it's called "cruft?" I didn't, but I do now. If you don't, check out episode #726 of the Mac Geek Gab podcast,  where Dave Hamilton cheerfully explains its origin.  😜